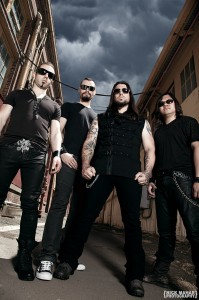 4ARM Confirmed For Hammerfest V 
4ARM have been invited back to the UK for Hammerfest V 2013. The band will be performing on the second stage on Saturday, 16th of March to join a line-up of bands such as Napalm Death, Candlemass and Enslaved with loads more to be announced. The festival as always will run three stages and have over 50 bands performing.
Drummer Michael Vafiotis had this to say: "We're excited to play Hammerfest for the first time and get back to the UK once again. With the new album doing great over there it will be awesome to give our fans another chance to see us live."
Hammerfest V takes place in Phwelli, Wales from March 14-17, 2013. Tickets and information for the festival are available at http://www.hammerfest.co.uk/
4ARM's latest album "Submission For Liberty" is now out worldwide through
Rising Records and Riot Entertainment.