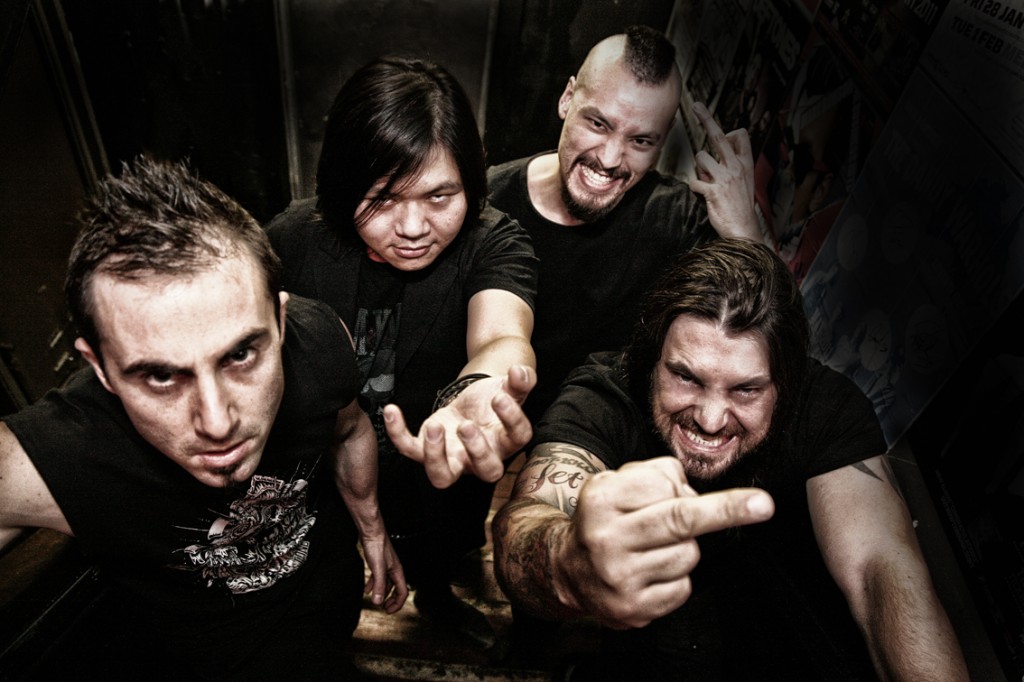 Originating back in 2004, Melbourne's 4ARM have taken all before them in 2012.  Having released new album Submission For Liberty worldwide, the response it has garnered has elevated the band to the status of one of the most exciting thrash bands in the world today.  On June 9th the band will be hitting the stage at one of the most iconic rock and metal festivals in the world, DOWNLOAD FESTIVAL in the UK, then it's straight off to tour the USA which includes the recently announced Zombie Apocalypse Tour, as well as an appearance at the Bay Area Metal Festival, the undisputed "motherland" of thrash metal.
We recently chatted with 4ARM vocalist Danny Tomb about the bands rise during 2012 and the expectation of what will be the bands biggest shows yet with Download Festival and the Bay Area Metal Festival.
Hey Danny, thanks for taking the time to chat today!  So first things first, your new album Submission For Liberty has been out for a few months now via Rising Records, but officially released here in Australia through Riot! Entertainment.  How has the response been so far?
It's been fantastic to be honest, both from the press and people in general really.  It's almost to a point of it being a little overwhelming really.  I mean you always believe in your work and everything that you do, especially when it comes to putting a new album out, you want to be able to believe in it and that it is good enough to have good things said about it.  I think we've had a total of 76 international reviews done on the album so far and 74 of them came back with comments along the lines of we could be one of the biggest thrash bands going around in the world at the moment.  Even the comments that didn't say that, still said it's a good trash album.  So feedback from both the press and people in general has been really great.
The band has been around for around 7 years now and this is your third album, how has the journey been for you guys getting to the level of interest you are now getting with this album?
Well I wouldn't say we were surprised that it took us three albums, I think it's more a case of we weren't experienced on our other two albums.  We didn't know how to shop ourselves properly or approach labels.  The first album we didn't even present it to any labels, the 2nd one, we presented it to a handful of major labels, which when I say major, I'm talking the likes of Sony, which you know you're not going to get on, but we tried anyways.  So I bring it down to having a greater maturity now with the business aspect of the band, more so than a case of – it took forever for us to get here.  Over the last two years we've really focussed on the business side of things as well as the music.
Looking at when you started the pre-production as per the album liner notes, it's listed around early 2011, so when did you actually kick off the writing for the album?
As far as writing the album, we spent the best part of a year writing before we did any pre-production.  We did some very loosely at first, I think we did 3 pre-production runs before we actually went in to record it, we just kept building it up and doing it in stages so we could take it away and listen to it and see if there were things we needed to change until we were satisfied. That worked really well for this album and that's how we would do it again.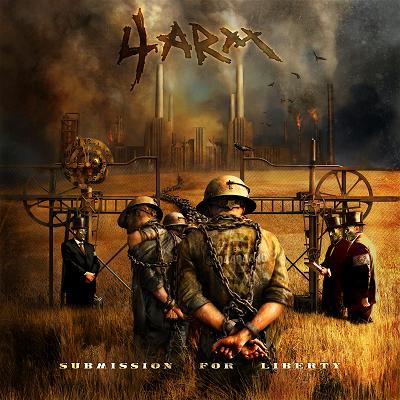 As far as songwriting for the album, is that pretty much handled by yourself and Michael (4ARM drummer)?
It's all Michael and I, we work really well together and we know what each is going for, it's almost like we are reading each other's minds.  All the writing has always been Michael and I and I don't think that will be anything that's really going to change.
Production as well was handled by yourself, stating the obvious, was this choice due to the fact that you pretty much knew exactly what it was you wanted as far as the sound and arrangements etc?
We had everything planned out way before we hit the studio.  We knew what we were going for, what sound we wanted, how we wanted the songs to be, how they would flow, what particular sections there would be, we had the entire album envisioned before we even hit the studio, so we knew exactly what we were going after.
Submission For Liberty – as far as the album title and album artwork and cascading down into the lyrics of the songs themselves, would you class the album as having a central theme running through it?
Yes definitely, the album is predominantly a theme album, I supposed you could call it. Submission For Liberty really just means under our existing and pre-existing governments and corporate sectors, we are really only as free as they will allow us to be.  If you submit to their will, then they will allow you a limited liberty.  So basically the suggestion of submission for liberty is if you want to feel that you are free, then submit to them and they'll give you whatever freedom you want, so long as it's in their guidelines.  So lyrically as far as a theme on the album, it's not so much like its anti government, even though it does have that element in there, it's more like, you can dare to be yourself, if you really want to.  Have a look at what you are doing in life and do what you are going to say you are going to do and mean what you say.
As far as defining the 4ARM sound musically, what do you think are the key ingredients so to speak in delivering the bands sound?
When you look at it, basically this album is our interpretation of what thrash metal should be.  As far as what I think most people recognise about our sound is out ability to blend an old school feel and make it sound and feel modern, as well as obviously the aggressive element of the music, I guess you could say we are more aggressive than many of the thrash bands today. So I would say that's the key things that are distinctive about us.
You've also got a few other shows lined up so far, such as playing the Bay Area Metal Festival, which I dare say is a pretty significant thing for you guys to, given the influence of that area on your sound.
Definitely, to be able to go to the motherland of thrash metal and be able to play a festival such as that, you hope for a good response and that they're accepting of what we do and don't think it's wrong of an Australian band to be playing, because thrash is from here, our home.  To be able to go there and play our music is just a great achievement and a great feeling.
And then you are playing Download Festival, it really doesn't get much bigger than that!
It's definitely one of the biggest lineups in the world and it's a personal dream come true.  I think we are the only Australian thrash band to have played it, as far as either Download, or Donnington is concerned.  Then as far as Australian bands there's only really been AC/DC.
So how did getting added to Download come about?
Well it was all our label and Downloads reps basically.  Our label submitted us to Download and obviously Download decided to book us.  We got an email from our label out of left field one night saying "I've booked you for Download Festival 9th June" blah blah blah, we almost fell over, we just couldn't believe it.  The label knew we were ready and willing to play it if it ever was a possibility, but that was about it.  It all just happened in the space of one night, we received the notification on the Thursday night and then Andy Copping from Download had tweeted that we were on the bill the next day.
You are playing a bunch of shows in the USA aren't you, do you have any other tour plans on the horizon to fill out 2012?
We've got about 30 odd shows then that we are doing over in the USA. We arrive over on the 24th June then we leave on the 4th August so that's the space in which we have the shows.  Then we are back in Australia and our label is keen to book us for a bunch of shows in Europe over September and October and then we head to Japan in November.
Essential Information
From: Melbourne, Australia
Sounds like: Thrash
Band members: Danny Tomb – Vocals, Guitar, Michael Vafiotis – Drums, Andrew Hinterreiter – Bass, Johnny Glovasa – Lead Guitar
Latest release: Submission For Liberty (2012, Rising Records & Riot! Entertainment – in Australia)
Website: www.4arm.net