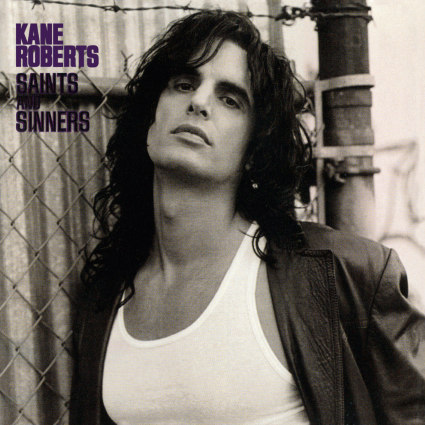 Kane Roberts is well known as guitar player for none other than ALICE COOPER. He can be heard on the albums "Constrictor" and "Raise Your Fist To Hell". He also performed live on the tours for these albums. The guitarist as well was involved in writing the songs on these two albums and in charge for adding the Metal flair of the late 80's to Alice's sound.
Roberts' on stage performance was branded by his masculine looks and his utopian looking, pyrotechnical guitars. After leaving Alice's band, Roberts released his first, self-titled solo album in 1987. The lyrics of the song "Full Pull" have been penned by Alice Cooper. In 1989, the guitarist appeared as a guest on Cooper's "Trash" record on the song "Bed Of Nails".
'Saints And Sinners', Kane Roberts second album, was released in 1991 and included the Jon Bon Jovi written track, Does Anybody Really Fall In Love Anymore?" which also has been recorded by Cher.
Additionally to his solo work, Kane Roberts also can be heard on the group BERLIN's record "Count Three & Pray" which was produced by Bob Ezrin and on one album by Rod Stewart. Roberts also sang backing vocals on Steve Vai's "Sex And Religion" record. The song "Take It off" from the Kiss record "Revenge" was written by Roberts, Bob Ezrin and
Paul Stanley. Furthermore, he took part in the recordings for albums by STATUS QUO (Quo) and DESMOND CHILD (Discipline). After the release of his second solo album, Kane Roberts granted himself a break of a couple of years outside of the music business and returned in 1999 with his band PHOENIX DOWN. "Under The Wild Sky" is the only album released by this band. Since then, Roberts has been working as graphic designer and programmer for video games. In 2006, Kane Roberts started to record a new album which so far hasn't been released.
Thanks to the support of Universal Music Germany, the second, even more sought after album "Saints And Sinners"now also will be re-released on the Yesterrock label. All tracks have been digitally remastered. The limited 2-CD edition version of this release is limited on 500 copies only and includes four previously unreleased bonus tracks.
Line-Up: Kane Roberts (Vocals, Guitars, Keyboards), Steve Steele (Vocals, Bass Guitars), Victor Ruzzo (Vocals, Drums)
Track listing:
Wild Nights
Twisted
Does Anybody Really Fall In Love Anymore?
Dance Little Sister
Rebel Heart
You Always Want It
Fighter
I'm Not Lookin' For An Angel
Too Far Gone
It's Only Over For You
House Burning Down (Bonus Track)
Waiting For You (Bonus Track)
Dirty Blonde (Bonus Track)
White Trash (Bonus Track)
Check out our interview with Kane Roberts from early 2011…

Check out our review of the Yesterrock reissue of 'Kane Roberts'…