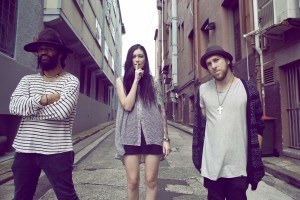 From Bio:  Fait Accompli are a hardworking underground Soul Punk band from Sydney, Australia. Surviving all the clichés and trends that have come and gone over the last five years, Fait Accompli are currently gathering momentum with its current lineup, slaying every venue they play at with their 'last show on earth' mentality. Bringing a soulful melodic element to their hard to pinpoint sound, has put a modern-day twist to the ever-evolving sound of punk rock, earning them their own unique musical style, a sound described as 'Soul Punk'.
With a slick DIY work effort Fait Accompli are a self-made band who have built on their reputation through strong live shows and putting on their own music events exposing audiences to a stack of new bands over the years. Between all three members exist the founders of underground movements 'Less than Strength', 'My Sydney Riot' and 'MAKEyourself RECORDS' which show their passion for not only telling their own stories but a need to be part of a creative model which sees music and art as an experience that should be shared as a Community and not just by a band alone.
We liked what we heard and hoped you might too!  Check out Fait Accompli as one of our 'Best Things You've Never Heard.'
So, you've been a band for five years and I apologize now for never hearing of you before, for the benefit of those out there like me, can you please give us a little run down of your existence as a band?
Haha! All good, we are a three piece band from Sydney, we've been lurking around in the underground for a few years now just tightening up all the things that needed to be sorted out, from music all the way to members. We've had a lot of good times, played with some sick bands, put out many recordings which are available for free from our website and now, well we've just released our new record SPIES and we are most of the way thru our National tour.
What is the inspiration behind the band name?
It was just one of those things, it seems like everything that happens to our band as people involves a lot of fate. We believe that we are on a special mission from the Gods, I know it sounds wanky, but if I had to tell you about the things that happen to this band, you'd think that I had a big imagination. Like check this quick story, a friend of mine was asked to come up with a band name for a film (she's a producer). She recommended our band just to give it an underground feel etc. The Director was looking at our name during a script edit in a café and he was enjoying a song coming out of the radio. It was our song! So he rang my friend and said "OMG that band you recommended just got played on the radio!". So we ended up getting quoted on that new movie, NOT SUITABLE FOR CHILDREN. True story! So the name, FAIT ACCOMPLI, kinda means it is what it is, an unchanged fate. We are cool with that.
Can you please introduce each member of your band and give us a rock 'n' roll fact or myth about each of them?
Ms Skarlett Saramore is our drummer, she pretty much is the best female rock drummer in Australia. I've seen them all. All my friends who see us play approach me after the show and hold their hearts either saying that they are in love or she just drummed their hearts to death. Ha!
Mr Brett Stokes is one of my best pals, he is loved by everyone who knows him and he holds down the sweetest bass lines known to man. There's two types of bass players I love, someone who playes like FLEA or someone who holds down the heart beat of the song. Anything in between can be dangerous for any band. Oh and he's more Samoan than I am.
Me? Well my name is Mr Ray. I am Samoan and I am a son of a Preacher man. Music is my life and I'm just grateful to have the rare opportunity to be in a band like Fait Accompli. It's the road less travelled, but I do feel like once you get thru the hard times, there can only be good times and a lot of work still. Haha!
You have twenty seconds in an elevator to try and convince someone to listen to your new EP 'Spies', what do you tell them?
I'll say "If you don't listen to our music I will kidnap you". Just joking!
Your music is coined as 'Soul Punk' can you describe just what soul punk is and where that moniker came from?
We are loud, we also have a lot of melody and soul in our music. It was actually coined by a reviewer and it kinda stuck. But if you check the internet that style of music didn't exist till we made it exist. Patrick from FALL OUT BOY named his album Soul Punk, so it will be hard to find us in the google mix, but we definitely coined that as a band sound first. If you listen to our music, you will understand what we mean. It's punk music with a lot of soul. Bzzzz Bzzzz
In terms of your song writing, what do you consider to be the most important ingredients that make up a Fait Accompli song?
I am not lying when I say that our songs write themselves. Like we actually hate jamming because when we mess around we end up writing songs on the spot, then we get distracted and try to finish them off. We actually wrote two songs off the record just before we went in to record, GALAXIES a week before and THIS IS NOT THE END the night before recording.
Both lyrically and musically, what or who inspires/influences your music the most?
Our friends, families and the people we love inspire us the most, I really feel that our lyrics and stories are inspired off all of our collective lives. Most of our friends are creative and amazing at what they do, they're either pro surfers, skaters, artists, musicians, writers or promoters who are trying to make it in this crazy town, but behind everyone's stories, we are all trying to survive and hold on.
In terms of music, you have released EP's prior to 'Spies' and in putting the new one together, how did you set out to make them different to your previous two EP's?
We are quick operators. We just wanted to nail the current vibe we were feeling. So it was all about bottling that energy. And I think we succeeded in doing that. We've always been a fast moving band. The way we record now has always been the same for us from the start. Go in, record and get out. We've recorded 3 ep's, a double a side and an unreleased album in our time together as a band and altogether we've probably only been in a studio for close to 3 or 4 weeks max.
I guess the big question, are there any plans to release an album in the near future?
We are planning to go away for a few days and hang in the South Coast of NSW after the Tour, we'll set up chill out, go for swims, smoke spilff's, cook food, watch dvd's and write the album.
Touring wise, what have you got in the pipeline in support of this new EP?
We are just returning home from Perth where we played four shows and we also visited Bon Scott's grave, it was pretty amazing time for us all as musicians to visit his memorial. A few weeks back we played in Queensland and in Byron Bay with some of our buddies there and then we followed that up with shows in the South Coast of NSW also taking in our favourite place to play Batemans Bay. This week we head home to our hometown Sydney to play a show with 8 of our favourite bands at The Annandale Hotel. There will be two stages and it will be off the hook! We can't wait. That will be followed by a secret show on Saturday then we have shows in August where we hit up the South, Melbourne and Adelaide and we are hoping to get to Tasmania. Good times.
Now for those that haven't yet seen you perform before, what can people expect from one of your live shows?
We play like it's the last show on earth. We pretty much put our hearts on the line at our shows, but we also try our best not to take ourselves too seriously. But at the same time we want it to be a serious gig where people literally go home feeling like their heads got blown right off. We're a hardcore band, but inside all of the noise is a lot of songs about loss, love and how we feel about the world. I mean it's not funny what's going on out there and art has a responsibility to convey these messages. But honestly, it's just music, have a dance, try it you might just like it.
Now, for a bit of fun and it looks like it's soon going to be all the rage, but, we saw Tupac appear as a hologram at Coachella, if you could have any artist no longer with us perform on stage with you as a hologram, who would it be and why?
Shit! That's a hard one. Jimi Hendrix? Jamming with the king of Rock n' Roll would just be mind blowing on so many levels.
Lastly, here's a chance to gaze into your crystal ball.  In the next year, Fait Accompli will have:
1. Recorded our new album
2. Toured the USA
3. Played at Coachella
Check out our review of Fait Accompli's new EP 'Spies' here…
Essential Information
From: Sydney, Australia
Sounds like: Soul Punk
Band members: Mr Ray – Guitar / Vocals, Ms Skarlett – Drums, Mr Stokes – Bass
Website: http://faitaccomplimusic.com