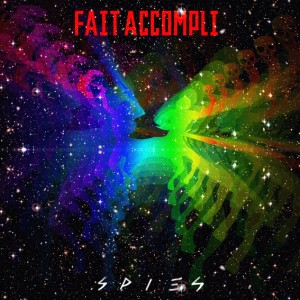 I personally love getting new music, and I don't mean 'oh awesome the new Bon Jovi record is out!' I'm talking about new bands I've never heard of, I get to make my own mind up, I have no preconceived ideas or notion of what they will sound like and I dig that.  Today, I get presented to me Fait Accompli, a Sydney based band who it seems have been around for the best part of five years, so it'll be interesting to hear what they can do… So let's check out their new EP 'Spies' and see.
Opener 'This Is Not The End' really isn't, it's a great starter with a very bouncy, happy vibe to it. I think they're on to something here, this song and this band sounds like it has heart, soul, funk and a tinge of punk rock roots thrown in for good measure.  It actually reminds me a little of that old school early 90's Australian sound done by the likes of bands like Ratcat and it's nice to hear that again.  Lyrically "Everything is alright" and yeah, it is.  See, I told you, I love new music I've never heard of before. 'No Great Expectations' man these song names are too easy to play with so I'll leave that one alone, but with a great riff, great breakdown and no great expectations, see, they made me do it… but seriously, I'm liking what I hear.  Remind me, how have I never heard of this band before?
Track three is 'Galaxies' and in a much more mellow state than the previous two with a very piano / synth driven groove until around three and half minutes in where it goes mentally in to a guitar solo, the tone and feel of it suits the song perfectly, I really liked that one.  Oh wait, I like this next one more, isn't it great when you're typing and a song starts and it's awesome, well that just happened… 'Everyday' is laden with an almost Foo Fighters worthy style riff mashed with an Urge Overkill feel.  This works quite well, and yeah, this is my favourite on the EP and I haven't even heard the last track.  Big call I know, but what are you gonna do?  'Shipwrecked' finishes off the EP and dives back in to mellower territories, once again until a raging guitar solo comes along, I do like it when they get into the rockier territory on the tracks, and for me that's where it's at!  This was a cool way to end the Spies EP.
Overall, I liked what I just listened to, a nice mix of a number of musical genres there, and just enough to not make it weird or too diverse that it doesn't work.  This was perfect for my Sunday afternoon and I'm damn sure these songs would be well at home in a live environment.  Check this out if you get a chance, you may enjoy hearing a band you've never heard of too…
Check out our 'Best Thing You've Never Heard' feature on Fait Accompli here…
Essential Information
From: Sydney, Australia
For fans of: Soul Punk
Release date: 20 July 2012
Record label: independent Label/Community MAKEyourself RECORDS
Producer: Fait Accompli
Website: http://faitaccomplimusic.com
Track listing:
1. This Is Not The End
2. No Great Expectations
3. Galaxies
4. Everyday
5. Shipwrecked