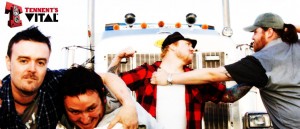 TRUCKER DIABLO, rolls into Tennents Vital!!!!
We always love it when bands we've featured as one of our '
Best Things You've Never Heard
' get breaks like this!  Check out the press release below from the band and here's to what's next!!
We are ecstatic to announce that we been chosen have to play Tennents Vital this year and will be supporting the Foo Fighters and The Black Keys on 21 August.   We would like to thanks our partners and families for all their support and they have been by our side at every twist and turn as it's been an emotional rollercoaster, have we got it, haven't we got it….arrrgghhh.
Sometimes is hard to balance trucker life and family life but we have a fire inside that makes us wanna go all the way and make Trucker a way of life and our families are a part of that too.  From the heart we are so proud of the band and you our supporters.  Time and time again you give us 100% support and are by our side and we are forever in your debt.  We hope if you are going to the festival you'll come down and see us as we would like to dedicate our performance to you and we believe you played a big part in helping us get here.
This is a great day for Trucker and not just Trucker, but Northern Irish rock.  We crossed a boundary in the Northern Irish scene that isn't easy to cross and hopefully this brings more focus on the great talent we have in the rock scene here!
HORNS UP, KEEP SUPPORTING, BIG TRUCK KEEPS ON ROLLIN'
TRUCKER DIABLO
Ricky Warwick –Thin Lizzy
"One of the best new bands from Northern Ireland!!
Cormac Nesson –The Answer
"Great album guys..Refreshingly honest Northern Irish rock n roll"
Joe Elliot- Def Leppard
"Absolutely Rockin stuff"
Classic Rock Magazine (Featured on April Edition 2011: Track 14)
This track has a huge groove that owes something to the Almighty and Thin Lizzy
Dom Lawson – Metal Hammer 
"Excellent arse-kicking rawk action!"