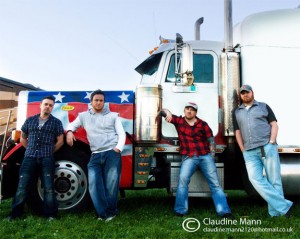 From Bio:  TRUCKER DIABLO began in early 2008 as four friends coming together collectively as a group to play music they loved and that defined them as individuals. This soon became an unstoppable machine through the local support of fans and the internet. Quickly they were hailed as a Northern Ireland super group due to the band members successful past.
Simon Haddock had been a previous member of Joyrider who enjoyed a highly successful career signing to A&M Records in the late 90's, touring internationally and appearing on the legendary Top of the Pops with their single "Rush Hour" which reached 22 in the UK charts.
Tom Harte and Terry Crawford were members of acclaimed Hard Rock outfit TILTED who signed to Shattered records in the late 90's . They enjoyed a successful career touring the US, UK and Canada and received praise from acclaimed L.A producer Kim Foley.
Present Day TRUCKER DIABLO have been playing the local circuit supporting Ricky Warwick and Adam Bomb on their recent UK tours and have released their debut album "The Devil Rhythm" with a guest appearance from Northern Irish Rock Star and New Thin Lizzy frontman Ricky Warwick from "The Almighty" fame. The band also gained some recent praise in the form of Joe Elliot (Singer with Def Leppard).
And just announced, Trucker Diablo have been handpicked by promoters to support BLACK STONE CHERRY on the Irish leg of their European tour. This is an amazing end to an amazing year for the Trucker Boys who have enjoyed the successes of playing at Download Festival 2011, being signed up by American based Label Ripple Music and recently having their first American single, 'Drink Beer, Destroy', being added to Rock Band for the Xbox.
Next year is already kicking into gear with Trucker being added to Hammerfest which will be headlined by Anthrax. Trucker's debut album, The Devil Rhythm, will be released through Ripple Music at the start of December, 2011.
We dig these guys, so thought you might too!
Let's start with the basics first – what brought the band together and what is the inspiration behind the band name?
We have all known each other for quite a long time, Simon and I started writing together about 10 years ago, but nothing really happened, so 3 years ago it felt like the right time to do something…The band name I suppose represents the band. Trucker Diablo is the handle of a Trucker out on the road who doesn't know where the road will lead, but hopefully it will be somewhere good that will make us happy.
You have twenty seconds in an elevator to try and convince someone to listen to your music without resorting to bribery or violence, what do you tell them?
I make a pretend phone call, "Have you heard this band Trucker Diablo, they have come out of nowhere and they are doing all this stuff blah blah blah" Hopefully the subliminal marketing would work….
Can you introduce each member of your band and give us a rock 'n' roll fact or myth about each of them?
Tom Harte – Got to play Free n Easy with Ricky Warwick 17 years after seeing him play with his band
Simon Haddock – Played in northern Irish band joyrider and Dave Mustaine reviewed one of their singles and gave it 5 K's in Kerrang….
Glenn Harrison – nicknamed "The Beast" by 1 review site!
Terry Crawford –  Supported Pitch Shifter
With your killer debut rock album out now, how has the over all reaction been to it so far?
Amazing, its propelled us to new heights…I love the fact that people are still discovering The Devil Rhythm
I believe you're already working on album number two, is that a case of strike while the iron is hot? And what can we expect from the new material?
Yep that's true, they will have a lot more of the same balls but In our opinion the songs will have progression and a broader appeal….By the time the second album is out it will be 2 years since The Devil Rhythm has been out….So the iron will defo be getting heated
In terms of your song writing, what do you consider to be the most important ingredients that make up a Trucker Diablo song?
Great Question, Catchy riffs and big choruses, its allows your audience to sing along and rock out……
Both lyrically and musically, what or who inspires/influences your music the most?
I would say real life inspires us, we write about real stuff unimportant or important its life and sometimes people like to hear about it…I actually just wrote a new song lol
To give people who haven't heard you more of an idea of what you sound like, what kind of movie do you think your music would be best suited to its soundtrack and why?
I would say it would have to be National Lampoon's Animal House….Its one big rock and roll party and you're all invited.
You played the Download Festival in the UK recently, what was that like for you as a band who I believe were picked by the promoters out of over 200 bands specifically to play the one slot they had?
It was unbelievable…I remembering sitting in work and I got the email and I literally got on the phone and told everyone and I was shaking…We had a few beers before we hit the stage and that settled us right in and then 6,000 people were cheering after each song….It was amazing…An achievement we will never forget….
Is it fair to say that a certain Mr Dee Snider is a fan of the band after that performance?  What feedback did he give you after watching your entire set?
We didn't get a chance to speak to him after, but we seen him rocking out at the side of the stage and that was enough for us…I just wish we knew a Twisted sister song…We could of got him on….
Now for those that haven't yet seen you perform before, what can people expect from one of your live shows?
Loads of energy, loads of crowd interaction and plenty of rockin tunes to get your heads banging…
Hailing from Northern Ireland, what is the music scene there like for a band like Trucker Diablo?  Is there much competition in the rock genre?
Yeah there's loads of good bands, the scene is great…It's not really a competition, we are all trying to do our own thing….
You've just managed to get your kick ass single 'Drink Beer, Destroy' on the new Rock Band video game, how did this come about and what kind of accomplishment does this mean for the band?
Our management suggested and next thing the wheels where in motion and then we got it…Its put a different perspective on things for u, we are down with the kids now…Seriously amazing though….
Here's a chance to gaze into your crystal ball.  In the next year, Trucker Diablo will have:
1. Played in the U.S
2. Released album two
3. Hopefully made a lot of new fans
Essential information
From: Northern Ireland
Check them out if you like: Classic Hard Rock
Band members: Tom Harte – Guitar/Vocals, Simon Haddock – Guitar/Vocals, Glenn Harrison – Bass Guitar, Terry Crawford – Drums
Website: http://www.myspace.com/truckerdiablo & http://www.truckerdiablo.com
Latest release: The Devil Rhythm (Independent)
Check out our review of The Devil Rhythm here…