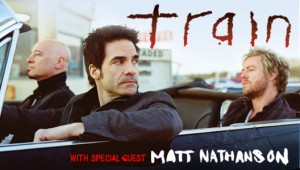 Sydney couldn't have been more beautiful tonight, with the Vivid festival lighting up Circular Quay and people flocking to watch the lights covering the buildings, there were even more people in the area this evening to head in to the iconic Sydney Opera House to catch Train and Matt Nathanson in probably my favourite pairing of the year so far.
The crowd slowly started to build in the main hall as Matt Nathanson took the stage in what would disappointingly only be a 30 minute set, I would've and could've listened to Matt play for hours.  Never seeing him live before but being a fan for many years it was a pleasure to hear these six songs done this way with simply two guitars and vocals. Playing tracks from his newest album 'Modern Love' as well as fan favourite (and mine) 'Come On Get Higher' from 'Some Mad Hope' and 'Suspended from one of his older albums, Matt had the crowd in the palm of his hand, even surprising him at one point with the level of crowd interaction of the, at then half-filled hall.  Some great metaphors (I'll never look or think about the game of Scrabble the same again) and some even better stories interjected with humour made his set one of the most enjoyable things I've seen in years. Let's hope Matt can come back soon and wow us with his own shows, but for tonight he was the perfect opener for Train.  Thanks Matt, you owned the Opera House tonight and won many a fan, well those that got to witness your set, for those that missed it; I'm sorry. Oh and I'll be wearing my 'I'm nobody's girlfriend' shirt with pride.
For something different and actually enjoyable I was sitting side of stage tonight and was able to watch not only the show by both artists but the crowd at many times, it was amazing to see this aspect of a show and made me actually want to be up there.  I get what the buzz is about; it was really cool to see!  So when Train hit the stage and the eruption of the crowd, I spent more time looking at them to start than the band, it gave me a buzz that stayed throughout the night.
Starting with '50 Ways To Say Goodbye' from their newest album 'California 37' and instantly in to my favourite from the album 'This'll Be My Year' with its perfect sing along moment in the chorus, thanks Butch Walker for that, your signature is all over that, I always enjoy watching bands play their new material, it's fresh in their mind, it's fun and you can tell they enjoy playing it. 'If It's Love' was next to a great reception but then throwing in 'Meet Virginia' going way back to their debut album, it was a great reaction that was unexpected by Pat.  You should know by now Pat that we love that one. What I truly enjoyed about the show was the level of crowd interaction Pat has with them, whether it was taking photos while singing, or signing autographs, he never dropped a note and that's a true talent.  Many don't engage the crowds, but Train take that to a new level, bringing some girls up on stage to belt out the tambourine and have a little sing along during 'Get To Me' that was a cool moment.  They continued mixing up the set with songs across majority of their albums with the likes of 'Ordinary' and 'You Can Finally Meet My Mom' which took on a different meaning once Pat told the story of it, that was a special song to hear live tonight.  'Calling All Angels' and Pat's first attempt to belt out a tune without the microphone for my favourite and namesake of their last album 'Save Me, San Francisco' with the promise of more sans microphone later on… but that song with its 'Oh Hell No' made for some great crowd love.
Pat took on the saxophone during 'Mermaid' and then we got a special guest who I'd seen bopping away earlier on the other side of the stage, our beloved Delta Goodrem appeared and sang with the band on 'Bruises' now say what you will about Delta but she can SING, her voice complemented Pat's and the song perfectly and left a lot of people surprised and happy after seeing that and her. 'Marry Me' was amazing, the song itself is beautiful but when Pat dropped the microphone to his side half way through and delivered it 'acoustically' to hear his voice resonate in the Opera House was magical, I couldn't have thought of a song more suited to that tonight and I'm glad I was there to witness it.  To completely change things up, I mean completely… a cover of the Aerosmith classic 'Dream On' was brilliant, although many didn't know the song, the ones that did were holding the horns high and belting it back to them.  An unexpected song and a highlight, well it was for me anyway.  Scott Underwood then had his time in the spotlight with a kick ass drum solo, man I wish more bands did that, I'm old school, I miss drum solos, and he's one hell of a drummer too.
As Jimmy brings out the ukulele everyone cheers in anticipation and when the 'Hey eh…' starts and its 'Hey, Soul Sister' well you can imagine the crowd's reaction.  This song in a way reinvented Train and put them back on the map and it's just a happy song, it makes people smile and it did tonight as I looked around.  'Drive By' was up next with the return of Delta, begrudgingly it seemed but she enjoyed belting out the chorus with the band, the title track from the new album 'California 37' was the 'last' before Pat explains they don't really do encores as they'd rather just stay up there and play, so as the piano intro of 'Drops Of Jupiter' begins, the deafening crowd noise was something special, for a song that is now eleven years old and to still get that reaction is awesome, and the smiles on the guys faces tells you they know the song is special, that it has done its job and they'll never stop playing it.  Leaving us with 'Sing Together' was a perfect ending as we all got to, well, sing together…
Train really are no strangers to Australia, being here many times before and each time they visit they get better, both musically, lyrically and performance wise.  Pat, Jimmy and Scott who make up Train, along with their touring musicians delivered these songs with precision and passion tonight.  Here's to the next time the Train arrives and I'm sure even more will try to get on it.
If you missed it earlier, check out our chat with Scott Underwood here…

Essential Information
Venue: The Sydney Opera House
Date: June 7 2012
Support: Matt Nathanson
Website: www.trainline.com & www.mattnathanson.com
Set Lists:
Matt Nathanson set:
Room @ The End Of The World
Modern Love
Run
Faster
Come On Get Higher
Suspended
Train set:
50 Ways to Say Goodbye
This'll Be My Year
If it's Love
Meet Virginia
Get To Me
Ordinary
You Can Finally Meet My Mom
Calling All Angels
Save Me, San Francisco
Mermaid
Bruises
Marry Me
Dream On (Aerosmith cover)
Drum solo
Hey, Soul Sister
Drive By
California 37
Drops of Jupiter
Sing Together