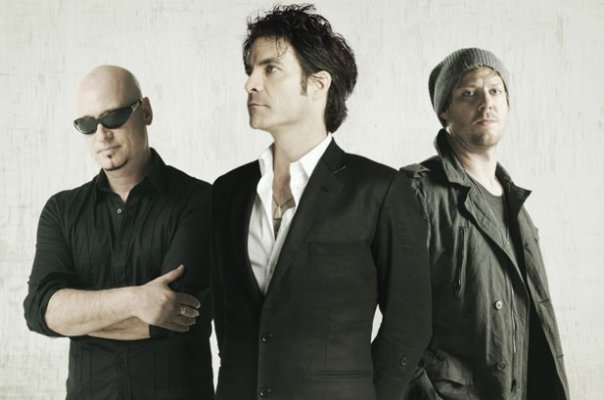 "You know, people want to hear a band be genuine and if they like what we're doing, that's great, if not, there's going to be a percentage of people who do, and we're a genuine band and that's kind of our attitude now."
Train are most well-known for their amazingly friendly radio hits 'Drops of Jupiter' and of course the song that you couldn't go five minutes without hearing in 2010 and 2011 'Hey Soul Sister', but Train are back with a new album entitled 'California 37' that is released tomorrow and judging by the impact of the first single 'Drive By' they're telling us they're here to stay.
While waiting on hold for the call to speak to Train drummer Scott Underwood, 'Drive By' was playing on the line and you simply can't not like this song, it was a good sign for the call and when connected with Scott we spoke about the new album, touring (including some cool news for Aussie fans) and the almost rebirth of the band because of that one song…
People get ready, there's a Train coming…
Thanks for taking the time to talk to us Scott…
Absolutely, happy to do it.
Now I haven't had a chance to hear the album yet, so here's your chance to give us your mini review.  Can you sum up the album in five words for us?
In five words?  OK… Let's see… Eclectic, Old school, that's two words I guess ha ha make that one word. New school, deep, fun and danceable.
But seriously, can you give us a bit more insight into the album and what we can expect this time around?
We're really proud of it man, and I know I have to say this but I really mean it, this is easily our best record.  Pat's in a new place lyrically, he has really reached a potential that is pretty impressive to me, where it just lyrically he's just so good at writing these kinda fun, he always writes these kinda quirky lyrics, but there's also a great depth to them often times if you listen to them.  Musically we're just in a really, really good spot and the record has a lot of sort of contemporary, upbeat songs which we really wanted to do because we want to get people dancing at our live shows more than we have in the past.  There's also some stuff that's just really like an acoustic guitar with Pat singing and me on a keyboard, there's another song with a ukulele on it that's really catchy and cool, it's just got a lot of stuff on it, it's really cool.
What's the meaning behind the name of the album, in California 37?
California 37 is a road in Northern California where the band is from.  Pat used to live up in Sonoma County, I was in Marin County and Jimmy was right in San Francisco, so it was like three locations north and south of each other, and California 37 is a road up there that used to connect us to each other as well as it's also the road you take to go up in to Napa Valley. We've become big wine fans and we make our own wine and everything so Napa Valley's become a big part of our lives and it's also a road, we have a lot of stories on that road, like breaking down and hitch hiking and just a lot funny stuff so it just kind of felt appropriate.
In the three years since 'Save Me San Francisco' what has inspired the songs for this new album?
It's a continuation of our last record which is 'Save Me San Francisco' and he's been sticking with the San Francisco theme lyrically and telling stories about our lives there, and it's pretty cool in that way and that's why the record title is still a California title.  We just wrote it over the past two years while on tour and it just kind of came together.  We picked the eleven best songs that we were happiest with and tried to make sure that it's a really listenable album in its entirety, not two good songs and then a bunch of stuff you don't care about.  The whole record from one to number eleven is important to us.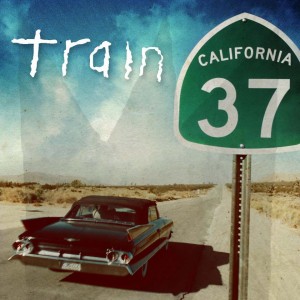 I was listening to some snippets though and saw, 'This'll Be My Year'… to me it almost sounds like it could be a sequel to 'We Didn't Start The Fire', was that almost intentional?
That's funny, we just did a Rolling Stone interview and they said the same thing and I don't like if Pat liked that comparison too much but it's true ha ha you know, because it is sort of a chronological song.  You know that's just a story where Pat took his life experiences, he talks about the birth of his daughter and his son, he talks about Train leaving San Francisco in a $1000 van and also kind of ties in what was happening in the world at that time and just kind of used that as a basis to write those lyrics.  Musically and the way his vocal is sort of a throw back to that era of music too, we were kinda thinking like an older school pop rock song that maybe something Journey would do or The Cars or something like that.
It's got a great chorus in it…
Yeah, it's a great chorus and actually Butch Walker the producer, who's a really cool musician and he has his own band and everything and we're good friends with him, he had a heavy hand in that as he said "You guys can rock and you never really write that way, you always write more pop and lighter, you should rock and this is how you do it" so he kind of helped us ha ha.
I was going to ask about Butch as we're big fans of his work, what is it that he brings to the table that works for Train?
Well even though he's a pretty badass rocker, he's a professional producer; he's produced every type of music you know.  He knows not to turn us in to a different band.  He actually was really great because we've known his for years since he was in 'Marvelous 3' and we were a small band playing in Atlanta, so being in the studio with him there was a great mutual respect and it was like working with someone you really admire but someone you're a peer with.  It was really the best studio experience we've ever had, there was just tonnes of laughter and just a really great time and he's very even tempered and he's not heavy handed.  Like he lets me play the drums and he likes the way I play the drums and he might be like "Do that Scott Underwood thing" he won't be like, play like Stewart Copeland or something like that, he's very cool in that way and I think he just brought the best out of us.  The rock he added is you'll hear a bit of a different sound on the record there, just the production of the guitars and the drums and everything, it's a little more rock which gives a nice sort of edge to these pop songs you know.
I have to ask, when can we expect to see you back in Australia?
We plan on coming back there in June, we have the whole month blocked out for Australia and Asia, not sure exactly when but that's the plan.
Now I did hear a rumour that you'll be playing a special venue here in Sydney…
Yeah man, it's a very big deal, the Sydney Opera House, it's almost hard to believe, you know I'm not going to believe it until we're actually on stage.  I'm a big fan of architecture and that's the first thing I had to see when we went to Australia way back when, and I go there every time we're there.
I've had the opportunity to see you a number of times over the years down here and the shows are always something special.  What could we expect to see at the Opera House shows, like I've seen Pat do 'When I Look To The Sky' with no microphone, could we expect something like that?
You know what?  I'll suggest that because of the acoustics at the Opera House, it'd be perfect for that, I don't know if he's even thought about that yet, that's a great idea.
Touring wise, is there anywhere you're planning on heading to that you've never been to before?
Well the last record brought us to many parts of the world that we've never before been so we're going to continue that, that includes all of Asia, we really focus on South America a lot and those are the two kind of big important places we went to and Dubai was a cool place that we stopped at.  Right now we're finding out that the song is Number 1 in Lebanon and it's also a big hit in India and stuff like that so we're all excited about going to those areas.
How important to you was a song like 'Hey Soul Sister' which in essence was a rebirth for the band and I must admit the catchiest song of the last couple of years and the reaction it generated?
Well man, it was not expected at all.  We really thought that we were making probably our last record, not by our means but we thought that Columbia records was like 'OK we're going to give you guys one more chance and here's your record and here's a small budget and nobody's probably going to listen to it, so it was nice knowing ya.' Then this song comes out and it really starts blowing up and nobody could believe it, in fact our record label that in the music business that we were the story of the year because of the shock of it.  Everybody said Train is dead, I can't even explain it, but we've learned important lessons through it and that is that we didn't write that song trying to write a super hit song, we just wrote that song that we liked and made that record with the attitude of 'let's just make a really great record and enjoy the process' and that record became actually our biggest selling record.  We learned that when you're trying a hit song you're going to miss your mark because you're trying to just say like 'Hey what's Lady Gaga doing?  Let's do that.' You know, people want to hear a band be genuine and if they like what we're doing, that's great, if not, there's going to be a percentage of people who do, and we're a genuine band and that's kind of our attitude now.  If we're enjoying the process that's really good, we learned that from 'Soul Sister' but the fact that there's this much attention around the world for a band as old as ours at this point, we formed in '94, that's really unusual and we know how special it is.
Lastly, what does the rest of 2012 have in store for Train?
Yeah we've just started the big promotional campaign, started in Toronto, we just spent a week in New York City and we're going to go out to San Francisco for the album release and then we've got to pretty much go all over the world.  Go down to you guys and Asia and Europe, South America, Middle East and then just try to really hit everything, then this Summer we're going to do the big US tour and then that'll take us to Fall, I don't know what we'll do then, we just tour our asses off, we're pretty exhausted.  Then we'll take the holidays off, we're assuming this record's a couple of years, we're going to be working on that for a few years, so a lot of touring and releasing new singles and seeing what happens.
Thanks for your time Scott, we'll see you in June.
Thanks man, see you in Sydney.
Essential Information
From: San Francisco, USA
Band members: Pat Monahan – Vocals, Jimmy Stafford – Guitar, Scott Underwood – Drums
Website: http://www.trainline.com
Latest release: California 37 (April 13 – Columba Records / Sony Music Australia)