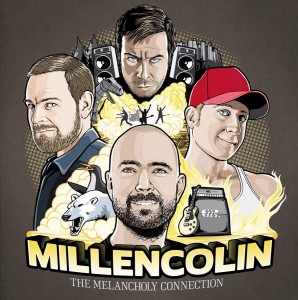 In 25 words or less: Millencolin fans out there, I'm sure most of you have already bought this already….if you haven't, what the hell are you waiting for? 
First things first, Happy 20th anniversary to Millencolin, you crazy Swedish punksters!  In celebration of their 20 years, the guys have just released The Melancholy Connection, which is essentially a follow on from the 1999 release The Melancholy Collection.  This latest release comes in two parts – a 14 track CD featuring 2 brand new tracks and 12 rarities from the period following on from their break-out album Pennybridge Pioneers and a 90 minute DVD featuring never before seen footage from the making of Pennybridge Pioneers as well as live footage.
Kicking off the CD compilation are the two new tracks, the anthemic Carry You and Out Of Nowhere, both bursting with classic Millencolin energy.  It's been 4 years since their last studio album, Machine 15 and if these new songs are a statement of where Millencolin are at in 2012, then bring on a new album already!  Of the other 12 tracks, hardcore Millencolin fans may already have these tracks on disc or the like already, given most originate on past single releases, but then again, CD singles haven't been around since???  I'm a glass half full kind of guy, so when it comes to releases such as these, I take them purely for the fact they are a compilation of tracks that may have otherwise never seen the light of day and for the true fans out there, they add to the collection of material from their favourite band.  With the tracks representing the period beyond Pennybridge Pioneers, they serve as an illustration to how the sound has evolved over the course of the last decade.  There's some great tracks on this disc and with a new album still a while away, it's a cool stop gap.
This release features an updated version of the Pennybridge Pioneers cover, courtesy of Millencolin's very own Erik Ohlsson who as well handling guitar duties, also handles the bands artwork.  2010/2011 saw the band touring and playing their most popular ever album in it's entirety and what an awesome way to further recognise the album than also releasing a 90 minute DVD of previously unseen footage that offers a fascinating behind the scenes insight into the making of the album, there's the making of videos for Fox and Penguins and Polarbears and discussions about how songs like No Cigar heralded a brand new era for the Millencolin sound.  I mean seriously, what real Millencolin fan wouldn't want to sit through 90 minutes of footage they've never seen before?
If you're reading this and new to Millencolin, then this release isn't the place to start, go and buy Pennybridge Pioneers.  But for all Millencolin fans out there, I'm sure most of you have already bought this already….if you haven't, what the hell are you waiting for?
Check out our interview with Erik Ohlsson…
Essential Information
For fans of: Millencolin…DUH!
Release date: 1st June 2012-06-14
Record label: Epitaph
Website: www.millencolin.com
Comments
comments