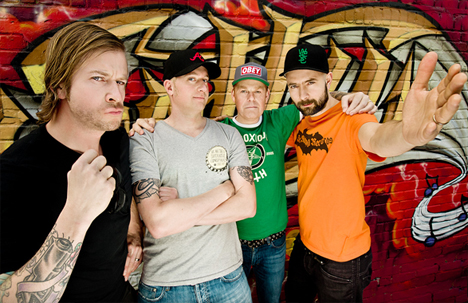 "When we started this band we could barely play our instruments, we were kids so I think we reached a time when we became much better musicians, and you can really tell that."
Renowned Swedish punk outfit, Millencolin, are celebrating twenty years with the release of The Melancholy Connection on June 1. This assemblage of B-sides, a follow up to 1999's The Melancholy Collection, features two brand new songs and twelve rarities spanning from their break-out album, Pennybridge Pioneers, through to today.  The CD is paired with a ninety minute DVD that takes fans inside the making of Pennybridge Pioneers with never before seen archival footage, interviews with the band and live performances (including their visit to Australia last year on the Soundwave Festival playing main stage).
With an impressive string of releases behind them, nearly two million records sold worldwide and having shared stages with the likes of Blink 182, the Foo Fighters and Queens of the Stone Age, the Örebro based quartet have put together an rousing collection of material that allows fans get an inside look at the past twenty years which have brought Millencolin to where they are today.
We chatted to guitarist Erik Ohlsson about the release and the DVD, new material, old material, and their own festival they are playing to celebrate two decades as a band…
So, why was now the right time to release this B-Side / Rarity package?
We did like a compilation before called 'The Melancholy Collection' which came out in '99 or something, so it felt like that was the first decade of the band and now it felt like a perfect time to sum up the second decade of this band.
How did you choose what would make the final cut?
They were maybe like five or six that didn't make the cut and I mean, the idea first came up as we went in to the studio and we had recorded like five brand new songs which we chose two new songs for this compilation and then twelve other hard to get B-sides.  It was kind of fun because you cannot forget about these songs which was exclusive material here and there, it was fun listening to everything and I'm surprised that they actually sound that good and some of them didn't make an album.
There are two new tracks on this release, how did these come about?  Were they ideas you'd had for some time or old demos that were never recorded or were they purely new material?
They were purely brand new songs.  It's been a while since we've recorded Machine 15 so we got lots of ideas, we didn't feel like there wasn't enough time, we didn't feel like that it was the right time to record a full album.  I don't know if we had that many songs ready, but we had four or five really good songs, and we're in the good position of owning our own studio as well, so it's kind of easy for us to set up everything and record.  Mathias our guitar player, he produced everything except the vocals were recorded in another studio and produced by some other Swedish guy, but music wise we produced everything in our own studio, we've got a good set up going on here.
Rather than going to The States again?
Ha ha, yeah, a little more convenient.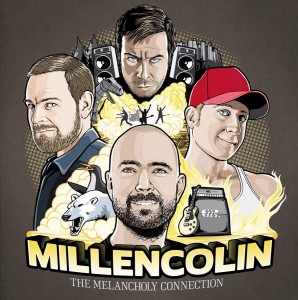 How much fun was it making the updated 'Pennybridge Pioneers' cover?  Whose idea was it to do that?
It was mine, since I drew everything myself as well.  I do all the artwork for Millencolin.  I've done everything you've seen graphic wise with Millencolin and I've done that.  Sometimes ideas hit you when I'm going to bed or waking up or taking a walk with the dogs or something ha ha, but I just came up with the idea and thought it'd be fun.  It also connects the whole concept of this album as you've got the compilation and the movie which reaches from 'Pennybridge Pioneers' until now, but it's kind of fun to show people how we've aged in the same positions.
Alongside the album is a 90 minute documentary basically showcasing recording of 'Pennybridge Pioneers', had you always planned to release this and this just became the perfect opportunity?
Kind of yeah, around the same time we released the first compilation in '99 I did the first Millencolin DVD called 'Millencolin and the Hi-8 Adventures' and ever since we had promised the fans we'd do a new DVD but the thing is, getting something like that together takes such a long time and we've been shooting a lot both in the studio and on the road and I've got a box with like a hundred DV tapes or something, it's just so hard to start somewhere.  Then we realised, well, I realised that we shot a lot of stuff during the 'Pennybridge Pioneers' recording, I hadn't even looked through this material, I guess watched it once or twice after we got back from the studio, but since then it was like forgotten tape in a drawer somewhere in my basement.  So, it is the ten year of 'Pennybridge Pioneers' and we've got some new live footage, I thought I could probably get something out of this material.  Then I read some interviews with ourselves and how hard it was to get this piece together, it was just us picking up the camera in random situations in the studio.  So it was kind of hard to get some sort of order of the songs and what we talked about, some songs we didn't even have any material shot when we were recording our stuff.  It came together in the end though ha ha.
You also had the fun job of directing and editing the project, how long was the process in putting this together?
Ha ha I didn't leave my office or my computer from the beginning of December to the beginning of March or something because I was directing this thing, I was recording in the studio and I was making the cover art work as well ha ha.  There's been some hectic months for me.  That's the way that Millencolin always works, we've been taking care of everything, even though we have a great record label behind us doing good jobs for us but we always took care of everything on our own anyways based from our own ideas anyway.
What do you think it was about Pennybridge Pioneers that attracted people to Millencolin?
We had been touring for four years and were steadily growing, so I don't know, I think that album was the first time we found our own Millencolin sound in a way.  The first three albums we were recording them in Sweden with the same guy but we were still looking to the American bands we looked up to, like the Californian sound, so we almost tried to copy that sound more or less.  For Pennybridge Pioneers, we went to the States for the first time recording with Brett but still it became the most personal Millencolin record I think and from there on we turned more in to a rock sound than a regular basic sound I think.  When we started this band we could barely play our instruments, we were kids so I think we reached a time when we became much better musicians, and you can really tell that.  We've got this 20 year festival in our home town so we're rehearsing all our old material and we just realised, hey what happened with 'Home From Home' when we recorded that album it sounds so much better than Pennybridge Pioneers and that was the time when we set up our own studio, we didn't record in our studio but we became aware how to make this music and record on our own ha ha, we became better musicians and I think Pennybridge Pioneers was the start of that in a way.  As we say in the video, Brett Gurewitz, he thought that we were really great musicians and we didn't realise that and he made us believe in ourselves as musicians in a way we haven't done before I think.
As you just mentioned, you're having your own little two day Millencolin 20 year Festival in June for two days, and that's pretty much all you're playing this year. What was the idea behind only doing this rather than extensive touring?
The thing is we pretty much just ended an extensive tour which was the 10 year anniversary or Pennybridge Pioneers playing old material, this year we need to have something brand new out, more than just two new songs out to be able to tour, we can't just start touring again based on old material.  We did Soundwave in Australia with this Pennybridge Pioneers tour. People have been talking about what we're going to do for our twentieth anniversary, we were expected to come up with something and we didn't think much about it, and our manager, we are working with our best friend and he came up with an idea he said why don't you start your own two day festival and invite bands you like. That was a brilliant idea.  It's going really good, we're really looking forward to this.  In two weeks today we're on the second day of the festival.
Who have you got?  I saw The Hives are playing, but who else?
The Hives, Danko Jones, we've got Bombshell Rocks, The Peepshows, Nine, there are a lot of old Burning Heart fans, our record label here in Sweden, there a lot of bands we've been touring with, we've got a lot of history with a lot of these bands.  At least with Bombshell Rocks and Nine and The Peepshows as well, they haven't played much at all, in five years or something, it's almost like they haven't quit but it's like reunion shows for them, so it's a really, really cool set up.  This is the first festival I want to watch every band, so it's going to be so much fun.  Before it we listed all the songs we have done and we realised that we have recorded or written 134 songs so we have taken than down to 50 so we're going to perform 50 songs at the festival.
Wow, long set ha ha
Yeah, we're ending both nights, we're closing both nights so we're going to do 25 songs a night.
Ha ha I thought you were going out to play for four hours or something…
We haven't really thought how long it'll be, but it's our own festival so we'll play as long as we want ha ha ha.
You mentioned you can't tour without new material, but are you currently working on new material for an album?
We've still got two or three songs recorded and finished, waiting for something to come, some platform for it to be released on.  Especially Mathias, he writes all the time, he's like every day now when we're not on tour he's in the studio every day writing Millencolin stuff, so we definitely got stuff going.  We're not just sure with when to release this, we know where, with Epitaph, but we don't really know when.  Since we've been working on this release since before Christmas, we haven't been touring but we've been working our asses off on this release so we kind of need a break after this anyway.  We're going to do this really cool Italian festival as well this Summer but these will be the only shows during 2012.
As no stranger to Australia, what are some of your fondest memories of touring here?
Ooh, tonnes of good memories… I did an interview with a skateboard magazine the other day and they talked about favourite cities and I remember that me and Ben from Bodyjar, we skated downtown Melbourne one night, the full night, this must have been back in 96 or 97, it was just a really warm night and we were skating downtown Melbourne.  That actually was one of the best Australian memories for me.
How are the crowds down here for Millencolin, I've seen a show and it seems they absolutely love you down here…
And we love Australia, we love being in Australia, we love the people of Australia and playing live in Australia is great.  I don't know how many times we've been to Australia?  Maybe eight or something like that and every time you realise I want to live there during the Swedish Winter time and live in Sweden during the Summer time which it is now, it's really beautiful here.  So that may be the future for me…
Twenty years as a band, can you pick one moment that stands out above the rest as the most amazing?
I mean, when we grew up Epitaph records was what we listened to, all the old albums, we picked up everything from Epitaph, it was the coolest music we knew.  When Brett Gurewitz who was our idol signed us, as the first non American band, that must be the coolest thing that happened to us, and it also opened so many doors for us, especially in the States.
Lastly, what does the rest of 2012 have in store for Millencolin?
We're going to start working on a new album, I also have five projects going, I have a graphic design company, I always work on the side of that with Millencolin.  I spend half the year working on Millencolin stuff, I feel I need to spend time on other stuff to get more inspiration to do cool stuff for Millencolin.
Essential Information
From: Sweden
Band members: Nikola Sarcevic – Vocals & bass, Mathias Färm – Guitar, Erik Ohlsson – Guitar, Fredrik Larzon – Drums
Website: http://www.millencolin.com
Latest release: The Melancholy Connection (June 1 – Epitaph Records)