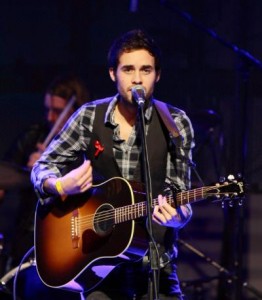 TIM CHAISSON RETURNS TO AUSTRALIA FOR LIVE DATES
ABC Music to release new single 'Broken Hearted Beat' Canada's Tim Chaisson will return to our shores in May for an extensive run of live shows, playing with the likes of Tim Freedman, Diesel, Matt Andersen and Morgan Joanel, as he continues to work his album Broken Hearted Beat. To co-incide with his visit, ABC Music will release the album's title track, the single impacting at radio w/c 23rd April, with accompanying video to follow.
Chaisson, who has performed over 200 shows in support of independent musical gem Broken Heated Beat, first visited Australia in October last year. The golden voiced multi-instrumentalist won a legion of new fans with his breath-taking acoustic sets, and his Sydney Blues and Roots Festival performance was selected in the Top 10 Australian shows of 2011 by GetMusic.com. Back on home soil, Tim was nominated for Entertainer of the Year and Video of the Year at the recent 2012 East Coast Music Awards in Moncton.
With three solo albums under his belt and current album, 'Broken Hearted Beat' with his band Morning Fold, Chaisson is presently working on his fifth studio album with producer Colin Linden. Linden, who has worked with a wide variety of artists including Bruce Cockburn, Lucinda Williams, T-Bone Burnett and The Band, is also lead guitarist for Emmylou Harris's band, "The Red Dirt Boys". Chaisson is excited to be returning to Australia, saying today, "I had an incredible time playing in Australia last year and have been waiting for a break in my writing and recording schedule to return. I'm looking forward to these shows, especially the chance with Tim Freedman and Diesel, who are so well respected for their recording and live work. I'm going to be previewing some of the songs from my forthcoming album on you Aussies, as well as tracks from 'Broken Hearted Beat', I can't wait!"
Tickets are on sale now for all of Tim's May shows – album 'Broken Hearted Beat' out now on ABC Music.
Check out our interview with Tim Chaisson from last year here
TIM CHAISSON LIVE – TICKETS ON SALE NOW
Thursday 3rd May 2012: Sol Bar – Maroochydore (QLD)
Ph: (07) 5443 9550 www.solbar.com.au
Friday 4th, Sat 5th and Sun 6th May: The Planting Festival – Woodford (QLD)
Tickets: www.theplantingfestival.com
Wednesday 9th May: Notes – Newtown (NSW) MEDIA SHOWCASE
With Morgan Joanel
Tickets: (02) 9557 5111 or www.noteslive.net.au
Thursday 10th May: The Vault – Windsor (NSW)
Tickets: (02) 4587 8146 or www.vault146.com.au
Friday 11th May: The Vanguard – Newtown (NSW)
With James Reyne
Tickets: (02) 9557 9409 or www.thevanguard.com.au
Sunday 13th May: La Mar Sundays, The Glenelg Surf Club – Adelaide (SA)
Ph: (08) 8295 6165, www.glenelgslsc.com.au
Wednesday 16th May: The Empress – Fitzroy North (VIC)
With: Bravo Juliet + Someone else's Wedding Ph: 03 9489 8605 – www.theempresshotel.com.au
Thursday 17th May: Beav's Bar – Geelong (VIC)
With Tim Freedman
Tickets: (03) 5222 3366 / www.beavsbar.com.au
Friday 18th May: Wellers Restaurant – Kangaroo Ground (VIC)
With Tim Freedman
Tickets: (03) 9712 0266 / www.wellers.com.au
Saturday 19th May: Spirit Bar & Lounge, Traralgon (VIC)
With Tim Freedman
Tickets: (03) 5176 0464
Sunday 20th May: Rock Lily – Sydney (NSW)
www.star.com.au/rocklily
Tuesday 22nd, Wed 23rd May: Lizottes – Newcastle (NSW)
With Diesel and Matt Andersen
Tickets: 02 4956 2066 or www.lizottes.com.au
Friday 25th, Sat 26th May: Brass Monkey – Cronulla (NSW)
With Tim Freedman
Tickets: www.oztix.com.au or 1300 762 545
Sunday 27th May 2012: APRA Song Summit – Sydney (NSW)
www.songsummit.com.au
www.timchaisson.com
–
www.bumstead.com
–
www.codeone.net.au
www.theharbouragency.com
–
www.abcmusic.com.au