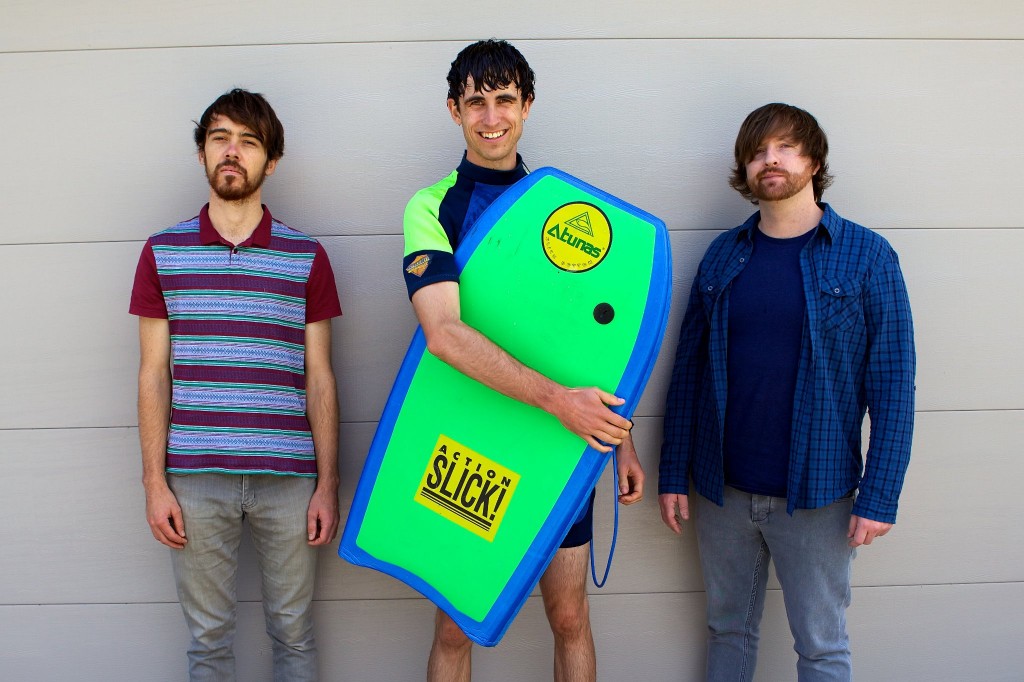 After numerous recent live dates at both the Groovin' The Moo festival run and their own official HANDSHAKE TOUR through March, April and May around the country with shows through ACT, Queensland, NSW, Victoria and South Australia, Canberra's Super Best Friends are set for a couple more shows in late May on the Emperor's 'Stay Frosty Tour'.
Official press release: "SUPER BEST FRIENDS started making headway after the release of their 2009 EP Ready Aim Fire!  The release scored consistent airplay on triple j's SHORT.FAST.LOUD, a spot on the American Punk Kills compilation, college radio play in the USA and community radio play around Australia. The title track won the University of Canberra's Catapult Comp to play at Stonefest 09, putting SUPER BEST FRIENDS on the same bill as The Living End, Children Collide, Art Vs Science, British India, Urthboy and Birds of Tokyo. The Ready Aim Fire! film clip aired on ABC TV's Rage in early 2010, catching the eye of some in the music industry and by the end of that year, SUPER BEST FRIENDS had picked up supports in Canberra and regional NSW with local heavy-weights Children Collide and Violent Soho.
In 2011, Ready Aim Fire! picked-up a belated 4/5 star review in punk rag Blunt Magazine, and earned SUPER BEST FRIENDS the label "outraged party rock [with] maximum headbangability".  With the launch of triple j unearthed digital radio, Ready Aim Fire! found itself on the airwaves again, and the trio added shows with The Beards, Gay Paris, Young Revelry and 90's heroes Regurgitator to their support credits.
Over beers in an old room at the Area Hotel Griffith (NSW), SUPER BEST FRIENDS talked to Children Collide road manager and producer Paul "Woody" Annison from Crucial Music about making their next record with him, and in April 2011, Woody began recording the HANDSHAKE EP at his Red Door Sounds studios in Melbourne.
Fans received their first taste of the HANDSHAKE EP with the release of the single, 'Karma Karma', which debuted  on triple j mornings in November 2011.  The track was accompanied by a DIY video – cast after a call-out on the SUPER BEST FRIENDS' Facebook page – and the 'Karma Karma' tour which saw the trio take their show up and down the east coast of Australia throughout November and December.  The track has received consistent spins on triple j and community radio around the country, with triple j's Dan Buhagiar calling it, "A great indie punk song laced with synths n shouts."
The bands latest track, 'No Logo Is A Joke', has been added to rotation on triple j.   The track is the second  single from the HANDSHAKE EP (out March 22), and is available to download for free from the Super Best Friends' Bandcamp and triple j unearthed pages. http://superbestfriends.bandcamp.com/ and http://triplejunearthed.com/superbestfriends"
Super Best Friend, Johnny Barrington takes some time to give YOU, our fine readers, more insight into what I am pretty sure is the first Canberra band we have featured so far on May The Rock Be With You!
As this will be the first time a lot of our readers may have been introduced to Super Best Friends, let's start with the basics first, when did the first band get together and what was the inspiration behind the band name Super Best Friends?
We met at Uni and by going to gigs in Canberra.  Matt's (bass) spent most of his life here but the rest of us grew up in regional NSW. Adam's (drums) from Cooma and I'm (Johnny/guitar) from Batemans Bay.  So we've been band mates about as long as we've been mates. Most bands in Canberra have some long-standing connection from high school – a brotherhood or a sisterhood, if you will – but not us. So we called ourselves Super Best Friends to make it seem like we're more important to each other than we really are. More accurately, the name's stolen from South Park. The satire of that show has had a big impact on our lyric style. After several years together, we have become a brotherhood – and we now slap five and do Bon Jovi style huddles before big stadium rock shows.
Can you introduce each member of the band and give us a rock 'n' roll fact or myth about each?
Alright, we'll do a true or false thing. Facebook us for answers. Apart from bass, Matt also plays accordion and once toured with Gogol Bordello – his big moment was storming the court during a Hunter Pirates game, to protest the Cannons franchise leaving Canberra. Adam started life as a hardcore metal drummer and his doublekicking once impressed Dave Lombardo from Slayer – it's almost as good as his kickflipping. He's also the singer/guitarist in Crash The Curb. I (Johnny/guitar) once had a full Coke bottle hurled at me the same night I blew up a Peavy amp at a rollerskating rink. I played in The Mormons uni cover band at Stonefest 2006, broke a string at the start of RATM's Take The Power Back and replaced it just in time for the face-melting solo. Faker had just finished, the bar was packed and the crowd went wild.
You have twenty seconds in an elevator to try and convince someone to listen to your new EP 'Handshake', without resorting to threats or violence, what do you tell them?
"Do you still have a CD player? You do, but you don't play CDs anymore. Yeah, okay. I've got a copy of my band's CD on me actually… you should take it home to see if your CD player still works. Listen to all the songs though, to make sure the needle doesn't jump."
In terms of song writing, what do you consider to be the most important elements that feature in a Super Best Friends, song?
Bass and drums drive the songs. As a guitarist, I want to make the other lads do all the work. This allows me to get stuck into the vocals, so I can hold my guitar off to the side and clap my hands like Billy Ray Cyrus. We like a good shout-a-long. Makes it sound juvenile and laddy. We've got a keyboard too for some nice 90s flashbacks, when my mum used to complain about how tinny and annoying Sega music was. We all get into rock'n'roll to rebel against our parents right?
Over the course of the bands evolution, what and/or who have you found inspires and influences your music the most, in both a lyrical and musical sense?
The songs aren't love songs, except for maybe the love between a boy and his amp turned up really loud. They take a stab at ourselves, our friends and what's happening around us. Like I said, South Park has been a big influence on our lyric style, also The Chaser and Bill Hicks… Louis C.K more recently. Comedians have a way of making social commentary without getting all preachy about it or trying to change things they can't change. That's how we try to write our lyrics. Have a stab at something, but don't pretend you know better. Musically, it's all about big bass, drums, guitar, 8-bit keyboard sounds and 2-bit singing.
You have a new single and video titled 'No Logo Is A Joke' what do you have to tell us about the concept behind the song and the video?
The music came from Adam just doing a beat at practise. I recorded it on my phone and kept humming a riff in my head, until I had a chance to sit down and play with it. The lyrics came next. The title rips of "911 Is A Joke" by Public Enemy (who we hassled for photos at Groovin The Moo the other week, outside their tent) and Naomi Klein's book "No Logo". It takes a stab at ourselves for the amount of clothes we buy with logos on them, even though we should know better. The film clip is basically a compile of heaps of ads I found online. People love watching commercial tele – there's even a few new free-to-air digital channels dedicated to advertising – so we thought a music video full of commercials would go down well.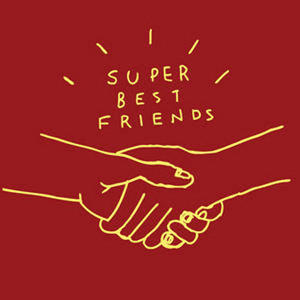 You hail from the Canberra, Australia.  For the benefit of those in galaxies far, far, away…what do you have to say about the rock scene in Canberra at the moment and Super Best Friends place within it?
It's strong – lots of good bands. The Fighting League, Crash The Curb, Mornings, Hoodlum Shouts (who are partially based in Melbourne), Shopgirl,Voss, Kasha, Bent Hen, The Last Prom, Cracked Actor, Tonk, Yoko Oh No and Los Capitanes and all the other bands on Canberra's various local labels –Dream Damage, Hello Square Recordings and Birds Love Fighting (also partially based in Melbourne). We're not on a label and Super Best Friends are still entirely based in Canberra, but it's probably only a matter of time until we are partially based in Melbourne. It happens to all Canberra bands. Initiate Records recorded our 2009 EP "Ready Aim Fire!" – but it's basically just our friend Chris Legge. His bandDining At The White should have been Canberra's biggest band and he sings like a Tom Araya/Thom Yorke duet on a Slaydiohead album. Call us for his contact details. Canberra's not just about rock either, you've got Readable Graffiti and our friend MC Stateovmind is blowing up. Smart hip-hop from the Nation's Capital.
If you were a person in the crowd at one of your gigs, what five words would you walk away using to describe the performance you just witnessed?
Mind-blowing. Face-melting. Ear-bashing. Ground-breaking. Life-changing. If compound words aren't acceptable, then I'd probably just say "Future of the Leftripoff." (Or is it rip-off?)
Gigs, gigs, gigs… do you have any coming up that you wanted to tell us all about?
Supporting Emperors from Perth on Friday May 25 at The Cambridge Hotel, Newcastle and on Saturday May 26 at FBi Social, Kings X Hotel Sydney. Very excitement.
With 2012 already four months down, here's a chance to gaze into your crystal ball.  By the end of 2012, Super Best Friends, will have:
1. …had a quick break while I went to America.
2. …written new songs and played more shows.
3. …all had birthdays (just in the nick of time too – Adam's is December 20)
Essential Information
From: Canberra, Australia
Sounds like: "Outraged party rock"
Band members: Johnny Barrington – vocals/guitar/keys Matt Roberts – bass/vocals Adam Bridges – drums/vocals
Website: www.superbestfriends.com.au
Latest release: Handshake EP (22 March 2012)
Tour dates:
SUPPORTING THE EMPERORS STAY FROSTY TOUR (NSW SHOWS):
Friday May 25 – Cambridge Hotel, Newcastle w/ Long Island Sound & The Owls
Saturday May 26 – FBi Socail Kings X Hotel, Sydney w/ Skull Squadron & Matt Banham