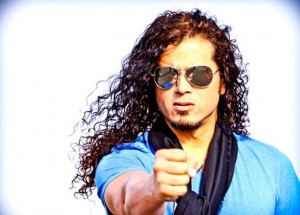 For someone who has long been hailed as one of the premiere vocalists in the melodic rock sphere for nearly 30 years, it surprised me somewhat to be reminded that Damage Control is only Jeff Scott Soto's fifth solo album.  With a career spanning beginnings as the vocalist for Swedish guitarist Yngwie Malmsteen, through to the mighty Talisman, contributing vocals to the soundtrack of the Rock Star movie, the killer Soul SirkUS, fronting Journey for a period of time and most recently W.E.T and Trans-Siberian Orchestra, whilst solo numbers are relatively few, Jeff has certainly been incredibly active, both in a touring and recording capacity, with over 60 albums that feature his vocals.
After his previous solo album Beautiful Mess offered a musical departure into a more contemporary soul and funk based direction which generally speaking, wasn't exactly met that positively by a number of Jeff's hardcore and long standing fans, Damage Control sees Jeff delivering an album that is bound to appeal to those that can only fathom hearing Jeff's vocals all over melodic rock styled songs, and nothing else.
We recently had the opportunity to snare some time with Jeff to chat about the superb new album, Damage Control.
Hey Jeff, thanks for taking the time to chat today, it's much appreciated!  Firstly, well done on Damage Control, it's a monster of an album.  So I can't help but ask about your album title Damage Control, is that a bit of a tongue in cheek reference to the response to your last album, Beautiful Mess?
It wasn't intentional, it was something I kind of joked about.  When I locked in the name of the title, I had something else in mind and when I told my label I was calling it Damage Control, who totally hated my last album and were against me releasing Beautiful Mess and the contents and style that was going on there, so it was more of a tongue in cheek reference to them and I guess it's kind of gotten out there that I made the album in the sense that this is the Damage Control to the Beautiful Mess I left behind.  It was mainly because once I had written the lyrics for Damage Control I had found that most of the lyrics pertained to some form of Damage Control in one sense or another, basically making a positive from a negative.  A lot of the lyrics on the album were kind of aimed towards that theme.  So I thought I already have the song Damage Control, so let's make the theme of the album fit around what I'm actually writing about on this thing.
I guess there's almost a certain expectation by others that JSS should only sing in the melodic rock style vein, and after the success of W.E.T, did Frontiers give strong direction about what they wanted from this new JSS solo album?
In the end they are more advisory, they don't have the iron to the hammer so to speak and tell me what to do.  They tell me what my audience would like to hear and the success of the W.E.T album was a strong indication of where I should be heading.  I've always told my fans, the label and anyone for that matter that when it comes to my solo career, I like to keep an open canvas.  If you want to hear me do stuff like W.E.T, then I'll do it with W.E.T, if you want to hear me do stuff like Talisman, I'll do it with Talisman.  My solo career should be my own personal expression of exactly what I've always wanted to do as a solo artist, not necessarily based on what I've done with other people.  That being said, of course I do have a lot of those influences in me and with this album I kind of wanted to do a montage of the breadth of what I have to offer musically in the hard rock field.  Hard rock to heavy metal to pop rock to AOR, MOR, on the 14 track deluxe edition I've covered all those bases as far as I'm concerned.  It was more a decision on my part after Beautiful Mess, I wanted to rock again and release an album that had all those elements that I enjoy doing in rock music.
You just spoke of the 14 track deluxe edition of the album and I've heard that mentioned a few times, but the one that seems to have been serviced to media from Frontiers is the 11 track version, so what's the story with these two editions of the album?
Well when I narrowed down the potential tracks for the album, I got it down to 14 and I had really fell in love with all 14 and I couldn't drop a single one as far as I was concerned.  As far as my contract, I was contracted to turn in an 11 song album.  So when I went to Frontiers I said that I'm in a bit of a bind as I'm married to all 14 songs and have to get all 14 released in some way, shape or form.  Because I had the relationship with the label and the loyalty and respect we have for each other through the years, they came to me with the option of the 11 song edition that they would choose based on the best representation they thought and then gave me the option of the 14 song edition.  I joked with them that clearly you know when I'm doing interviews, I'm going to be pushing the 14 song edition, right (laughs)?  At the moment, the 14 song edition is outselling the 11 track one, which clearly, for a few extra bucks you are getting a bonus DVD and the EPK which is a great way to dig through the album and who was on it and of course there's the extra 3 songs
Having something like nearly 30 odd people involved on the album, was this album one of those products of what is achievable these days via the Internet as a medium of communication?
Exactly what you said, that was the way it was done.  I think the only two songs we sat in the studio to record was Take You Down and Krazy World which were two that I tracked with my current guitar player Jorge Salan in Madrid, also with my bass player and Jorge's drummer who I have wanted to work with for years.  It just so happened I was able to round up all three together.  We had the technology to send tracks around the world and everyone work on their things according to their schedules and my needs, per se.  So basically that's how we got the album done, I was casting individuals and coordinating sending these tracks around the world and it was recorded across 3 continents in 2 and a half months.  It is amazing with technology today you can do something like that which sounds as strong and prominent as if it was recorded in the traditional sense.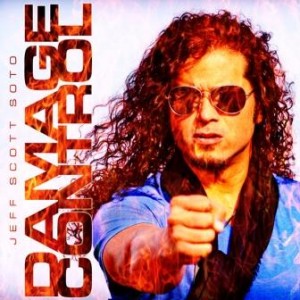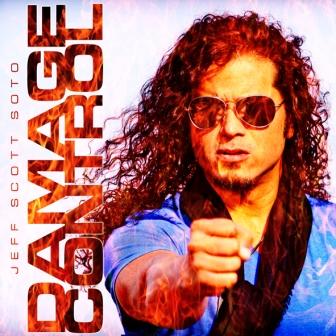 So as far as the songwriting on the album, you have collaborated with a range of people.  Were you writing both the music and lyrics, or just the lyrics?
On this album, I definitely went with all the other people I was collaborating with for the actual music. I've certainly written the music for some of my other albums, but this time I wanted the music to sound like it was being written and performed by proper musicians, that's their craft and what they do as musicians.  Whereas I'm a decent enough musician to come up with ideas and chords and have somebody else play them later, but this time I really wanted the emphasis of the writing to be on the instruments it was being written on.  I started with my solo album and then went outside the box with guys like Jamie Borger from Talisman who is a great pop rock songwriter and he would just come up with these ideas and lay them down quickly in the studio and send me just the basic tracks and then I would add the melodies and lyrics and finish it off.  That's what I did with everything on the album, they would send my ideas from top to bottom, I would listen to the track and say "yeah that ones good" or "that one needs a different section here or there", and that's where the production side would come in, I would kind of tear songs apart and put them back together and then from there I wrote my lyrics and melodies and finished things off.
I wanted to pick out three of my personal favorite songs from the album and get your comments on how the songs were written and recorded:
Bonafide – that was actually a song that was written completely outside of my entire box.  It was written back in 2008 I want to say, when I was doing Beautiful Mess.  My producer at the time was a member of this music house/publishing company, which he was one of the main owners of.  They basically had a bunch of in house staff writers that were writing songs for artists around the world.  They wrote this song that they wanted to pitch to Aerosmith.  They did a rough track of it and asked me to do the vocal for it and I kind of get that Steven Tyler vibe of it.  I don't know if they ever got it to Aerosmith, but I gave it my best shot and the song sounds like it could be in a movie soundtrack along the I Don't Wanna Miss A Thing kind of style.  Everybody I played the song to – friends and my staff, all loved the song and they all said you should do the song.  When it came to Damage Control I didn't have any ballads set up and I guess I was in a bit of a lazy mood to sit down at the piano and see what I could come up with and I thought, wait a minute, I've got that song Bonafide that everyone has said I should do.  So I dug up the demo and ripped it apart musically and retracked the entire song myself, as far as all the bass and some basic drum programming and at the last minute I got the drummer from Y&T to track the drums on it and of course Dave Meniketti has also done the guitar solo on it.  So it was one of those things that came about accidentally, I didn't plan on doing it, but because so many people loved the song, as I did as well, and of course given Aerosmith didn't pick it up, I thought now is the time that I'm going to do it!
Look Inside Your Heart – that was one of four songs I got from Joel Hoekstra, the guitar player from Night Ranger.  We've become very good friends over the years and done gigs together and basically been in the same company of other musicians and other bands for so many years, that finally after so many drunken nights talking that we should do something together, I finally called him out on it.  He sent me four ideas and I ended up using two of them, this song was the very first one I heard.  It was kind of strange as he sent me the songs without any drum tracks or anything, it was just the guitar tracks, but it had all the guitar parts, the solos and everything, but no bass, no keyboards, nothing, just guitars.  So I thought, ok how do I start to make heads or tales of this, I don't know what the tempo is, is it double time, half time etc, so it was kind of funny piecing it together and seeing what he had in mind compared to how I heard it.  It ended up being one of those amazing tracks in the end, so much so that Frontiers ended up wanting to drop it out as the first track from the album.
Neverending War – that was actually the second song that I used from Joel.  Once again he sent that track with just simply the guitar parts and nothing else.  When I first heard the song, for a musician, they would understand what I am saying here, but when I first heard the song, when I listened to his guitar parts I heard them on the wrong downbeat of the song, he actually meant it to be on the upbeat.  So when I programmed the drum program underneath his track so I could have a reference to what I was writing to, when I played it to him, he was like "Oh, I don't know what you were hearing, but you are completely on the wrong beat.  It's supposed to be on the upbeat, but  you're playing the whole thing on the downbeat".  If you heard the original version that I came up with, it sounds completely wrong now, so I understand where he was going now with the upbeat. Funny enough, when I did that original version it sounded more like that Jon Bon Jovi, Blaze Of Glory type thing.  Once we changed the tempo, it changed the song completely.  So with that, I knew that it was kind of going to have that ballady feel, but on the other hand when I wrote the lyrics behind it, I took it away from being any kind of love story or pertained to relationships so to speak. Lyrically it's pretty self explanatory, it's basically about the state of the world now or as it has been in the past few years and everything from people losing their jobs, the war, everything that's going on in this world, its a never ending war and constantly having to fight our way out of shit.
I see that you have recently finished off the vocals for the new W.E.T album, so what can you tell us about the status of when we can expect to hear this release?
I had to get all my vocals done because I had to get myself ready and sorted for this Queen Extravaganza tour that's starting up very soon.  So I only had a small timeframe to get my vocals done as the guys have to turn the album in some time around late May and there was no way I could do it on the road or in between that time, so I basically had to knock it out now.  Luckily we were able to demo the songs up enough to get my vocals done and then the guys can build all the music tracks around the vocals.  I actually used a similar approach with Damage Control.  As for release date, I don't think it's going to see the light of day until the end of this year, or the beginning of next year.  Obviously we've got Damage Control out now and it would be silly to put something out around the same time as that as it would be like competing against myself.  There's also an Eclipse album coming out in August as well.  I guess we don't want to be competing amongst ourselves.
Singing in W.E.T versus say your solo material, how different a performance is it for you, W.E.T for starters is tapping into a higher register?
It's a lot higher and it's a lot cleaner, I definitely go for a more AOR vibe on the W.E.T stuff than my solo stuff.  My stuff, I don't really think that much when I'm singing, I just let it out.  I like not having a conscious effort of what I'm doing and why I'm doing it.  It just seems more fluent for me to not have to worry whether I'm singing too raspy or too rough.  But with W.E.T, it makes sense to keep it nice and clean as it works better on the stuff. There are a few heavier songs on the new W.E.T album than there was on the first one and I roughened things up a little bit, but for the most part I've kept things as consistent as it was on the first one.  There's some really, really great material on this album, people that dug the first album are going to love the new one, I guarantee it.  The great thing as well is I was able to collaborate with the guys on this new record.  The first one they wrote everything and all I had to do was put my voice and my stamp on things.  This one I was able to put my own stamp and ideas lyrically, so it's definitely more of a collaborative effort this time.
Coming up is the Queen Extravaganza shows, which I imagine are going to keep you busy for quite a while, have you thought about looking at doing any of your own JSS solo dates, then you also have the Trans Siberian Orchestra floating in the mix as well, that's some potentially busy times?
Well in a perfect world I can squeeze all three in, at this stage I'm hoping I can.  At this stage it's too early to commit to any scheduling outside of the Queen Extravaganza, I'm locked into and committed to that so if they want to expand and extend beyond the current dates then basically I've given my time to them until they feel they're done.  I would be able to start scheduling things knowingly once I know whether they will be extending. If it ends when they say it's going to end then I plan on hitting the road in September with my solo band and going into October and hopefully that leads me enough time and resting period to jump into the TSO thing to round out the year.  I would obviously love to extend my own solo tour around the world a little further, it's obviously been a while since I've come and performed down under, I would live to get back down there again at some point.
And I'm sure Australia would love to have you back, they were some great shows that last time around!
We had an absolute blast.  We didn't sell out by any stretch at some of those shows, but it was an amazing time and if given the opportunity I would go back there again in a heartbeat!
You can check out our review of Damage Control right here…
Essential Information
From: USA
Website: www.jeffscottsoto.com
Latest release: Damage Control (23 March 2012, Frontiers Records/Riot! Entertainment)