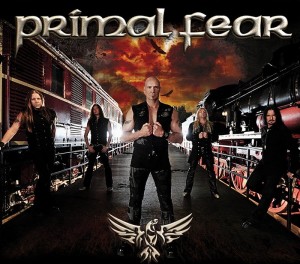 Well what a way to kick off the year with the mighty slab of metal from Primal Fear titled Unbreakable, the bands ninth release.  I know this comment may appear a bit flippant being said so early on in 2012, but this is unquestionably the greatest metal album released so far in 2012 and one that I personally will find very hard to top this year for sheer enjoyment.  Spending two years touring relentlessly afforded Primal Fear an opportunity to re-evaluate and where past albums such as their 2009 release 16.6 (Before The Devil Knows You're Dead) may have tinkered around the edges, on Unbreakable, the band have simply delivered an album of monstrous metal anthems.
Seriously, in the opening five songs Strike, Give Em Hell, first single, Bad Guys Wear Black, the frenetic And Then There Was Silence and Metal Nation, I personally couldn't possibly wish for much more as far as pure metal anthems go?  There's no way I can resist a chorus of "bang your head and never turn it down, bang your head, bad guys wear black…." when the distinctive vocals of Ralf Scheepers are in top flight.  Monster riffs are in abundance courtesy of the dual guitar attack of Alex Beyrodt and Magnus Karlsson and the production courtesy of bass player Matt Sinner is massive, as are the drums of Randy Black.  Where Angels Die is a soaring 8-minute epic, whilst the majestic Born Again is another that despite a slower tempo, is just as powerful as their more bombastic counterparts that fill the album.
We caught up with one of the true voices of metal, Ralf Scheepers to talk about the new album.
Hey Ralf, thanks for calling today!  Your new album "Unbreakable" has been out for a few weeks now and the fans are talking in the best way possible, they are buying the album in bucket loads if the charts around Europe are any indication!
Everybody seems to be really happy about it!  We were really happy to see the album charting in different countries and it's just a great time right now.
With the new album, you have gone back to a more classic power metal sound, which a few years of hard touring provided the inspiration for if I am correct?
Absolutely, we have collected much experience touring over the last few years and that in a way is mirrored on Unbreakable.  The guitar team, they work great together as you can hear and the whole album just pushes things to another level.
So tell me a little bit how you went about recording this album given you are all geographically dispersed, did you change things up a bit this time around, given the more focussed sound you set about delivering?
Yes it was a little different certainly to past albums.  Everybody was recording their parts at home.  I was singing in my small studio, like I did for my solo album.  Everybody is now really experienced in the techniques of recording and so forth and there's always the advantages of that.  I mean I had more time and I could really schedule things when I wanted to.  The disadvantages of course are not being able to record it all together.  You know, it's also a matter of how business goes these days as there is just not the big budgets from record companies and you have to really take care that you don't spend too much money on production and so forth.
Since your last studio album, Alex Beyrodt has come into the band on guitar, obviously having worked with Sinner previously.  Tell me about the dynamic Alex has brought into the band as far as songwriting goes?
That's really been a big upgrade having the four of us now (songwriting).  Alex has been playing with Primal Fear live since 1999, he was always helping out when there were difficulties with our ex-guitarists when they couldn't play due to various reasons.  So he has always helped us out and he was very obvious as the first guy we would ask to join more permanently.  Not only because he is such a great guitarist, but he's also a great person which is also important.
Lyrically, what are some of the key themes that you have tried to deal with on Unbreakable and are lyrics something that you four writers contribute to?
That's largely Matt and I.  We always write from our own personal experiences combined with fantasy elements.  A song like Born Again for instance I wrote when I was at a funeral of a buddy of mine who I used to play football with as a kid and I lost my sister and my dad a few years ago, so you always use some personal experiences that always have an impact upon you.  Then you combine it with a non- true story around it.  That's the way I do it.  Sometimes it might just be only fantasy or only science fiction that I write about.
The lead single is Bad Guys Wear Black, which is a real metal anthem, was that an obvious choice for you to have as the first single and video?
Well we had some candidates for the first video, but due to the length of the song, the rhythm and the melody, it was a smart decision to take that song.  We also had a band shoot, and shot the video in a train museum in Nuremberg and it all turned out great in my opinion.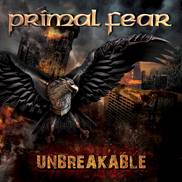 My favourite track, at least bright now is Where Angels Die, what can you tell me about how that track came together?
That was one song we were somehow picking still the atmospherical stuff we had done previously and we wanted to change a little from piano to guitar based.  As you know, Unbreakable is skipping back to into like the first album and has more guitar playing here and there.  But we still wanted to keep the more bombastic themes going on from past albums.  With this song it was a combination of having the piano part played by the guitar and still having the atmospheric sounds on it.  It's just great, the long instrument part really shows what our guitarists are capable of.
From a vocal point of view, you are voice sounds amazing, how was the experience of recording for you?
I have to be honest, I have to be perfect with this (laughs).  When I sit there I do it over and over again.  I remember the years when we recorded with tapes and stuff and we would often keep some of the takes.  But now, here in my studio I just erase it, ok so maybe it was good already, but I want to make sure it's 100%.  That's changed my way of working, of course it takes a little longer but in the end I think the result is much better than it was before.  Not that I'm saying what I did before wasn't good, but I'm a perfectionist and I'm not really satisfied fast.
You have a bunch of tour dates coming up in March/April, how do you think you will go playing a bunch of these tracks on tour?
We've started rehearsing and it's our intention to play as much as from the new album.  We are going on tour in late March here in Europe.  Hopefully we will also get to North and South America and do some summer festivals, maybe Japan and hopefully for the first time, Australia.
Primal Fear have been around since 1997, I have to ask, how have you noticed the change of attitudes in Germany towards heavy metal and for that matter the band, if there has been?
I think it's in line with the interest in general, but once again, now we have luckily our new album with a good chart entry again, so I think that also shows that people will once again come out to the shows.  We really can't complain, we're a lucky bunch of people to get to go out and play our music live, not only just in Germany, but all around the world.  But it's still all going well here in Germany, we have 800 to 1000 people still showing up to our shows and that's just great.
You released a solo album last year, how did you find that experience, outside of recording and working in a band environment?
It was an idea that came up in 2007 actually.  I've been collecting ideas over the years on my hard disk, which we couldn't really use for Primal Fear.  I spoke to Matt about the idea of a solo record and he suggested I talk to Frontiers, they liked the idea and that's how it happened.  It's almost the same writing team as Primal Fear who wrote the album, but it would have made no sense for us to release a ballads only album.  So that's why there's some heavy metal tracks on there as Ralf Scheepers is a heavy metal screamer (laughs)!  So there's 3 or 4 tracks that could easily be on a Primal Fear album.  There really was no competition between that album and Primal Fear because as you can hear with Unbreakable, we've made such a great album.
Is it something you think you might do again?
Right now, I'm not even thinking about it, but down the track, maybe yes.  We shall see what happens.  If the record company is up for it, but this year is 100% Primal Fear.
Well Ralf, thanks for chatting and hopefully we will see you out here in Australia one day on the horizon!
Thanks Scott.  Yes hopefully, everybody is really curious and keen and would love to go to Australia for the first time!
Check out our review of Unbreakable right here…
Essential Information
From: Germany
Band members: Ralf Scheepers – Vocals, Magnus Karlsson – Guitars, Alex Beyrodt – Guitars, Randy Black – Drums, Mat Sinner – Bass & Vocals
Website: www.primalfear.de
Latest release: Unbreakable (January 20th, 2012 – Frontiers Records/Riot! Entertainment)