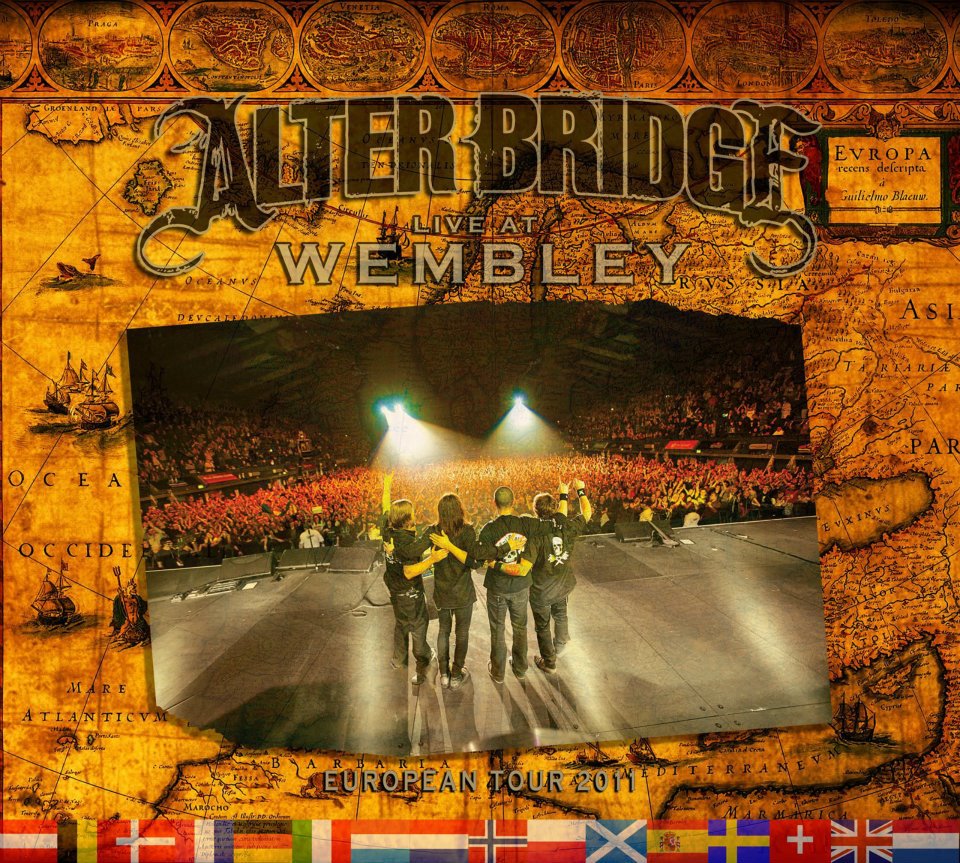 It's quite obvious to those of you that pay particularly close attention to May The Rock Be With You, that Alter Bridge are one of our favoured bands of the moment.  With Myles Kennedy graciously allowing us 20 minutes to chat today, that now makes three of the four band members we've interviewed.  Scott Phillips, if you are reading this, you're next…
With the recent Australian visit for Soundwave Festival wrapping up the ABIII touring cycle, and as they individually go off to their other projects during 2012, the band are going to leave fans worldwide with the best gift possible, the killer live DVD package Live At Wembley.  Recorded November 29, 2011, across 2 DVD's and 1 CD, Live At Wembley chronicles Alter Bridge's momentous gig and  what for eight years, has been one of the bands true goals, to play Wembley.  On one DVD you get the full 21 song show, on the other, an insightful and in depth 1 hour documentary detailing life on the road and the story behind putting together the show that features on the DVD.
Via Vision is pleased to present the release of the Alter Bridge: Live at Wembley. which is available to buy on both Double-disc DVD and Blu-ray from April 4th. "Alter Bridge boasts a passionate and loyal fan base in Australia and New Zealand as proven by their recent sold out Australian tour," says Nick Wayman, Via Vision Entertainment Executive. "We have high hopes for the Alter Bridge Live at Wembley release and are pleased to offer it across two formats in the best visual and audio presentation available."
This morning we caught up with Myles and delved into his memory bank for his thoughts on the show, thoughts on some of the more rewarding aspects of performing live, as well as a quick update on the upcoming Slash featuring Myles Kennedy & The Conspirators album Apocalyptic Love for which Myles is lead vocalist. 
Hey Myles, thanks for taking the time to chat today, how are you?
Hey Scott, I'm doing well thankyou.
So where in the world do we find you right now, you are in the USA somewhere aren't you?
I'm in Spokane, Washington today.
Awesome, so you have actually finally made it back home from your recent Aussie visit!
(Laughs) I have, it's actually the longest stretch I've been home I think in about three years.
And that stretch is about to end, you are heading back out on tour with Slash soon aren't you?
That's right, we've got some promotional stuff to do next week, then we start back out on tour later this month, or maybe it's early May.
So firstly, it's hard to believe it was about a month now since the recent Aussie Soundwave tour.  That must have been a great experience for Alter Bridge, there were some pretty crazy crowds from what I witnessed?
I think that was probably the funnest tour experience I have personally ever been a part of. and I attribute all of that to Steel Panther.  I love that band and I love them as people and it made it such a pleasure.  It was like rock n roll summer camp when we were down there (Laughs).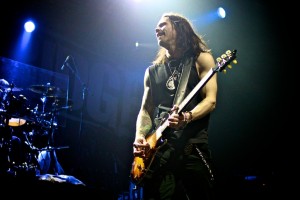 What were your thoughts on the crowd and response to the band down here, did it take you by surprise at all?
Well I knew we had pockets of fans, like from social media and stuff, but I think we were all a little bit surprised.  We would be preparing to go on stage and standing behind the curtain and we would be hearing people starting to chant our name "Alter Bridge, Alter Bridge" and we would walk out and there would be people all there in Alter Bridge shirts and everything.  We haven't been there in so many years and never really had the chance to tour Australia as Alter Bridge that much, so we were pleasantly surprised by the reaction to say the least.
So we shall talk about the upcoming DVD release Live At Wembley in a moment, but as far as Alter Bridge in 2012, were those Australian shows pretty much it for 2012?
Yes, the Australian shows rounded out the album cycle for ABIII, so we are officially wrapped up for the time being.
Now onto the new DVD Live At Wembley which I think as of yesterday is actually now out in stores here in Australia and what a massive package that is, with 2 DVD's and live CD.  What were your thoughts upon watching the finished product, or perhaps I should ask, have you actually seen the finished product?
You know what, I actually watched one of the edits months ago.  I was actually still in the studio with Slash and one night I got back from the studio and watched.  I haven't actually sat down and watched it since I got a couple of copies in the mail the other day.  I'm funny that way, once a records done, or a DVD is done, or a video, I generally have a hard time watching, or taking part in it again.  I am so hyper critical of anything that I do, I would just beat myself to a pulp if I sat there and watched it.  So I kind of move forward and leave everything in the past.
I guess given the anticipation and the build up to that show and no doubt the excitement of being in the moment, do you actually have much memory of that show ingrained in your memory, or is it all a blur?
I have specific moments that I remember really well, ones that I'll probably never forget.  It was such an important show, we'd spent so many years touring the UK, building towards that goal of playing Wembley, which was a big honour.  I remember there was one moment where I do just the acoustic guitar part, there was something that hit me really hard as that was happening as I looked out into the audience and saw people singing along and waving lighters and from my perspective, what I was looking out at, it really had a profound impact on me and one I'll never, ever forget.  It was like at that moment, I realized after all these years, we finally made this dream a reality, obviously through lots of hard work and the people who helped make it a reality of those who listen to our music.  It was just one of those things, a milestone that I'll hold onto and cherish for a long time.
In saying what you said earlier, is the UK what you guys consider to be your biggest market at the moment?
Yeah I actually think the UK and Italy are probably our two biggest markets.  Italy has been really good to us, actually a lot of Europe has been really supportive of Alter Bridge.  But it took a long time, I mean I could be wrong, but I kind of feel we've been over there now about 12 to 15 times, it wasn't like we just had a hit single and it really happened.  We've really cultivated it through lots of touring, it's not like we've had lots of huge singles.  It's largely been word of mouth and the press has been really supportive and that's how it came to be.
You mentioned earlier about having that profound moment during the Live At Wembley performance, but what I wanted to ask, was about performing in countries where English is not the native language, where you are singing lyrics and having the crowd sing them back to you in English and there's that undeniable connection through the power of music.  That's obviously a pretty amazing position for you to be in as the lead singer up on stage?
I actually think about that often.  Definitely in between songs when I am trying to address the crowd because you are not sure how many people out there know English, and I don't like to be presumptuous and assume everybody should know English.  I try to learn a few phrases wherever we are, but I'm generally terrible at it (laughs).  This one time in Germany I had someone scream out basically "your German is horrible".  But yeah, as far as songs go, it is pretty incredible to think that they take the time to listen to the song long enough to learn the lyric in the language that's not necessarily their first language.  I think some of it has to do with the power of melody.  Melody is a pretty universal language and I think they people find it compelling and it resonates with them and it's definitely something that fascinates me.
And I guess you personally get to experience that performing with Slash, when a piece of music as distinctive as the opening lead break to Sweet Child O Mine is known universally amongst rock fans worldwide, without even a single lyric needing to be sung.
Yes absolutely.
Watching the documentary part of the DVD, it details the background to the show and there was obviously a lot of required planning and preparation needed to execute the recording etc.  From a performance aspect, were there any key changes required to what is a typical Alter Bridge show?
Well we definitely added a bit more production into the show that we've done as Alter Bridge.  There's a lot more fire than normal (laughs), but I say that laughing as every time I think of Beavis and Butthead and them screaming "fire, fire, fire…"  So in that respect I get a chuckle, but yeah there was fire and we upped the lighting rig and what not, but I did have to be careful with the pyro in places.  Almost at one point I forgot a pyro cue and almost got blown up, which was definitely interesting, but fortunately I ran just and it just missed.  I don't know if you can see it on the camera edits, but I just barely missed getting my butt singed, so that was pretty funny now I look back on it.
Also, I guess having Daniel as producer again helped, given he has worked with you guys before?
He's great, that's something he does really well and that's put together these types of DVD's.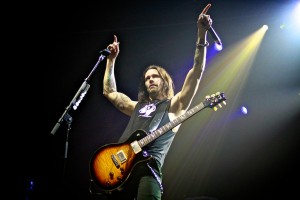 The documentary aspect of the DVD is great and not to understate the performance aspect of the DVD, but it's probably my favourite part of the release. It really gives an awesome insight into the band, and I love that in my music DVD's, as I always yearn for more than simply just a concert.  Was that something you wanted to do from the very outset for this DVD package?
Well I think Daniel definitely strongly wanted to have that aspect.  It's funny, when you're on the road and you have a camera around a lot, it can kind of become, "oh man there's that camera again", but fortunately the guy who was doing that was really cool and we got along with him really well.  But you kind of feel you live in a reality TV show, things are always being documented and it's kind of strange.  But in retrospect, you look back and are greatful it was there as it helped capture things that normally wouldn't be captured.  Exactly like yourself, I remember when I was growing up and watching live releases from bands, you would always be wanting to see behind the scenes footage and stuff like that as it helps the listener get a glimpse into that world.  I'm grateful and once again, Daniel did a great work putting the whole package together.
Ok Myles, I am going to put you on the spot here…as a music "fan", do you have a favourite live album or DVD?
Oh man…. that's a really good question (laughs).  You know, one I really remember early on when I was growing up was Live After Death by Iron Maiden.  That was a big one for me because the live version of Rime Of The Ancient Mariner I thought was so badass.  I mean I just remember listening to that over and over.  That's one of my favourite ever Maiden songs and I like it even better in a live context.  I guess one other is definitely Queen, Live At Wembley, that's insane, playing in front of a stadium of 80,000 people and Freddie just killing it.  I used to watch that one quite a bit before going on stage, it's a real inspiring one.
So now that you've conquered Wembley, what or where is next on the list to conquer for Alter Bridge?
I think I can speak for myself, and that would be to try and maintain what we've got over there.  It was nice that we got to play Wembley, but it would be nice to get to play there again and try and build upon and maintain it.  Once you get to certain milestones, I think the main challenge is to hold onto it as best you can.  If we can continue to grow other markets as the same magnitude as the UK, it would be wonderful, but time will tell.
Mentioning time, I have to say, for me personally for some reason, I find it hard to believe Alter Bridge is over 8 years old…
It's very strange, believe me.  Time is just ripping by, I can't believe it's been 8 years.
So in about 6 weeks I think it is, the world will get to hear the new Slash album.  So in the lead up to an album release, what feeling normally overwhelms you, excitement, anticipation, nervousness or taking on board what you said earlier about, an attitude of what's done, is done…
It's actually kind of a combination of all those.  To be perfectly honest, I do try to leave things in the past and try not to obsess about them too much.  But at the same time, we've worked extremely hard on this album and hope that people enjoy and like it.  I wouldn't be honest if I didn't admit to that.  You know, that's just a part of being an artist and being creative, hoping that people enjoy it.  I think there is certainly an excitement.  I'm really excited personally, like we were talking earlier, to play these songs live and see people sing them and sing them back.  For me, that's the biggest pay off out of all of it, it's an incredible feeling.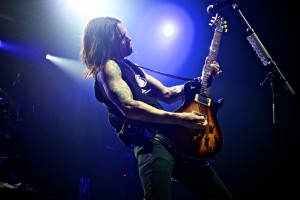 So given your respective schedules, as a co-writer with Slash, it must have been a tricky proposition to write the album.  Was that largely done in the "modern" way through the powers of the Internet?
The writing of it, some of it was done whilst we were touring together.  Then some if it was done whilst out on the road with Alter Bridge and Slash would send me files and I would work on them and send back through.  When it came time to record, we were pretty much all there for most of the recording, which was good.  Much io December and January was all the recording of the record.
You have some USA and European dates coming up, so hopefully we shall see yourself and Slash back in OZ later this year?
Yeah that would be awesome, so hopefully!
Well I think those beeps are signalling a wrap up.  It's been great chatting and I bet about 9 years ago Myles, the last thing you would have expected doing was talking to someone in Australia about having played Wembley Stadium and recording an album with Slash…
Absolutely, but I'm grateful and I'm just going to keep on working.
All the best with what's to come in 2012 and hopefully we'll chat again soon!
Thanks man you take care of yourself
Essential Information
From: USA
Band members: Myles Kennedy – Vocals, Guitar, Mark Tremonti – Guitar, Vocals, Brian Marshall – Bass, Scott Phillips – Drums
Website: www.alterbridge.com
Latest release: Alter Bridge – Live At Wembley
Track listing DVD: 1. Slip to the Void 2. Find the Real 3. Ghosts of Days Gone By 4. Before Tomorrow Comes 5. Come to Life 6. All Hope is Gone 7. White Knuckles 8. Brand New Start 9. Metalingus 10. Broken Wings 11. I Know it Hurts 12. One Day Remains 13. Cour D'Alene 14. Buried Alive 15. Blackbird 16. Wonderful Life 17. Watch over You 18. Ties that Bind 19. Isolation 20.Open Your Eyes 21. Rise Today.  Running time: 180 mins. Aspect ratio: 16:9. Sound: 5.1 DTS
Check out our recent interview with Brian Marshall…
Check out the photos from the band's Melbourne show with Steel Panther…