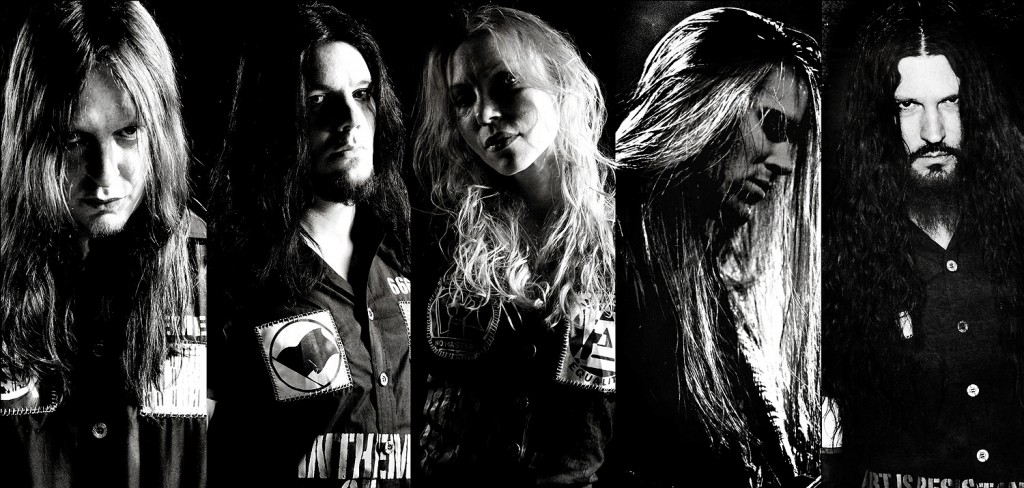 "You can't really say oh this band is really popular in Australia because they've sold a lot of albums, because you just don't know what sales are worth anymore.  We've always done very well, we've never been a multi-million selling band but we've always done very well on the live circuit."
Swedish melodic death metal trash rockers Arch Enemy are heading back to Australia for a whirlwind two shows in Sydney and Melbourne in support of their brutal album 'Khaos Legions' released last year, and these shows are most definitely ones to catch if you can.  With a new guitarist in tow, they hit our shores in just over week and in the lead up to the shows we spoke to lead guitarist of Arch Enemy, Michael Amott about the upcoming Australian tour, the departure of long time guitarist Chris and what we can expect in the future from these guys…
Of course you're heading back to Australia for two shows only on your whirlwind Australian Khaos tour.  What can we expect to see at these shows?
Hopefully we'll still be alive, we're actually starting in Japan and we're doing four shows there then we go around to Asia before we head to Australia.  It's going to be an exciting run, we're playing Singapore and the Philippines and we're playing Korea, Malaysia, places like that.  Then we come down to Australia, we got the opportunity to come down and do a coupe of shows with a new promoter for us in Australia and we just jumped at the chance to play Melbourne and Sydney and thought it'd be a cool way to end that little run.  I think the fans can expect a very cool show, we've got a different… we've got all the set lists on file we've played over the last five years so we'll make sure it's different and we've also got the new album 'Khaos Legions' to promote at the same time.
How did the departure of Chris come about, and how has that affected the band?
Well he's left the band previously as well, in 2005 he left the band for a couple of years and then he came back, so the first time he left back in '05 that was more of a shock if you know what I mean, this time we'd sensed for quite a while that he'd not been 100% in to it, so we were sort of expecting this.  It was no big deal, very undramatic and we had plenty of time, he let us know back in October that he had some new plans and handed in his notice, so we had plenty of time to sort it all out and find a new guitar player.  I'd already had somebody in mind, so it was fairly undramatic really.
So tell us about Nick Cordle, and how he came to be the newest member of the band.
Nick toured with us, he was in another band that supported us on a North American tour we did back in 2010, and that's where I found out about him, just watching him play every night and I just really liked his guitar playing and his stage presence and already back then Chris didn't seem to be 100% happy in Arch Enemy, so I guess I was subconsciously making mental notes for possible replacements.  When this situation appeared late last year, I just kind of took that name and said let's give this guy a call, so I gave Nick a phone call, he was on tour with his other band, I think they'd just stopped to fill up on gas at a truck stop somewhere in America and I call him and ask if he wants to jam with Arch Enemy.  So that was an interesting phone call.
With 'Khaos Legions' out for almost a year, has the strong support of it kept up?
Yeah, you put out new music these days, for a band like us, we hit the road pretty relentlessly, we haven't really had time to assess what's going on ha ha.  We do play and by now we play four or five songs off the 'Khaos Legions' album in our live set and those songs are going down very well with the crowd, there's very big recognition for the songs and people singing along and all that stuff and getting in to it.  So that's what the new album has and has gone into our fan bases conscious, they approve, they have the stamp of approval.  I think the first reviews when they came out, we don't really pay attention to that. I don't even know, album sales now days I don't really know what they are anymore, it doesn't really have the same… it's not the same anymore.  You can't really say oh this band is really popular in Australia because they've sold a lot of albums, because you just don't know what sales are worth anymore.  We've always done very well, we've never been a multi-million selling band but we've always done very well on the live circuit and we've done fairly well with selling our music as well, as we play very underground extreme stuff in a way, if you look at the big picture it's very extreme ha ha, I know there's a lot more extreme things out there, you can get as extreme as you want and you can't even listen anymore.  If you look at the big picture we still are an underground band, we have screaming vocals, lots of guitar solos, lots of drumming, down tuned guitars, it's not going to be for everyone but we do have a very strong supportive fan base which we're very pleased with.
Are you currently already working on new material for a new album?
Well we've had a couple of small breaks so far and I tend to get a bit bored after a few days and being at home and getting into some sort of normality I tend to call our drummer and ask if he wants to just jam on some new ideas I have.  We demoed up about three or four new song ideas I had, so we'll see and we'll take it from there.  We're not writing seriously, but we're not in a pre-production phase with the new album, I think we're going to do that next year.  This year is going to be mostly keeping on touring for this album 'Khaos Legions'.  2012 is going to be another year of playing all over the world for us and doing this.  The album is still relatively fresh, it feels that way anyway, we're shooting a new video at the end of this month for a song called 'Under Black Flags We March' and it's a new sort of promotional clip.  We're filming live shows along the way, we filmed one in Angela's home town of Cologne a few months ago, we filmed a show in Tokyo, and we're going to film in Manilla too in the Philippines, a festival there, it'll be crazy.  Other things as well, so we're actually working on a DVD that might come out next year.  A live Khaos kind of thing.
Over the band's career, what has been the biggest stand out moment for you being in Arch Enemy?
Probably getting Angela in the band and the first shows we did with her, getting that album out there and that was such a big step forward for us.  I guess every band has that, if you look at the arc of a career or whatever you want to call it, and I think every band has that moment where it just jumps up and hopefully we had that when Angela joined, it was just really, really good album, a strong album, it's called 'Wages Of Sin' and that's more than ten years old now, it was just a strong record, the songs came out very naturally and it was just a really good time, it was also a very exciting time, we didn't really know what was lying ahead of us you know… And then I've done so many cool things with Arch Enemy, we've done support tours with Iron Maiden, we flew around the world to Japan, United States, Canada and supported them.  We've done a long US tour supporting Slayer, you know one of my favourite bands of all time, we've toured with Megadeth, stuff like that.  You know we've done stuff that I never really thought that I'd do when I was listening to their music in my bedroom when I was a kid you know, I never really thought I'd be hanging out with Kerry King or Dave Mustaine, you know what I mean? Ha ha.  I never thought that would happen, I used to have posters of these guys on my walls and just be totally loving their music and learning guitar playing along to these records.
Aussie metal fans are known as being a little more passionate than some, how would you compare our metal heads to those around the world?
Everybody asks this question, it's the one question I probably get in every interview, from every country, it's like how do our fans compare to other fans, it's like everyone's concerned about that ha ha.  I think Australian fans are really good, we have a great time there, always a very strong reaction and you're right, they are very passionate about metal there.  I think the first time we went there was in '05 and we had a brilliant time, also a highlight I should say, there's always that special moment that first time you visit a country and you realise 'oh shit, we've got fans here and they're really in to the band and they're amazing' and it's like a new sort of love affair.  That was a great moment.  I think compared to other countries, you know I think what I found is that Arch Enemy is a band that tours all over the world, globally, all the time, we go around, we were in South America, North America, Canada and then we go all over Europe into Russia, North Africa, all over Asia, we go everywhere.  What I've found with Metal fans is their spirit is the same wherever you go, it's just this love and passion we have for this crazy sub-genre of Metal, so there are more things that are similar than not similar if you know what I mean.  Australian metal fans are great of course and we're looking forward to seeing them at the end of April.
Lastly, do you have a message for your Aussie fans?
Just looking forward to coming back, we've got a lot of cool friends down there and a lot of a favourite places, so we're just looking forward to seeing Sydney and Melbourne again and connecting with Australia again.
Thanks Michael, see you soon and of course May the Rock be with You…
Ha ha ha as with you, see you soon.
Check out the details of the tour here…
Essential Information
From: Sweden
Band members: Angela Gossow – Vocals , Michael Amott – Lead Guitars , Nick Cordle – Lead Guitars , Sharlee D'Angelo – Bass , Daniel Erlandsson – Drums
Website: http://www.archenemy.net
Latest release: Khaos Legions (Century Media / Riot! Entertainment)