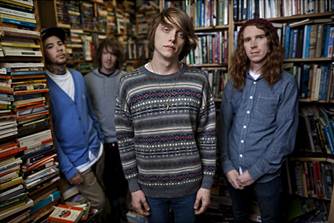 The Getaway Plan will perform three exclusive club shows this May as side shows to their spot on the Groovin' The Moo Tour. These are the first capital city headline shows of the year for the Melbourne four piece, who have just wrapped up a successful festival season that included spots on Big Day Out, Pyramid Rock and Breath Of Life.
The shows will coincide with the release of the 'Move Along' single to radio and TV. The music video for the clip was released last week on YouTube and was filmed at stunning visual locations around Western Victoria.
Along for the Sydney and Melbourne shows will be New Empire, with local supports to be announced shortly for all shows.
Tickets will be on sale this Friday, 16th March at 9am and are expected to sell quickly.
UNFD and Premier Artists Present…
THE GETAWAY PLAN
THREE EXCLUSIVE GROOVIN' THE MOO SIDE SHOWS
Thursday 3rd May – The Corner Hotel, Richmond [18+] w/ New Empire
Tickets available from The Corner Hotel – cornerhotel.com
Friday 11th May – The Standard, Sydney [18+] w/ New Empire
Tickets available from moshtix.com.au and ticketek.com.au
Friday 18th May – The Amplifier, Perth [18+]
Tickets available from moshtix.com.au and heatseeker.com.au
http://www.thegetawayplan.com/
http://www.thegetawayplan.com/
https://twitter.com/#!/thegetawayplan
http://www.warnermusic.com.au/
Check out our chat with The Getaway Plan's Matthew Wright from late last year HERE