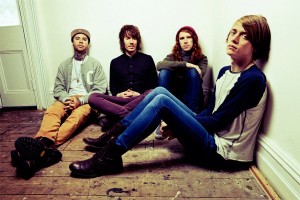 "I can confidentially say we'll be playing together for the rest of our lives."
The Getaway Plan were one of Australia's biggest bands a few years back; but with five years as a band and only one year of real success in 2009 the band decided to go on hiatus.  This confused and shocked both fans and people in the industry but with time away working with side projects but with the urge to play once again as a band the country welcomes back The Getaway Plan.  And what a welcome it is, their new album 'Requiem' is nothing short of amazing and will hopefully put these boys from Melbourne straight back to where they were only a couple of years ago.
We had the opportunity to have a quick chat to singer Matthew Wright about the band, the new album and what fans can expect on their up coming tour.
Firstly, who instigated the reunion and why do you think now was the right time?
We all kind of got together and skated it quite mutually, Clint and I kind of had a conversation which made everything definite but we were all equally involved as far as making the decision to get back together.  It feels right to me.
What was the means behind the band recording again?  Was that the obvious step?
Yeah that was after we decided to get back together obviously, we just had been writing constantly all of us for the last couple of years, so we already had a fair bit of music all ready to go, so yeah it was just the next step to get together and make another record.
So was it always a plan to do that or was it just something that you had in the back of your mind with the songs?
No we never really planned anything until we decided to get back together.
Was there ever a time you thought that The Getaway Plan would never be a band again?
Yeah absolutely, when we broke up we were all sure that was the end, definitely.  There was definitely no plans of trying to screw people over and break up and get back together or that sort of thing.
Do you think it was a case of too fast too soon for you guys and is that a lesson to be learned by new bands out there today?
Yeah definitely.  If there's any kids out there that are looking to be successful or they think they're going to be successful, just be ready for a pretty wild lifestyle.  It definitely crept up on us, we were kids when we started, we were only like 17 and things started getting big when we were like 19 so we actually hadn't had a chance to even live normal lives before that, but it was time for a rest.
Now I've been lucky enough to hear the new album and it's amazing, how happy are you with the end result?
I'm stoked dude, I couldn't be happier, honestly.  I think it's the best thing I've been a part of musically.
Were these all new songs written specifically for this album or did you have songs around from before that you'd wanted to use but never got the chance to?
Yeah definitely, as I wasn't really writing for the style that suits the band, some of the songs from the past were adapted to fit but the majority of them were written after we got back together.
Take us through the process of putting the new album together, was there a specific concept you had in mind?
No not really, I really wanted to introduce more electronic stuff and a lot more orchestral vibes as well which you can obviously hear on the record.
What's the meaning behind the title 'Requiem'?
A Requiem is like a mass or service for the dead so it's kind of meant to represent to demise and the reconciliation of our band.
How did you end up working with David Bottrill as the producer on Requiem?
We just put together a list of producers world wide that we liked their work and he was the first one to write back to us, he was actually number one on our list too.
The video for The Reckoning is full on, where did the concept for this one come from?
Pretty intense isn't it ha ha.  That actually came from a film called 'Anti Christ' and there's like a scene at the end of that movie that I really like that I tried to kind of rip off and adapt to fit the meaning of our song and I think we pulled it off.
'Move Along' is a smash waiting to happen, that needs to be a single, just putting it out there!
I'll let everyone know ha ha
You're about to hit the road again in Australia with your Melbourne shows close to sold out already. 
I believe it is yeah.
Were you at any time worried that people may have forgotten who you were and wouldn't come out to the shows?
Of course, our first show that we played back, our reunion show I did not expect to sell very well, but it ended up selling out in under ten minutes or something which is fucking insane.
What can fans expect at these up coming shows?
Bigger production.  We actually are considering getting some live touring members to help us with some more of the orchestral side of things with pianos and vocals and stuff, just bigger.  People expect it to be bigger.
Will there be a lot of old and new stuff?
Absolutely, yeah.
On the touring, is there anything else on the cards besides your own shows?
Yeah Big Day Out is the next thing we have after this tour.  After that we're probably going to be looking to do our own tour again in April but apart from that I think we're just going to take it as it comes man.
What about internationally?
Internationally, I mean that's always on the cards but we're probably going to have to just wait it out a bit until it's more viable for us to go over there.
Is this the new beginning for the band?  Are you here to stay?
Yeah definitely, I can confidentially say we'll be playing together for the rest of our lives.
As you've been away for a while are there any message for the fans that have stuck with you?
Thank you for sticking by us and we'll see you very soon.
Essential information
From: Melbourne, Australia
Band members: Aaron Barnett – Drums, Clint Owen Ellis – Guitar, Dave Anderson – Bass, Matthew Wright – Vocals
Website: www.thegetawayplan.com
Latest release: Requiem (4 November 2011, Warner Music Australia)
Catch The Getaway Plan on tour at the following dates
THE GETAWAY PLAN – THE REQUIEM TOUR
Featuring special guests Break Even and Gatherer
WEDNESDAY 23 NOVEMBER – THE HI-FI, BRISBANE (18+)
Tickets from www.thehifi.com.au, 1300 THE HIFI and Moshtix outlets including Kill The Music
FRIDAY 25 NOVEMBER – THE METRO, SYDNEY (18+)
Tickets from Metro Theatre Box Office 02 9550 3666 www.metrotheatre.com.au, Ticketek on 132 849 or www.ticketek.com.au
SATURDAY 26 NOVEMBER – CAMBRIDGE HOTEL, NEWCASTLE (18+)
Tickets from Moshtix on 1300 438 849 or www.moshtix.com.au, The Rock Shop, Newcastle Panthers and The Cambridge Hotel
SUNDAY 27 NOVEMBER  – ZIERHOLZ @ UC, CANBERRA (18+)
Tickets from Ticketek on 132 849 or www.ticketek.com.au, Oztix on 1300 762 545 or www.destroyalllines.oztix.com.au and UC Campus Convenience Store
THURSDAY 1 DECEMBER – THE HI-FI, MELBOURNE (18+)
Tickets from www.thehifi.com.au, 1300 THE HIFI and Moshtix outlets Polyester, Greville and Fist2Face
FRIDAY 2 DECEMBER  – FOWLER'S LIVE, ADELAIDE (LIC/AA)
Tickets available from Moshtix on 1300 438 849 or www.moshtix.com.au & Venuetix on (08) 8225 8888 or www.venuetix.com.au
SATURDAY 3 DECEMBER  – CAPITOL, PERTH (18+)
Tickets from Moshtix on 1300 438 849 or www.moshtix.com.au or www.heatseeker.com.au