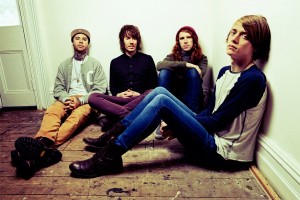 The rain didnt deter the concert goers tonight who were here to see 'The Getaway Plan', a band that have been out of the spotlight completely for the last couple of years, but off the back of their new album 'Requiem' they were back and ready to show everyone that they mean business once again.
Now obviously when a band releases a new record that some may not be completely familiar with yet it's a tough job to get the crowd engaged as most of them are there to hear 'the old stuff' but the crowd who were here to hear 'the classics' were very quickly silenced when the new material from Requiem was played. Taking the stage with such presence and belting out their newest single 'The Reckoning' as the opener, the energy in the room was instantly electric, the band sounded amazing, and left many including me thinking 'what hiatus?'

Throughout the bands 70 minute set we had numerous circle pits, and a floor that was sure to give way if the coordinated jumping continued, seriously, I haven't been at the Metro and felt the floor do that before, it was pretty cool.  Tonight was a simple show, no bells, no whistles, just some great lighting was required as these guys really know how to play and it's like they never went away at all. Random songs were constantly shouted out to play and when obliged, the said shouters became happy, but for the guy in front of me, if they don't play 'Strings' or whatever he wanted to hear there just may be a riot. The new songs received a great reception with a rather impressive crowd sing along. But it was their early stuff that had the crowd in a frenzy, screams as certain songs started, as the lyrics were yelled back at the top of their lungs, this kind of stuff impresses me, I love true dedication for a band.
The encore was met with their biggest known song 'Where The City Meets The Sea' the crowd yelled back every word like they'd been waiting to hear this song for years. It was a great moment of the night and showed that their fans had stuck with them and really have no intention of going anywhere.
As I looked around the packed Metro Theatre tonight, there wasn't one person in the room that wasn't getting into the night. For a band that hasnt been around for a couple of years their following is still well intact and with the new fans they'll grab with 'Requiem' here's hoping that The Getaway Plan became the We're Staying Here Plan. Bad joke I know but it's all I could think of. I hope these guys stick with it and continue to give us great music and deliver shows of this calibre. They're playing the Big Day Out in 2012 so make sure you check them out, I know I'll be there.
PS: They didn't play 'Strings' so as the house lights went up, I ran out to avoid any post concert tantrums by Captain McYell-A-Lot in front of me.
Essential Information
Venue: The Metro Theatre – Sydney
Date: November 25 2011
Website: www.thegetawayplan.com
Set List:
The Reckoning
Phantoms
Streetlight
Move Along
Shadows
February
Flying Colours
New Medicine
Coming Home
S.T.A.R.S.
Heartstone
Where The City Meets The Sea
Requiem
Check pout our interview with Matthew from The Getaway Plan here…
Catch The Getaway Plan on the remainder of their dates…