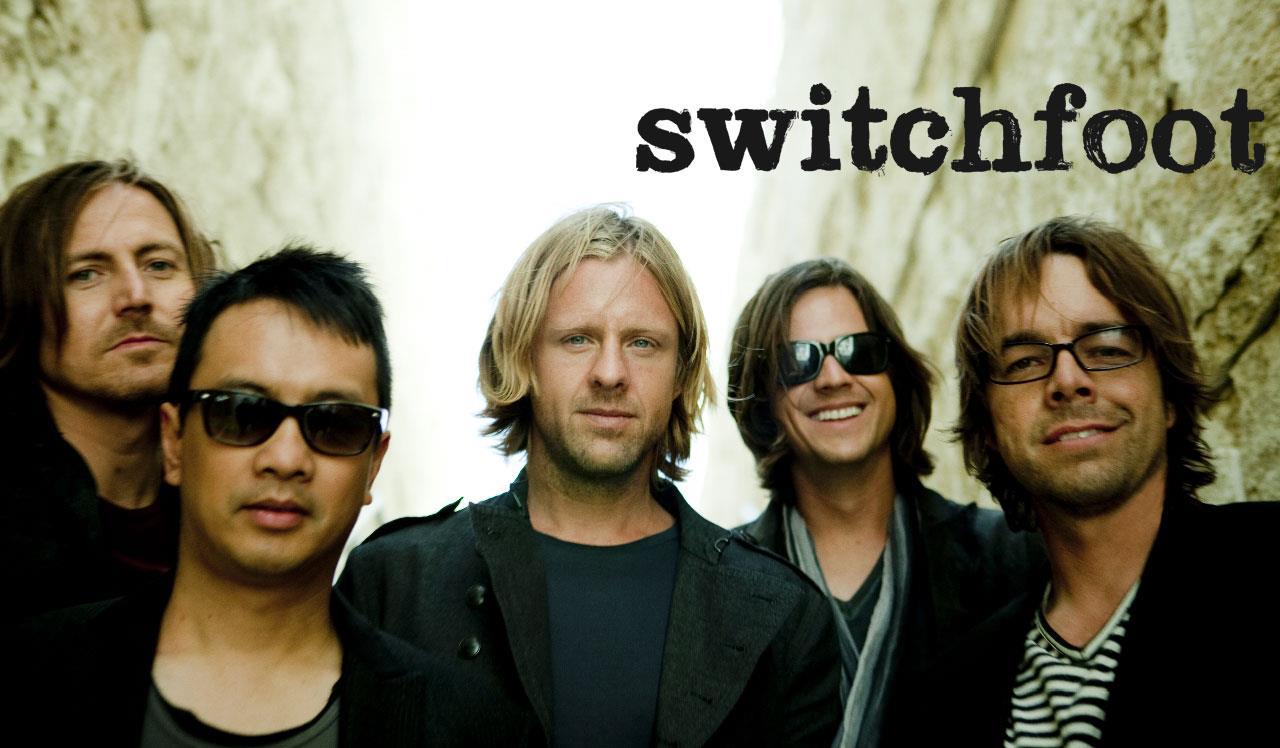 With a diet of sun and surf, a way of life for San Diego natives Switchfoot, it's no surprise that Australia has enjoyed regular visits from the band in recent years.  Combining an appearance on the Soundwave Festival lineup with commencing filming for an upcoming DVD release Fading West, we had the pleasure of catching up with Tim and Jerome from the band before their own headline show in Melbourne.  In an extensive chat, we spoke about exactly what fans can expect with Fading West, new album Vice Verses and of course the bands love of Australia and surfing!
Unfortunately due to a family emergency the band had to cut short their Australian appearances, but for those that may have missed out, here's the photos from their Melbourne Soundwave performance…
Hey guys, well welcome back to Melbourne!  I have to say, it seems Australia is becoming almost a 2nd home for you isn't it?
Tim – I'm completely comfortable with that title, it could be a first home for me if we're not careful!
Jerome – When we hit Melbourne, it's usually like, ok, now we are in Australia!
When was it that you were last here, for Easterfest last year wasn't it?
Tim – Yeah it was and it rained like crazy….
Well look outside now at those clouds, does Switchfoot have the rain following you?
Tim – And the Brisbane Soundwave festival was crazy with rain too.
So with this connection to Australia and pardon the pun vice versa, what do you put it down too, is it something you have a real explanation for?
Tim – Well I think you touched on it being a second home for us here in Australia and it really feels like that.  The Australian culture feels very akin with our Southern California, San Diego roots.  I meet people over here and I feel like I could have grown up with them.  It's a really easy connection for us, whether it's the beach culture, the surfing, whatever it is, I think it's all there.
Having  just mentioned the word surfing, you guys have been filming some stuff for a documentary titled Fading West whilst you are out here aren't you?  Tell me all about that..
Tim – Yes we have been filming, rain, hail or shine…
Jerome – We have just started filming with Australia being our first stop and we shall be filming as we tour around the whole world.
Tim – It's our excuse to plan gratuitous surf sessions and surf trips throughout our touring all year young!
Are you familiar with the movie Point Break then?
Tim – Yes we are.
So am I right in comparing Switchfoot to the Ex-presidents, but instead of robbing banks, you guys are playing gigs and hitting the next country/city where surfs up?
(Laughs all around)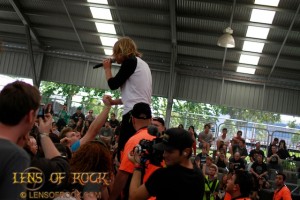 So the documentary will be combining both video footage and the music of Switchfoot, is that roughly the format of it?
Tim – Well picture U2's Rattle & Hum meets Endless Summer.
And as far as the music component, you will be writing new music I assume, have you started that aspect of the documentary yet?
Tim – Yes the concept of the movie is basically what we live.  We are always writing, always touring and always surfing, so we will be just diving into the journey as it unfolds.
15 years you guys have been together, so what led to you starting this project now?
Tim – We've been talking about doing this for years now and it came to the point where we were like finally, are we going to do this thing or not?  If so, let's make it happen.
So aside from surfing and making a documentary, you are out here for Soundwave, how have Brisbane and Sydney gone so far?
Jerome – It's been fantastic so far.  It's actually a little crazy as we play in the middle of the day and there's obviously a massive lineup of bands that are playing, but it's been really fun for us.  To get the opportunity to play in front of a wide assortment of people, that's been great.
What bands have you been interested in checking out so far?
Tim – Well we saw System Of A Down, Slipknot, Marilyn Manson, we've seen Jacks Mannequin's set, and the band before us Dredg is phenomenonal.  Angels & Airwaves, we've just seen a lot of music, it's been fun.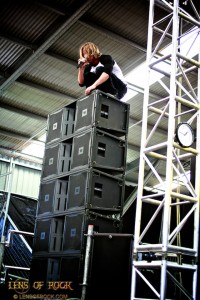 And getting the chance to do some of these sideshows as you are about to tonight, is obviously a great chance to connect a little more with the crowd and play a bunch more songs, in contrast to the larger festival madness.
Tim – Yes we definitely prefer the contrast.  People often ask us whether we prefer the really massive shows or the smaller shows and the temptation is to say we enjoy just playing the tiny shows, but the honesty is I love both and I enjoy we get to bounce back and forth a lot.  Here at Soundwave we are a relatively small band playing in the middle of the day, then tonight, we get to be the headline band and play for however long we want, whatever songs we want to do and it's great to be able to do both.
Jerome – We get to play in front of a wide assortment of people such as tonight it's our fans, then Soundwave people probably haven't even heard of us.
Now you are touring on the back of a pretty recent album Vice Verses, which sounds like it has got a great reaction so far…
Jerome – Yes definitely, we are really proud of how that came out and getting to play the new songs in front of people, the reception has been really great.  We came here to Australia a week ago and straight away the audiences have been singing along to all the words.
So where in the world haven't you yet toured, but want too?
Tim – I want to go to Russia and I want to go to China, they're 2 places on my list we haven't played yet.
Do you have any gauge to the level of interest in the band in countries such as Russia and China?
Tim – (Laughs) they may hate us over there, but that's all part of the fun of finding out and seeing if people come out to your shows.  One of my favourite places to visit is the Philippines with Jerome being born there, he is a rock star over there!'
Jerome – I have a lot of relatives (laughs)
When did you actually leave?
Jerome – I left when I was 3, but I have a lot of relatives they still live there.
So how as a band and as individuals do you relate to that whole experience of the power and impact your music will no doubt have on fans who's native tongue is not English?
Jerome – It's funny in places like Germany where they don't speak a lot of English, but they are singing the songs back to us in English, but then when they communicate it's in German.
Tim – Even more so in Japan or places like Germany and Switzerland, it's really beautiful to see the dialogue we can carry through music, even though we can't carry a conversation after the show.  But during the show we are having this heavy conversation for an hour and a half about life and pain and hope and we don't speak the same language, but we are all singing the same songs.
Just going back to Vice Verses, thinking back to the recording and writing sessions for the album, what are some of the memories and thoughts that first spring to mind?
Tim – It was a really unique experience for us as it was very focussed and we knew exactly the type of record we wanted to make, which is completely different to our last album.  With that one, we recorded over 90 songs, we just took our time to figure out who we were, what kind of record we wanted to make and it was great to have that amount of time.  I feel we arrived at a destination that gave us a great springboard heading into this record.  Going into this one, we knew exactly the type of album we wanted to make, we had 15 songs we wanted to record, and 12 of those made the record.  It was great to be focussed and not feel like you are splitting your efforts across 90 different songs.  Both have their merits, but this was a reality enjoyable record because of that.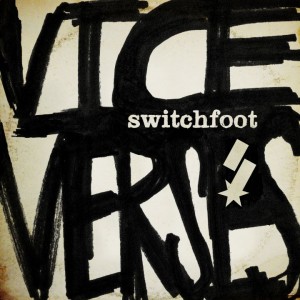 You recorded it in your own studio didn't you, which must be a great thing to now have?
Jerome – So this is what our 8th album in now?  I guess recording processes you are excited because you get to go in and play around with all these little toys and stuff and to have your own studio with it all there, it was great to be able to go in and record all these sounds and new songs.
Ok, so here's a tough one to finish up with! After what, 15 years and 8 albums now, do you feel you have arrived at what you would consider to be the "true" Switchfoot sound?
Jerome – People are always asking what's our favourite song and we always say the newest one, the one we wrote yesterday…
Tim – That's actually a really great question.  As a band, I hope we never actually get to a point where we feel like we've arrived.  That's why we make music, because we don't have that sense that we've figured out ourselves, or this planet, or who we are as a band.  It's the journey, rather than the destination and that's what keeps us coming back.  You write a song because you want to see things explode and change and you go on tour and it leaves you wanting more.  You saw a little bit, but you feel like there's still so much more left on the table.  You come back in fresh and motivated and I hope that never changes.
Essential Information
From: San Diego, USA
Band members: Jon Foreman, Tim Foreman, Chad Butler, Jerome Fontamillas, Drew Shirley
Website: www.switchfoot.com
Latest release: Vice Verses (2011)