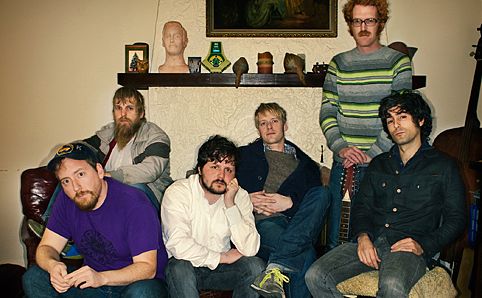 Tour press release: "Flannel-wearing alt-country Northwestern rockers Blitzen Trapper are returning to the Australia. Having announced dates on East Coast Bluesfest the band will also be appearing at West Coast Blues n Roots Festival and headline shows in Sydney and Melbourne.  The Portland, Oregon outfit released their third Sub Pop album American Goldwing in September through Inertia. The album was written and recorded in a span of six months, before touring globally, playing at iconic festivals such as Lollapalooza and Newport Folk Festival.According to vocalist Eric Earley, it was during this time the band realised this new album was extraordinary, referring to it as "the real record".
Earley described American Goldwing as about letting the groups loves and early influences out for public display, expressing the album as a culmination of "the sounds we grew up with, the hard guitar rock and country picking of our younger years mixes with glimmers of our usual space-aging technology and pawn shop Casio apomb. Heavy guitar riffs and blasting drum fills live side-by-side with plucking banjos, wailing harmonicas and muddy slide guitars that make you want to shotgun a beer in the shower while listening to the Stones or Joe Walsh".
Forming in 2000, genre-straddling has always been a specialty of BLITZEN TRAPPER, who have masterfully blended indie, folk-rock with alt-Country, but at their heart they have a classic Rock and Roll sound that is drenched in warming harmonies.
Their live show has always garnered alluring reviews and promised unwavering, passionate energy onstage.
We caught up with Marty Marquis ahead of their upcoming Aussie shows and chatted about the upcoming Aussie tour, new album American Goldwing and his standing as a cowbell virtuoso!
WIN A DOUBLE PASS TO EACH OF THEIR MELBOURNE AND SYDNEY SHOWS, CLICK HERE!
Hey Marty, thanks for chatting today.  So first off, tell me, how was your recent experience at South By Southwest?
South By Southwest was great.  For example we played eleven shows in four days and there was between 300 and 2000 people at those shows.  A lot of them were music biz folks, then there are writers and photographers and what not.  So the exposure we would have gotten from those shows would have been greater than doing a huge tour in the USA.
You guys will be looking for a bit of a holiday when you hit Australia shortly  by the sounds of it (laughs)?
Yes, we've got some time off whilst we are there, so we are excited about getting a chance to hang out and see the country a little bit.
So in just over a week you are headed out to Australia, you guys toured here a few years ago weren't you?  What did that tour involve?
We played in Sydney, Melbourne and Brisbane, but it was a whirlwind and we were headed back home after four days.  So we didn't really get to see much of the country as such.
Do you have a real sense of the bands popularity here in Australia, for example what was the response the last time you toured?
Well the crowds were better than I expected.  Triple J had picked up on us back in 2007 so there were a lot more Australians who knew about us and came to see the shows than I was expecting.  So we shall see what it's like this time.  But it's definitely a good place for us to come and play.  It's not the same size crowds as we get in the USA obviously which is our biggest market, but Australia is far bigger than somewhere like England where nobody knows about us at all.
Have you had a chance to check out the Byron Bay Bluesfest lineup, that's a pretty cool bunch of bands!
We are definitely excited about seeing some of those artists who are just legendary.
So for those that haven't seen you guys perform before, what do you have to say about your live show?
We always get a lot of positive feedback about our live show.  We've been playing together as a band for about 12 years now and we are pretty tight and tend to jam out a lot of the songs and change them up for the live setting and try to make things interesting for the crowd.  There's a lot more guitar heroics than you might expect, we have some very fine lead guitarists and at points in the set  where it's reminiscent of someone like The Allman Brothers.  We also even do some country'ish numbers and there's really just a wide range of styles, as you will see.  We have a lot of fun playing!
Well given you just mentioned some guitar heroics, I believe that you personally are quite the cowbell virtuoso!
(Laughs) that's a very popular instrument!  We often joke about starting a band that is just cowbell and harmonica, which I think would go over well with people.  I think cowbell is a very democratic instrument, no matter who you are, when you see it played on stage people think, "hey I can play that"!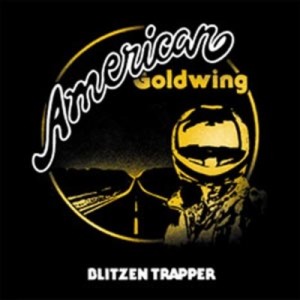 You recently released a new album, American Goldwing, so as you tour around America and such, how have people seemed to responded to the album?
I think the music on Goldwing is a lot more direct than our previous releases so I think in a live setting, people who aren't familiar with our songs, the newer songs translate more easily than the more proggy music we have.  So yeah, the songs on Goldwing are also really fun to play.
Given what you said about the songs on Goldwing being more direct, was that the intention, or more just how the songs evolved during the writing and recording sessions?
I think we set out to make it a little more simple, but it wasn't like a huge concern or anything.  Our singer/songwriter Eric Earley had been playing with a country band in Portland and they were quite a good band, so I think the songs came out of him doing some really simple music with these other guys and enjoying how fun it was.
As you mentioned, Eric is your key songwriter, is that the way that's always been through the history of the band, or has it evolved to be that way?
Definitely Eric is our key songwriter.  There are a couple of songs the band plays, which I wrote, but they've never been on any record.  He's really a prolific songwriter and his stuff is genius in my opinion.  We got together and started this band because we were excited about these demos he had circulated amongst us and the band has continued on that way.
It's what, your 6th album now, how did the whole process compare to the past, do you feel you have finally settled into a groove now when it comes to making albums, or do you always like to change things up?
Yeah it changes, we like to work with different people and at different studios.  Our 2 breakthu records were recorded at our on an old four track.  The next one Destroyer Of The Void that was recorded at our friend Mike Coykendall's place and he lived in our neighborhood. The newest one was our friend Greg Williams who we've worked with on the past on different things.  But yes, it changes from time to time and I think the next record which is as much as half written already, will be recorded at a studio out in the woods and close to the mountains in Oregon.  We just recently discovered this studio and it's fantastic.
And what of the rest of 2012, what's on the horizon after you finish up in Australia?
We have pretty much a full year of touring ahead in North America.  We are playing some festivals and we'll be continuing to push this record and play it for people live.  We are enjoying it and it's looking like the schedule is filling out for the rest of the year.
Essential Information
From: Portland, Oregon, USA
Band members: Eric Earley Brian Koch, Marty Marquis, Michael VanPelt, Erik Menteer
Website: www.blitzentrapper.net
Latest release: American Goldwing (2011)
Tour Dates
Sun 1st April West Coast Bluesfest, Perth
http://westcoastbluesnroots.com.au
Tue 3rd April Prince Bandroom, Melbourne (Supports: The Paper Kites, The Preachers)
http://www.princebandroom.com.au; www.moshtix.com.au
Thru 5th April Oxford Art Factory, Sydney (Supports: The Paper Kites, The Preachers)
www.oxfordartfactory.com; www.moshtix.com.au
Sat 7th April East Coast Bluesfest, Byron Bay
www.bluesfest.com.au
Mon 9th April East Coast Bluesfest, Bryon Bay
www.bluesfest.com.au 
www.chuggentertianment.com