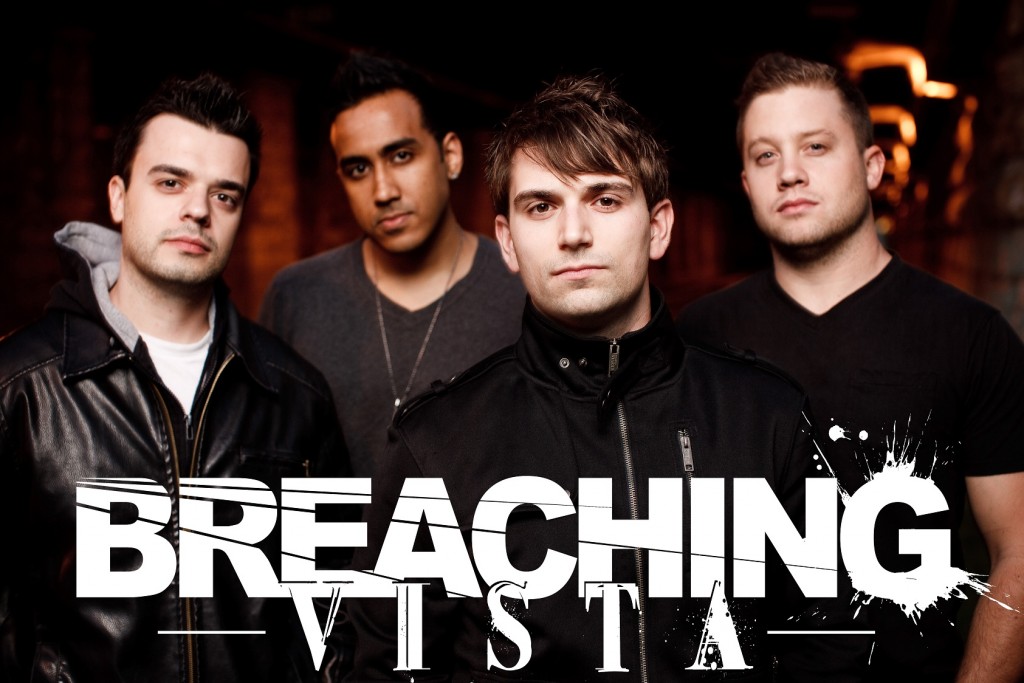 Official Bio:  January 2007 saw the launch of Kitchener, Ontario's Alt-Rock quartet Breaching Vista. Since their inception, BV has found themselves sharing the bill with such notable acts as Our Lady Peace, Jack's Mannequin, The Sheepdogs, Hedley, Matthew Good, Marianas Trench, Arkells, Finger Eleven, Protest The Hero, Down With Webster, The Reason, ill Scarlett, USS, and many more. The release of 2008's 'Breaking The View' EP, paired with their rock-solid-crowd-pleasing live performance, helped them land the closing ceremonies of the Canada Day Celebration in Waterloo, ON, for 3 consecutive years (2008, 2009, and 2010) to an audience of 10 thousand plus (10 000+) spectators each year. Their music garnered media attention with print, online, and both college and major radio stations, which helped lead to signings with Canadian indie label Bright Side Records, and UK indie label Engineer Records.
With Bright Side Records ready to make a push, BV started 2010 by returning to Beach Road Studios to work again with Producer Siegfried Meier (Kittie "In The Black" #18 Billboard Hard Rock Albums), on their sophomore record "Vera City". The consensus was to keep a degree of integrity to musicianship and recording on the record, so the band used a combination of analog and digital recording techniques, hired real string players including world class Cellist, Kevin Fox (Celine Dion, Chantal Kreviazuk), and worked with an 8 piece African gospel choir. The year was split between recording Vera City and performing at prominent shows including 91.5 the Beat's "Beat Rocks The Block", "Spring Music Festival", "Rock the Mill", and "Barrie New Music Festival" where they received the 'Best New Alternative Rock' award. They wrapped up 2010 with Vera City mixing sessions and 2 solid showcase performances at "Indie Week Toronto".
2011 was kicked off by supporting Finger Eleven at the Sirius Satellite opening party for Canadian Music Fest, which was quickly followed by the spring release of Vera City. It didn't take long for the buzz to start catching on with BV landing the cover of ECHO Magazine, sending their first single "Sleep" on a national radio campaign across Canada, hitting the stage with Jack's Mannequin, and landing another slew of festivals including Sudbury's Summerfest with The Sheepdogs, and a private cottage party with Our Lady Peace. After clips of their audition video for CBC's "Cover Me Canada" started appearing in television commercials, BV received a special invitation from CBC to perform at a private in-studio VIP party at the Gemini Awards – where they shared entertainment duties with City and Colour, Deborah Cox, and Jim Cuddy (of Blue Rodeo), as well as rubbed shoulders with comedy heavyweights Russell Peters and Tom Green.
As the year rounded into its final quarter, BV was asked to take part in "Out of the Storm," a benefit concert in relief of a tornado that devastated the town of Goderich, Ontario (home of producer Siegfried Meier & Beach Road Studios). In order to avoid a scheduling conflict, they borrowed the very talented Jason Pierce, touring drummer of internationally successful band Paramore. Welcomed by the grieving community with open arms, BV performed alongside Matthew Good, Arkells, ill Scarlett, The Salads and Serena Ryder.
They followed up Goderich by performing a sold-out Oktoberfest event in their hometown of Kitchener, donated their time & services to a holiday fundraiser presented by the Metalworks Institute, and wrapped the year up at the 107.5 DAVE FM New Years Eve Bash, alongside their friends, The Reason.
January 1st, 2012, got off to a great start with Velvet Rope Magazine adding Vera City to their Top 10 Indie Albums of 2011, saying, "If their accomplishments in 2011 are a foreshadow of what's to come of them this year, then there is nothing but greatness in store for Breaching Vista."
Armed with a plethora of new material, a pair of independent labels for support, a continuously growing & loyal fan base, and the drive that many bands aspire for but only few possess, it's only a matter of time before Breaching Vista is a household name in Canadian music.
BV received an early invitation to return to Canadian Music Fest in 2012, with a spotlight feature on the CMF website.
Breaching Vista got in touch with us and we loved what we heard straight away, check them out!
Let's start with the basics first – for those that aren't aware of the band, what brought the band together and what is the inspiration behind the band name?
John: The band came together as a natural transition of musicians looking for other musicians to play some music with. Al and Nik played together in a band, and were looking for a singer to fill in for a bar gig. We knew each other from high school, so they asked if I wanted to come play a couple of sets worth of 90's alt-rock and pop-punk stuff. I welcomed the opportunity as I had been out of a band for over a year at that point.
The show was a huge success and many of their friends asked me if I was the new singer of their band. I humbly said no, that it was only a one-time thing, but we ended up taking an offer for a follow up show. That night was abruptly ended when a fight broke between their bass player and an audience member – while we were in the middle of a song. We got kicked out, and I told the guys if they wanted to keep playing then we needed a new bassist.
We got to talking and Al, Nik and I decided we wanted to try writing songs and start a new band, so I offered to call my friend Mike to join as a bassist.  Mike had played with me in my previous band, and we had remained good friends after disbanding. Mike rejected my first offer to bring him in, as he wanted to play drums. After a week went by and a few bass-less jam sessions, I reached out to Mike for a second time knowing that he was the guy I wanted to complete the line-up.  The second  call took little-to-no convincing and Mike signed up within minutes.
We tossed around some ideas for a band name, and we knew we wanted something unique and fresh sounding. It had to be powerful and climactic. I had been throwing in the word 'breaking' cause we were a new band breaking out. Nik cleverly used his thesaurus and found the synonym 'breaching' which sounded a lot cooler. He also lived across from a street called 'vista' and had wanted to somehow use the word in the name from the very beginning. So he sent over "BREACHING VISTA" in an instant message and was so stoked at what he came up with that we all just went with it.
We then realized that 'vista' was a synonym for 'view' and our name ended up translating to "Breaking the View", which represented exactly what we were looking for. We wanted to break the current view of the independent music scene and be a band that stood out from the pack. Breaching Vista was the perfect name for us.
Can you introduce each member of your band and give us a rock 'n' roll fact or myth about each of them?
John – Lead vocals & guitar. John's first show was in front of his entire elementary school and his band made every kid cry from JK to grade 3 with the loud instruments and use of a strobe light.
Mike – Bass & backing vocalist. Mike is a multi-instrumentalist. Years ago he played drums in a grunge band and he often sits down with Nik to work on writing the drum parts. He also controls our stage lighting during shows with a foot pedal.
Al – Lead guitar & backing vocals. Al is a silent member of classic rock revival band, Steel Panther. He also plays campfire guitar at epic pig roast parties in his backyard.
Nik – Drummer. Nik does not own a drum kit. (fact)
You have twenty seconds in an elevator to give your best sales pitch to someone to get them to listen to your new album 'Vera City', what do you tell them?
John & Mike: What do you get when you take 4 musicians dudes, add 2 guitars, 1 bass, a 5 piece drum kit, stir in a pinch of alternative-pop-rock melodies, simmer with a blend of sweet cello, violin, and piano lines, and lightly season with a gospel choir (that'll send a tingle down your spine), mixed all together in a large studio and served with a colourful booklet in a jewel case?  Our Vera City record. Here's a copy, check it out!
Listening to 'Vera City', it's so well recorded and produced, what was the process behind putting it together and how long was it in the making?
John: Well we started pre-production in mid-late 2009 and then spent pretty much all of 2010 working on the record from start-to-finish. We decided to go back to Beach Road Studios where we recorded our 2008 EP because we haven't found a studio that we feel more comfortable in. It's a large facility out in the country with an abundance of gear to play with and no distractions. There's a cottage on site for bands to live in fittingly named, "The Band House". So we started off spending 14 days straight at Beach Road with our Producer and good friend Siegfried Meier.
We like working with Siegfried because he's old school and very good at his craft. Some of the cool pieces of gear that we used at Beach Road include a 2" reel-to-reel tape machine. So we did a mix between traditional analog recording and Pro Tools. On any given guitar track we had 3 different amps running with 3 different cabinets and 4 mics on each cab. For one take we had 12 tracks recording simultaneously. And Sig is not a cut-and-paste kind of guy. He values capturing the performance.
Once the bulk of the recording was done we enlisted some real session players for strings including world renowned Cellist Kevin Fox (Celine Dion, Chantal Kreviazuk). Kenny Bridges (of Moneen) played some piano for us and Billy the Kid (from Vancouver) squeezed in a recording session during her busy tour schedule to do a duet vocal part on our song "Letters". And finally, I had this vision of having a multicultural gospel choir doing a vocal melody on our song "Forgive You". I spent a few months finding the perfect choir for the job, another few months convincing them to sing for us, and about a month or so booking a date to record them. The only available date to get their 8 best singers was Sig's birthday, so we set up a mobile studio right in their church to take advantage of the natural acoustics. They sang beautiful harmonies effortlessly and sent chills down my spine. It was the final touch the record needed. Siegfried did the mixing, and we sent it off to Troy Glessner at Spectre Studio, just outside Seattle for mastering.

In terms of your song writing, what do you consider to be the most important ingredients that make up a Breaching Vista song?
John:I generally bring a bare bones demo song to the table, usually acoustic guitar and scattered lyrics, and the most important ingredient would be how our band can collaborate and equally offer creative ideas and bring a new perspective to the song. Each member of the band is musically talented and gets involved in every aspect of completing the song. The song isn't considered finished until each one of us feels completely satisfied with it.

Both lyrically and musically, what or who inspires/influences your music the most?
John:  I get inspired from life experiences. Whether it's living through a personal experience, watching others from a 3rd party perspective, or just being exposed to media like movies, listening to music, or watching the news. And sometimes I just like to write stories. I think the greatest songwriters can paint pictures with their songs and are able to tell great stories. I strive to be able to do the same thing and I try to incorporate a positive and sometimes motivational message.There isn't really a way of pin pointing where my inspiration comes from. It just hits me like an adrenalin rush and I need to try and capture the moment as quickly as possible, by grabbing a guitar, writing down lyric ideas, or singing into my iPhone. Often times I get inspired by talent.  If I hear a great song, or a great lyric or lyric melody, it inspires me to push myself to write stronger songs. I try to think outside the box and come up with clever ideas that I haven't previously tried. I never try to recycle old ideas.

A couple of songs stood out for me on the album, being 'Sleep' and 'Nervous' which just happen to be the singles, but the song 'Tonight' was another that caught my attention, is there a story behind this one specifically?
John: Tonight is a fictional story. I remember Al playing the guitar riff way back when the band had first started in 2007 and the first thing that struck me when I heard it was that this was going to be a story about a troubled teen who desperately needs help and guidance. All they need to do is find a way to swallow their pride and make their way back home to a warm and loving family life. After I had the general idea, a melody came to me and all I had to do was find words to express the message I wanted to share. The end result is a song that I hope people can connect to if they are feeling down and need to be reminded that even when things are going bad, there is always a way to turn them around and find the light at the end of the tunnel.
Touring wise, you've opened for bands such as Our Lady Peace, Jack's Mannequin, Finger Eleven and most recently Theory of a Deadman, how does an opportunity like this help the band?
Mike: These shows are great for exposure. They allow us to gain new fans who wouldn't normally have given us a chance or the time of day to listen to our music. It also opens up alot of doors for future shows. Promoters like knowing that you're a band that has played in front of real audiences and not just your family.
From these tours were you able to pick up any tips from these bands that you now use in your own stage performances?
Mike: The biggest lesson that we've learned from these bands is to engage your audience on a very personal level, on and off the stage. We don't take any of our fans for granted, and we respond and engage anyone who comes up to us or writes us. They are the only way we can continue to do what we do, and we appreciate their love and support.
So for those that haven't yet seen you perform before, what can people expect from one of your live shows?
Mike: People should expect to experience moments at our show. We don't just go up on stage and play our music. We try to make each and every show a unique experience. People should expect to leave our show with sore throats and sore hands.
Watching your cover of Bryan Adams' 'Run To You' which was performed for a comp you somehow didn't win, but would you consider, if you don't already including this song in your live set moving forward after the reception it received?
Mike: We absolutely do incorporate "Run to you" in our live set. This song has a special place in our hearts. Not only because we are huge fans of Bryan Adams, but because this is the only cover that we have stripped down and rebuilt into a song that Breaching Vista would have written.
Lastly, here's a chance to gaze into your crystal ball.  By the end of 2012, Breaching Vista will have:
Mike & John:
1. A new vehicle. We currently have an ugly full sized 1990 international school bus that doesn't like to start… EVER!
2. A new record in the works, that will be a complete game changer… In 2013
3. A fresh look, new merch, and have played a boat load more tour dates than in years past.
Essential Information
From: Kitchener, ON, Canada
Sounds like: Radio friendly Rock and Roll
Band members: John Maksym – Lead Vocals/Guitar, Mike Chhangur – Bass/Backing Vocals, Al Malnar – Lead Guitar/Backing Vocals, Nik Varey – Drums/Backing Vocals
Latest Release: Vera City (2011)
Check out our review of Vera City here…
Website: www.breachingvista.com