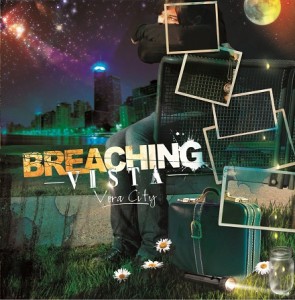 OK so I'm interested right off the bat with the intro to this album, a great guitar sound and leaves me intrigued as to if this is what I can expect for the remainder of the album. It flows straight into a song called 'Sleep' which has a great musical hook and great structure to this song that did far from put me to sleep, now being unfamiliar with the band, this could easily have been the lead single (PS: It was). I say this only one song in and if they all sound like this you'll soon get sick of me saying what should be a single. So I'll refrain from that. Deal?
These guys have a great formulaic sound, perfect radio friendly driven rock. In essence you find yourself tapping along to it without even knowing. Take the song 'Nervous' it's got a hook that could bring in a great white, there's a great build up in this one and is a perfectly written catchy rock tune. Song after song impresses me, how do more people not know about this band? I guess that's why they came to us, hopefully we can help, as this is a great band that more than a few of our readers would enjoy. What shocks me is that the album has been out for almost a year now. It's just wrong that I am only finding it now.
Oh hello 'Tonight' you are my new favourite on the album, it once again follows that perfect rock formula that works and keeps working and I still have seven songs to go! I haven't found one song yet that I haven't enjoyed or felt didn't fit, that's rare on an album these days. I could listen to this many more times than once. As it continues
'Goodbye, So Long' is the perfect way to round out the album with an outro similar to that of the opener and just caps off an enjoyable album. But wait. Encore? Two more songs. Nice. 'Letters' is more of an acoustic driven track and there's nothing wrong at all with that. What have we got to close the show? 'Little Thoughts' it is… You guessed it. I like it. I can't help it sorry, all the songs are great, I'm just over excited as it's so cool to find new music that excites me.
How do I sum up the bands sound to you? I hear shades of many of today's bands in here and too many to name, but instead I'll say that Breaching Vista have taken the best parts of all of them and created this Frankenstein type sound that now only sounds like one band. Breaching Vista. These guys from Canada have delivered and I'm not talking about pizzas. This is one kick ass album and I'm stoked to now know who Breaching Vista are. Hopefully you will be too…
Check out our Best Thing You've Never Heard feature on Breaching Vista
Essential Information
From: Kitchener, ON, Canada
For fans of: Radio friendly rock!
Release date: 2011
Record label: Bright Side Records (Canada) Engineer Records (UK)
Producer: Siegfried Meier
Website: www.breachingvista.com
Tracklist:
1. We are the Way
2. Sleep
3. Nervous
4. Forgive You
5. Give me a Reason
6. Tonight
7. Reverie
8. Run with the Punches
9. W5
10. Wrath of Nyre
11. Goodbye, So Long
12. Letters
13. Little Thoughts