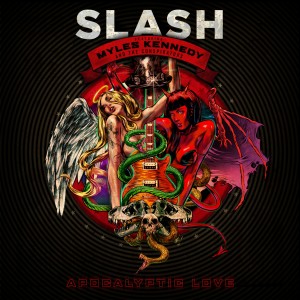 APOCALYPTIC LOVE FEATURING MYLES KENNEDY AND THE CONSPIRATORS
OUT MAY 18, 2012
SLASH–the iconic, Grammy-winning rock guitarist and songwriter—has revealed the cover artwork and album title for his second studio album Apocalyptic Love featuring Myles Kennedy and The Conspirators due out May 18 onSLASH's own label Dik Hayd International via Sony Music Australia.
Apocalyptic Love will follow his 2010 debut album Slash and his November 2011 first-ever live  solo album, the two-CD/DVD set Made In Stoke 24/7/11. The Slash album debuted on the ARIA Album Charts at #3 and with 3 in-market visits within the first 12 months of release, SLASH achieved Platinum sales for his debut solo album in Australia. Internationally the album hit the #1 position on iTunes in 13 countries and achieved Top 5 positions chart positions in over a dozen major territories including a #3 debut on the US Billboard Top 200 Chart.
On Apocalyptic Love, SLASH–along with and his band mates Myles Kennedy (vocals), Brent Fitz (drums) and Todd Kerns (bass)–have teamed with producer Eric Valentine, who also produced the Slash disc. All the songs were written together by SLASH and Kennedy and cameras have been rolling throughout the entire making of the album. Check out exclusive behind-the-scenes footage airing weekly at:
About SLASH: Slash is widely considered one of the greatest rock guitar players of all time. He has received countless accolades and awards including his forthcoming induction into the Rock and Roll Hall of Fame set for April 2012. In 2007, Slash was inducted into Hollywood's RockWalk (located in front of Guitar Centre in Hollywood) alongside his idols Jimmy Page and Jimi Hendrix. An original member of iconic rock band Guns N' Roses, the Grammy-winning Slash helped the band create signature sounds like the guitar riff of #1 hit "Sweet Child o' Mine" and "Welcome To The Jungle."  The band dominated the 1980's and 90's music scene selling more than 100 million albums worldwide and ushered in a decade of hard-charging rock music. After leaving the band, Slash went on to critical acclaim in his personal project Slash's Snakepit, and global success with the supergroup Velvet Revolver.  He has been widely sought after by the biggest musicians of all time, performing with everyone from Michael Jackson to Stevie Wonder to Ray Charles.  Slash recently landed on the top of the charts with his first true solo album, Slash.  In addition, Slash was honored by the Hollywood Chamber of Commerce who named him as an official selection for 2011 to receive a star on Hollywood's iconic Walk of Fame. In February 2011, he performed at the Super Bowl XLV half time show, seen by more than 106 million people, becoming the most-watched program in U.S. television history (Nielsen Co.).
www.slashonline.com – https://twitter.com/#!/slash –
UPDATED