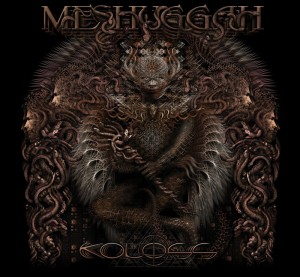 Do Not Look Down, a second track off the upcoming new album Koloss by Swedish extreme technical metal band MESHUGGAH, is available for streaming in the Nuclear Blast USA Web Shop. Click on any pre-order bundle item to get to the Soundcloud player. To order anything within Europe, please head over to the Nuclear Blast EUROPE Web Shop.  Koloss will be released in Europe on March 23rd.
We recently chatted with Meshuggah guitarist Marten Hagstrom about the new album and about hitting Australian shores this week for the mighty Soundwave Festival!  Read that interview right here….
The track Break Those Bones Whose Sinews Gave It Motion can be streamed HERE. A lyric video for the song can be viewed below:
Aussie Meshuggah fans, get ready for the band to hit Soundwave Festival, starting this week!