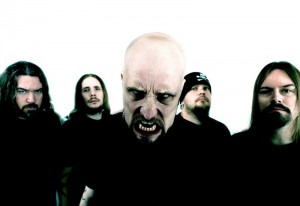 "This time we thought it would be cool to have the title represent the way we feel the album sounds like, it is a denser album, it's a heavier album, it's groovier and it's like a 'colossus'."
Whilst Soundwave Festival this year features a plethora of heaviness, as far as intense live performances go, few bands are likely to top Meshuggah who are no strangers to Soundwave having appeared in 2010.  Following on from ObZen, their most commercially successful album in their 20 plus year history , Meshuggah are set to unleash new album Koloss upon the world on March 27th, which if you heed the warning via the bands official website it "will pulverize your being."
Chatting to us from a bitterly cold Sweden, Mårten Hagstrom filled us in on the new album and expressed his excitement about hitting Soundwave Festival once again!
Hey Marten, thanks for chatting today!  So in a few weeks you will be hitting Australia for a return to Soundwave Festival, you guys must be looking forward to heading back downunder?
It's going to be really nice, the last time we did Soundwave was awesome and we don't see any reason why this won't be either.
How did you find your Soundwave experience last time around?
For us it was the second time coming down to Australia and festivals are festivals, but a summer festival in Australia is pretty hot, especially for us Swedes!  So we had to learn how to handle the heat, but apart from that it was a great experience.  I think it was a good lineup then and I'm actually really looking forward to this one.  The crowds in Australia have been really good to us do we're stoked!
What of the Australian crowds and Meshuggah fans, how crazy are they compared to the rest of the world?
It's always hard comparing crowds from country to country, but in the whole, in general, it's been the USA and Canada that has kind of been our territory as far as crazy crowds go.  But Australia is pretty much up there and they are the couple of territories where we feel we are getting a really energetic reaction from the crowds.  We always think fondly of Australia if you put it like that.
As far as heavy and intense performances few bands will probably top it Meshuggah on the Soundwave lineup, but who are you looking forward to checking out?
Well most of the guys we already know.  I'll be looking forward to checking out Devin, Machine Head and Mastodon, they are like artists that we know from the past and have seen them a bunch of times live so it's always good to check them out again.
You are also getting to play some sideshows with Devin Townsend and Dredg, that will be great!
Yeah it's going to be nice!  We've known each other for a pretty long time, Strapping Young Lad opened up for us in 2005 so we've toured together before.  He's such a great guy and person, so it's going to be cool!
Are we likely to hear any new songs from your upcoming album?
We don't know!  It's been a few weeks since we finished off the masters and there's been a lot of promotion since, planning tours and doing video shoots and stuff like that, so we're going to start rehearsing next week.  That means we haven't yet made any decisions on the setlist just yet.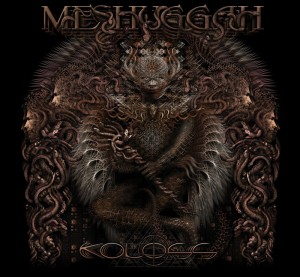 Well I've travelled to Sweden before so I know you will have over 20 hours on the plane to sort out setlists haha!
Well I am actually heading down to Melbourne first about a week ahead of the rest of them, with my wife just to hang out.  I'm going to have a long time to get rid of my jet lag as well so I'm going to in great shape for the shows (laughs).
Your new album Koloss is coming out in late March, so what were you guys aiming for with this album in comparison to say your last?
Well it's always hard to discuss it in those terms as we never really sit down and discuss "ok guys for this album we are going to do, this, this and this".  It's more a process where whatever comes up first, the first parts and bits of a song that anybody writes that sparks the imagination of anyone, that sets the core of what the album will be.  We never know that and we never try to master that or steer that in any direction.  We just wait for something that feels good enough and fresh enough to roll with.  We did the same thing this time, but having said that, this album we are really happy with how it came out for a lot if reasons.  We think it's got more of a band sound to it than we have had in a long while, it's just got far more of a band sound.  It's a groovier album as well, but it's more darker and sinister.  Its a pretty messed up album, but it's still Meshuggah, just more focussed and organic is the best way to put it.
You mentioned 'more of a band sound', was that a result of the way you wrote or recorded the album?
Well a bit of both I think.  Mostly it had a lot to do with how we wrote the album.  We started writing over a year and a half ago, but we set out to finish off the album the way we normally do.  Then some touring came in that we pretty much had to do and couldn't refuse, so we had some time to let the ideas mature a bit.  So it helped us understand more what we were doing with this album.  Secondly we wrote it the way we normally do, but the arrangement of the songs, it was more of a collaborative effort arranging the songs.  More input in some cases can often not be a better thing, but in this case it definitely was.
Is this the album you've spent the longest finishing off?
No I think it's the same as usual, I think it's just that each album has taken a certain amount of time for different reasons.  Some albums it's the recording process which stumped us, or it's been slow because we were touring in between and so forth.  But with this new album, more guys in the band have been able to focus more on everyone's stuff than before.
What is the inspiration behind the album title 'Koloss', or is that something you want to retain some mystery around?
Well it's pretty straightforward actually.  Koloss is colossus in Swedish.  We were thinking of a bunch of different titles we were messing around with that had more to do with the lyrical content on the album, which is what we had done before.  This time we thought it would be cool to have the title represent the way we feel the album sounds like, it is a denser album, it's a heavier album, it's groovier and it's like a 'colossus'.  We kind of thought it funny too that the way we were referring to it, always when you make an album it's a lot of hard work and mentally that title seemed appropriate.
You recently had a listening party in the USA, were you personally there?  How did it go?
Everybody was there except me as I had some commitments here that I couldn't avoid.  I wanted to be there and obviously I've spoken to the guys about it as I knew it was going to be a massive thing.  It was held in connection with the NAMM show.  Apparently the reaction to the album was really, really good!
Before we finish up, out of interest, you guys have been around for over 20 years…what status does the band have in your own home country, Sweden, are you as big in your home country as you are elsewhere in the world?
Oh we are bigger in other countries.  Sweden is a small country and there's a lot of music and a lot of musicians in a lot of different genres that come out of Sweden.  As far as the general music scene, it's very, very mainstream.  Even though there is a big metal scene here, whilst we are considered to be an influential band here and we are not super small we're doing good here, but we are still on the extreme part of things, which is fine by us, that's where we should be!
Essential Information
From: Stockholm, Sweden
Band members: Vocals – Jens Kidman, Lead Guitar – Fredrik Thordenal, Rhythm Guitar – Mårten Hagstrom, Bass – Dick Lövgren, Drums/Spoken Word – Tomas Haake
Website: www.meshuggah.net
Latest release:  Koloss (March 27th, 2012 – Nuclear Blast/Riot! Entertainment)
Soundwave Sidewave Shows with Devin Townsend & Dredg presented by Soundwave Touring
TUESDAY 28TH FEBRUARY SYDNEY, THE FACTORY– LICENSED ALL AGES
www.oztix.com.au
WEDNESDAY 29th FEBRUARY MELBOURNE, THE FORUM– 18+
www.ticketmaster.com.au