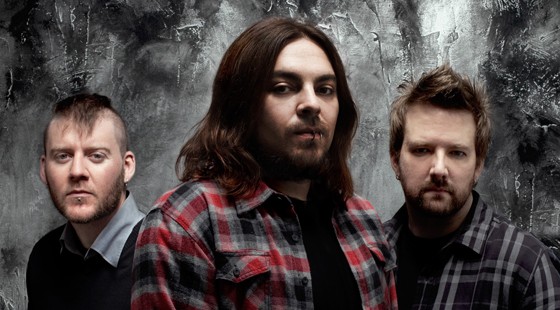 "We kept going back and writing new songs and throwing them out and writing new songs and throwing those out and writing new one and working on the ones we had.  It was really a work in progress; we had four or five actual recording sessions where we went in at different times to record tracks for the album."
Seether are a band that have been around for over a decade now and have given us a number of radio friendly rock songs that you'd probably know, but may not necessarily know they're by Seether, namely their biggest hit 'Broken' in 2004 which became a hit worldwide, and made Seether a name that would still be around for years after.  Through line up changes and five albums as a band, with their newest 'Holding Onto Strings Better Left To Fray' released in 2011 and in my opinion it's their best to date.
Just a few hours before their Sydney show, we chatted to Seether's bass player Dale Stewart about their Aussie tour, their last album and how one of their most popular songs almost didn't make it on to the album…
You've played a few shows in Australia already. How have they been going?
Actually really well, the response has been awesome.  Some of the best shows we've had in a quite a while.  I think there's something to be said for I guess going away for a while and coming back you know?
I was going to ask that, it's been a few years since you've been away, what if anything do you feel has changed in that time?
Well, we've had a line up change as a band, obviously the new album, I'm sure anyone who is a fan of the band hopefully that would be something they want to see.  I know as a fan of music myself if a band I enjoy release an album I have to make a point to see them, so I think not having been here for so long, people were excited that we were coming and the turn outs have been great, so it's been really fun so far.
For those that haven't seen you before, what can people expect from a Seether show?
You know we're just a good old fashioned rock band I guess, we sweat and make noise and kick over beer bottles and just rock out.  We're a three piece now, again, and yeah man, just the three guys making as much noise as we possibly can.  We don't run any tape or any kind of pro tools or anything, just a good old fashioned rock band.
How hard was it going back to a three piece after having four for a while?
You know it actually wasn't that hard.  We started as a three piece, so it's always been our DNA I guess.  We were kind of flung into it unexpectedly and it was a little bit of a punch to roll with, but the transition was pretty smooth and I think it was something we really enjoyed going back to and it kind of refreshed everything for us and I think we're definitely going to stay a three piece from now on.  It's definitely more fun, for me at least, to play as a three piece.
With a number of albums now under your belt, how do you put the set together?  Is it almost a greatest hits show at this point?
Yeah, we've had quite a lot of radio song, and it's good question you know, it is kind of hard to come up with a set list or depending on how long you to have play to figure out what you're not going to play.  There's a few songs that we can't get a round playing, so obviously those have to be on there, and we like to change it up a little bit, now and then by maybe throwing in a cover song every now and then for fun, but it's definitely dictated by what people have heard on the radio and what's familiar to them and the songs they want to come and see.
Anything special for Sydney tonight?
We don't know yet.  It's usually something we come up with right before we go on stage, within an hour before we'll sort of finalise the set list, so we might decide to throw in something right at the eleventh hour.  I guess it kind of keeps it exciting and interesting ha ha.
Album title 'Holding Onto Strings Better Left To Fray' is a very open title. What if anything does it relate to?
I guess it means, at least in this context and what a lot of the songs deal with is basically, letting go of relationships that have a negative effect in your life, be it a romantic relationship or a family relationship or even a friendship, whatever it may be, if it's something that's not worth holding on to and it's better to let just peter out and it's something that's ultimately negative in your life.  That's what a lot of the songs on the album are about.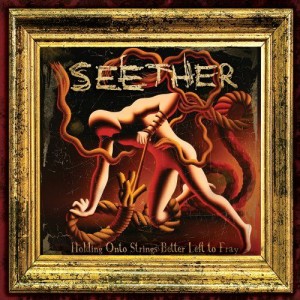 This was also your first album in four years. Did you go into creating this one any differently to your previous albums?
Yeah, we kinda did, not much though. The main difference being we took a lot of time on this one, which is a luxury we haven't always had in the past, but on this one we pretty much took almost a year off even before we started and it took another year before everything was completed.  We did a lot of writing in that time, we spent a lot of time in Nashville which isn't home for any of us, so we were out of our element a little bit.  It was our first time working there, so I think that definitely put a spin on things, but we spent most of the year in Nashville, back and forth.
We made a point not to just rush something out or get something out or write music for the sake of releasing an album, you know get twelve songs that we think are Ok and put them on there.  We kept going back and writing new songs and throwing them out and writing new songs and throwing those out and writing new one and working on the ones we had.  It was really a work in progress; we had four or five actual recording sessions where we went in at different times to record tracks for the album.  It was kind of a spread out process and I think as a result of that we only tackled four songs at a time, so it really allowed us to give those songs the full attention that a song needs to be good.  Working with Brendan O'Brien was great, he's a very talented producer, so I think it all came together and we're very happy with the outcome and we're very proud of this album.
Working with Brendan O'Brien as producer on this album, did he bring anything to the record you hadn't envisioned?
Yeah, I think anyone you work with brings their flavour to the album, which is a double edged sword, we've worked with producers in the past we've felt just rehashed what they always do with which ever band sets foot in the studio.  Certain guitar tones and little tricks they use and it ends up sounding the same, and that's what sets Brendan apart, he's got such an eclectic sort of I guess discography, he's worked with everyone in several different genres and he approaches every project differently, there's no preconceived notion of how you want it to sound.  He was almost like an extra band member, doing pre production in the studio and he'd come in and sit down and he'd grab a guitar and we'd sit down and jam and bounce ideas off each other, it was great, he definitely brought a lot to the table and you just learn a hell of a lot from a guy like that who's been doing it for so long.
You're just about to release a Remixes EP? What were the thoughts behind doing this?
Yeah, we just thought it'd be interesting, and it's something we've never really done before.  We thought it'd be fun to hear someone else's, or a couple of people's takes on the songs we've written, so we picked a couple of our favourites and we'll be releasing that.  It's just something different again, electronic music is big right now and I do enjoy electronic music, certain electronic music, so for me it's kind of neat.  The more we can release the better.  It's just fun to have something way different to what people have done before out there.
With the album out for a little while now have you already been working on new material?
No, not really.  It's tough on the road, because the only time you really have is maybe in a sound check to really jam as a band with your gear, unless we might come up with one or two acoustic ideas just noodling around for fun, but all the real sort of writing that we do for albums is done basically after we're done touring and getting ready to go into the studio and pre production.
How much longer are you out in support of this album?
It's kind of open ended right now still.  After this little world run we're doing now we're going to go back to the States and do a run with Nickelback and I think there are one or two more things in the pipeline, nothing set in stone yet.  They're talking about dates for us in January already, so I would reckon we'll be touring well into next year mid next year I'm sure we'll be touring up until then before we start working on new stuff, so it's going to be a while.
The single Tonight is a great tune and my favourite song on the album, is there a story behind it & how did this song come about?
Yeah there is, that was the last song to make it onto the album, it actually almost didn't make it at all, it was basically a rough idea, Shaun had put the vocal over the musical idea and he hadn't played it for us and we already thought the album was done, we were finishing up odds and ends and we'd almost packed up everything and I guess his iPod was just on shuffle and it came on while we were driving to the studio and we said 'Man what's that?  That's great!'  We went into the studio and said Brendan you've got to hear this, we think this is a really strong potential idea and he heard it and said 'Oh yeah we've got to record this right away' so we literally set the drums back up right away and started recording and recorded the song and it almost didn't make it.  It's actually my favourite song too and I'm really glad we ended up hearing it and playing it for Brendan.
As a band for twelve years or so now, is there something you want to do that you haven't done yet?
Yeah I mean, we've got to do more than we've dreamed, but for me I'd like to go and play in South America, just to see and you always see these stories about these huge festivals there and I think that would be really fun and really different.  I mean, I think another thing for me would be to play with a band like Pearl Jam or something, a band that I really enjoyed as a kid growing up and one of the few bands from that sort of era that are still doing their thing.  So I think that would be pretty cool.
Essential Information
From: South Africa
Band members: Shaun Morgan – vocals, guitar, Dale Stewart – bass, vocals, John Humphrey – drums
Website: www.seether.com
Latest release: Holding Onto Strings Better Left To Fray – (Wind Up / EMI Music 2011)
Check out our review of Seether's Sydney concert here