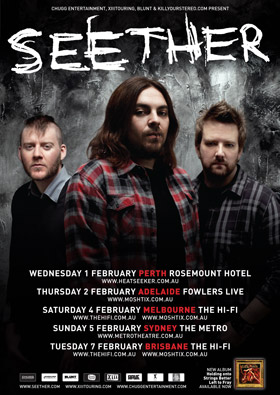 It's been almost four years since the South African rockers Seether have graced our shores and judging by the line to get into the Metro thirty minutes before the doors opened that was stretched half way up the block, these people were extremely eager to  get their dose of Seether.
Support Numbers Radio were an interesting choice for the opening slot, don't get me wrong, I thought these guys were great. Musically as a three piece they had something special and as they played through their forty minute set they seemed to win over many a Seether goer tonight but…
It was Seether that everyone was here to see and what we got was a pretty damned awesome rock show. Set up now as a three piece once again due to the recent departure of guitarist Troy McLawhorn, this saw front man Shaun Morgan once again take up lead and rhythm guitar duties. Opening with the newest album opener 'Fur Cue' with riffs so fat that Albert looks anaemic and the show did not waver or slide from there. 'Gasoline' got the crowd worked up even more and only a couple of songs later we got 'Fine Again' which is a personal favourite of mine and obviously everyone else as the sing along portion of the night began here. It was so loud, well until bass guitarist Dale Stewart pulled out the acoustic guitar and played arguably Seether's signature song 'Broken' as Shaun stepped away from the microphone allowing the crowd to sing the verses coming back only the belt out the chorus with passion, and not like he's been singing it for the best part of eight years, it was a cool vibe and still such a good song.
A solo version of 'Gift' by Shaun was the perfect way to follow 'Broken' which then made me think, if there's one thing that 96% of concerts are missing these days it's a drum solo, as quick as I can finish my thought, Shaun introduces 'Peter Criss' aka John Humphrey and we were treated to one kick ass solo, it took me back to the good ol' days, and the crowds eruption after it proved to me that other people miss it too.
So it came to the song that everyone had come to hear tonight, that being funnily enough, 'Tonight' me included and it went off, proof that a radio single brings people in, it was one of my favourite songs released last year and hearing it live, with the energy given by both the crowd and the band made it even better in my books. I could've left after this one, but the opening of 'Country Song' had me going nowhere, who am I kidding? I wasn't going anywhere. The new material is being so well received and this one followed by Seether classic 'Rise Above This' tell me that Seether aren't simply that 'Broken' band, they're quite a force to be reckoned with, great catchy songs with no filler.
Knocking it out of the park with the last two, 'Fake It' and 'Remedy' there was jumping, fist pumping and singing from all angles most definitely a perfect way to end a bloody good rock show. The crowd stayed in the hope of more but alas, as the house lights rose to a sea of boos, there's your proof that Seether could've kept playing and not one person would've left.
Oh and in case you didn't guess, I really enjoyed the show tonight. So if Seether ever hit your city, you should think about checking them out.  They're the 'Remedy' for what ails ya…
Essential Information
Venue: The Metro Theatre – Sydney
Date: February 5th 2012
Supports: Numbers Radio
Website: www.seether.com
Set List:
Fur Cue
Gasoline
Needles
Fine Again
Driven Under
Broken
Gift
Drum Solo
Breakdown
Tonight
Country Song
Rise Above This
Fake It
Remedy