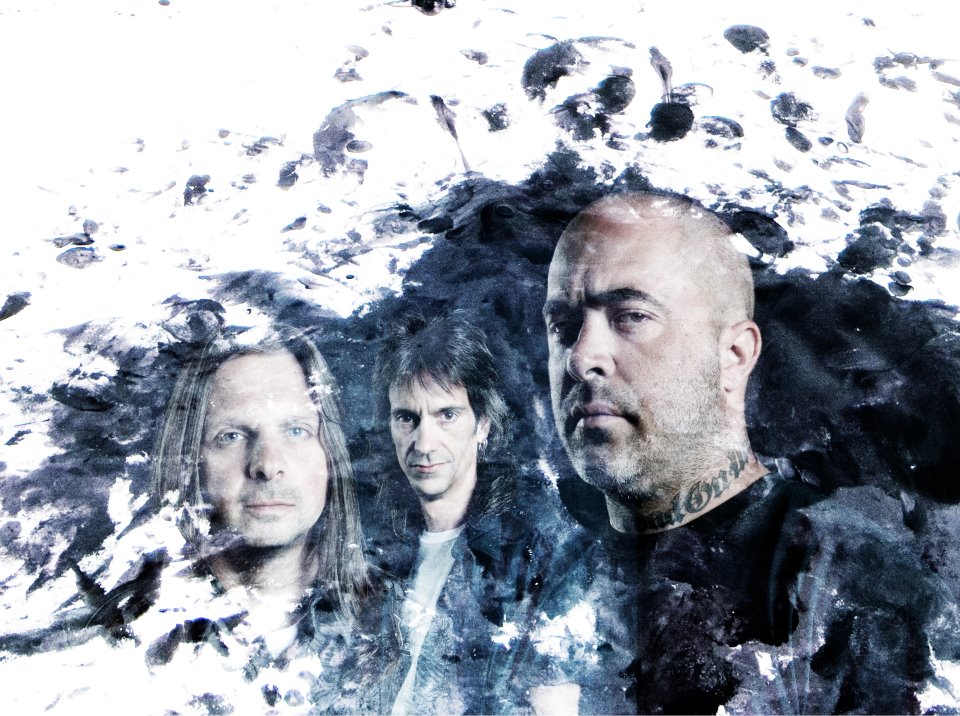 "You know, all we've ever really done as a band is approach each show like it was the last show we were ever going to play."
From Bio:  Staind is a band that has sold 15 million albums worldwide, had eight top ten singles across multiple formats with three songs hitting number one, and wrote the most-played rock song of the past decade, "It's Been Awhile." Three out of six albums—Break the Cycle, 14 Shades of Grey, and Chapter V—debuted at #1 on the Billboard Top 200 and 2008's The Illusion of Progress peaked at #3.
Staind dove into bleaker recesses than ever before and surfaced with their heaviest and most hypnotic album to date, STAIND, their self-titled, seventh studio album. The multi-platinum Massachusetts hard rock outfit pushed itself to the very brink. There was struggle and strife, but, as a result, Staind constructed a collection of chaotically melodic songs that hearken back to their 1999 major label debut, Dysfunction, while wielding an instrumental and lyrical prowess that could only be cultivated by 16 years of writing, recording, and touring together.
On their first tour to Australia as a full band, Staind are heading down as part of the mammoth Soundwave Festival as well as some sidewaves with Bush and Cherri Bomb.  We had the chance to talk to Staind front man Aaron Lewis about the band, his already successful solo career, and why it's taken them so long to finally get to Australia…
The last time you were in Australia was an acoustic tour back in 2005, are you finally pumped to bring the band back?
I couldn't be more excited, I've been waiting for thirteen years.
And you're headed here for Soundwave, what can we expect?
You know, all we've ever really done as a band is approach each show like it was the last show we were ever going to play.  I never really know how to answer that question.
You're in quite some good company at Soundwave, is there anyone you're pumped to see?
Yeah, I can't wait to see Bizkit, I can't wait to see what you guys think of Steel Panther.  Oh my God, every time I play in Las Vegas they play in the same room that I do, like an hour after I'm done, they clear the room and they resell the room again, and so I get to see them every time I play Vegas.  They're absolutely phenomenal.
And they're on early in the day too so the crowd I think will be in to see them…
Well they're going to have me up early.  I want to see them for sure.
Your newest album brings back shades of your earlier records, was that the intention to bring back the huge rock sound?
Yeah, it was a record that we talked about doing last time around and it didn't happen, what did happen that the record that we did make last time around took us so far from where we started that it was really quite obvious and apparent to all of us that we had to go back to where we began.
Was it hard to write the songs for it though?
No.  The situation at hand and then what we were going through at the time in the studio, when the songs started flying out of me I couldn't stop.
How long was the process in making it?
Well we went into the studio with ideas that no one had even heard yet that Mike had just thrown down on his cassette deck that he still uses, a little radio shack press button cassette deck, original old school that he uses to record all the demos on.
And you worked with Johnny K again, what is it that he brings to the band?
He just had a record before that he did well with the same process, knowing how to get what he wanted out of each of us.
How did the departure of Jon affect the band?
It was a really hard thing to go through.
And you have a new guy in now?
He's not really new, he was John's drum tech for the past twelve years.  So he was the first drum tech and there were a couple of guys here and there that filled in for him while he was off trying to pursue a couple of different projects, but he was John's first drum tech.
I need to ask about your solo work, has there ever been a time that you thought that may be the way to go on as an artist or was this always going to be an interim between Staind albums?
Not so much an interim, I think a co-exist if you will.  I don't think one really hurts the other.  It really is a totally different vibe, the new solo record that I just recorded, that I just finished that will be out in May is just straight up, old school Country.
So what was the idea behind the Country, is that just what you were brought up on?
Yeah, I was a country kid before I was a rock star ha ha.
Are there plans for any others?
I just finished recording another one, it'll be released in June. Well I put one out already, I put one out last year in March, it debuted at number 1 on the Billboard country charts, 12,000,000 views of the single and video on YouTube called 'Country Boy' and it got three CMT nominations, it just got two ACM nominations, it was the third most requested video on CMT of the year last year.  The single is certified Gold, and radio didn't really want to play it.  It was too Country for most rock radio stations and I was too foreign for any of the actual today's country kind of stations.
That's weird with a lot of the cross over artists such as Kid Rock don't you think?
Kid Rock is kind of anomaly if you will where that's definitely not the norm to be accepted and to flop back and forth.
A song like 'It's Been A While' has now been a while, it's been ten years since that's come out, in looking back over the last ten years as a band has there been a defining moment that you have that really stands out?
Having former President Bill Clinton say to me at the Indy 500 on the top floor of the Pagoda, that he would trade jobs with me in a second.  That was a pretty cool moment.  Doing bong hits with Cheech was a pretty cool moment too.
That's a dream come true…
Ha ha ha it really kinda is… ha ha ha.
What about musically?  Is there anything that's stood out as the band?
Well, musically, what happened for me on 'Country Boy ' on this last solo record, having Charlie Daniels and George Jones on the song with me because they liked the song, and wanted to do something on it because someone that they knew approached them with it, and come in and listen to it and if you like it, do something on it.  It was the right person calling them and asking them to come in and listen to it but they still had to like it when they got there .
We have quite a Country following here in Australia. Could there ever be a chance you might come and tour here on that?
If I can get on a package that's coming down there, or if I break through on the radio down there for the country radio market down there. I've never been one afraid to travel and tour and it's just been the decisions that were made over our head over the years that have kept us from stepping foot over there as a band, aside from that little acoustic thing that we did.  And we paid for that to come down there and prove to the record label that there were people that wanted to see us play.  Every show that we did there we sold out and everybody in there sang every word to every song that we played.  It still wasn't proof enough to the record labels that we should come down as a band.  I don't know…  But we're going to be there and we're looking forward to it.
Lastly, do you have a message for your Australian fans?
It sounds really corny and cliché, I couldn't be more excited about coming and playing a show there.
Essential Information
From: Orlando, Florida
Band members: Aaron Lewis – Vocals/Acoustic, Mike Mushok – Guitar, Johnny April – Bass
Website: http://www.staind.com/
Latest release: Staind – Roadrunner Records – 2011
Check out our review of the album here…
Sidewave details with Bush & Cherri Bomb details
MONDAY 27TH FEBRUARY SYDNEY, ENMORE THEATRE– LIC/AA
www.ticketek.com.au
THURSDAY 1ST MARCH MELBOURNE, THE PALACE 18+
www.ticketek.com.au and www.oztix.com.au
Presented by Soundwave Touring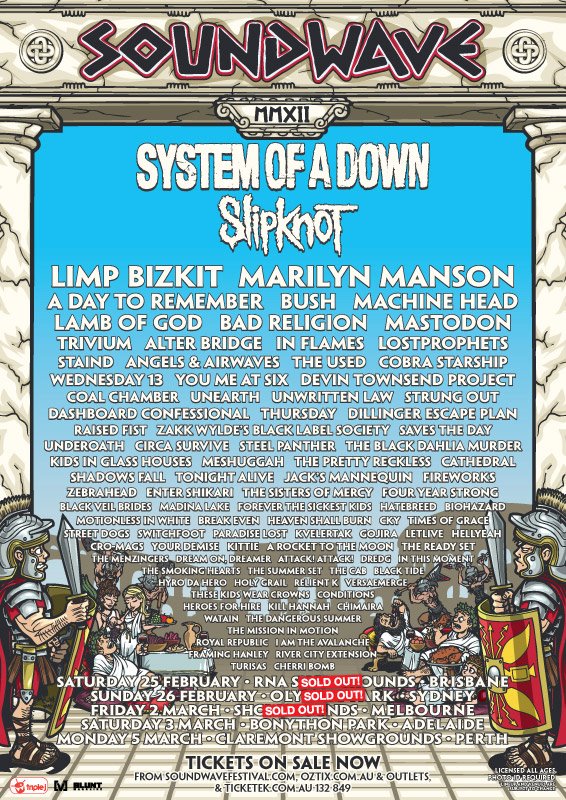 Comments
comments