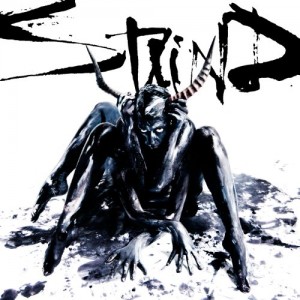 In 25 words or less: This was not the Staind album I was expecting at all.  This is heavy, and a welcome to return to the Staind of old!
I guess the first song 'Eyes Wide Open' is exactly that, it opened mine, I love this.  If that's anything to go by then we're in for a treat.  Aaron Lewis is back from dabbling in being a country singer to where he belongs and thankfully that is so, as it's not like the world was missing a new Staind record but as long as one was coming then that's the main thing.  First single 'Not Again' is a big rocker and well worthy of its single status, forgive me for saying this but there are shades of Phil Anselmo in Lewis' vocals here, I like that.  As we move on I am extremely curious about who the somewhat rap / rock song 'Wannabe' is about but then again, that's part of the mystery of the song so let's leave it at that. This seventh effort for Staind is really kick ass and powers through rocker after rocker including 'The Bottom' that you may have heard on the Transformers 3 soundtrack.
I'm glad that Staind have returned to their 'sound' as they seemed to have strayed along the way but with Johnny K at the helm once again producing this one as he did with 2008's 'The Illusion Of Progress' but more suited to his niche of heavier tunes this time around, he was able to give this self titled effort his stamp, and the letter is now ready to be mailed.  Although, as heavy as this album is, my favourite track on the album comes in the form of the album closer and complete departure from all of the above 'Something To Remind You' has no overdrive, no distortion, no need for it.  A perfect way to calm down, relax and realise that this band can actually write a great song.
I know Staind have always been one of those bands that's easy to 'hate on' but I don't get why, they've made a great rock album this time around, in fact I think it's the best they've ever done and hopefully this is one that people will give a chance to, it deserves it.
Tracks:
1. Eyes Wide Open
2. Not Again
3. Failing
4. Wannabe
5. Throw It All Away
6. Take A Breath
7. The Bottom
8. Now
9. Paper Wings
10. Something To Remind You
Essential Information
Released: Out Now
Label: Roadrunner Records
Produced By: Johnny K
Website: www.staind.com
Check it out if you like: Hard Rock & Metal!