UNWRITTEN LAW inhabits the upper echelon of successful punk bands, bands whose substance and longevity overshadow the countless hordes of imitation, fly-by-night pop-punk operations riding a one-way train to anonymity.
 UNWRITTEN LAW have reached unprecedented heights amassing a passionately loyal fan base and releasing 6 critically acclaimed albums including their genre defying breakthrough self titled album which spawned the hits 'Teenage Suicide' and 'Lonesome' which went on to define an entire generation.
Returning with their 6th studio album 'Swan', UNWRITTEN LAW have produced one of their best records of their career with Killyoustereo.com calling it a "Defiant, anthemic powerful effort for one of pop-punks mainstays".
With a Grammy nomination, millions of album sales and conquering stages across the globe, ZEBRAHEAD are fueled by pure determination…and a lot of beer!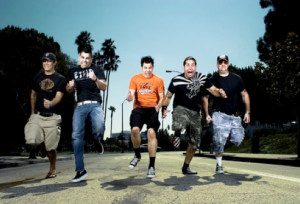 There are no signs of slowing down for ZEBRAHEAD with the release of their latest album to date 'Get Nice!' with front man Ali Tabatabee enthusing. "I think this album will definitely win a Nobel Peace Prize, get you a raise, and get your girlfriend pregnant all at the same time. It's that good"
Renowned across the world for their explosive and amusingly entertaining live shows ZEBRAHEAD make their maiden voyage to Australian shores for two sidewaves.
Just good entertainment – that's what Sweden's rock and n roll powerhouse ROYAL REPUBLIC does best. Their sweat filled live performances leave scorched earth and venues reduced to rubble in their wake!
Some bands need a little time to work their way into the consciousness of the rock public. ROYAL REPUBLIC on the other hand are one of those rare creatures that simply kick their way through the door with explosive energy and an arsenal of songs aimed at your head like guided missiles!
Check out our 2011 Zebrahead interview right here….
Check out our review of Zebrahead's "Get Nice" right here…
——————————————————————————————————-
TICKETS ON SALE FRIDAY 20th JANUARY 9AM
TUESDAY 28TH FEBRUARY BRISBANE, THE HI-FI– 18+
www.thehifi.com.au
WEDNESDAY 29TH FEBRUARY MELBOURNE, THE ESPY – 18+
www.oztix.com.au
Presented by Soundwave Touring