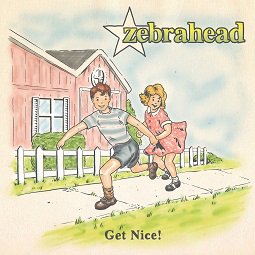 In 25 words or less: The band name check Aquanet, Motley Crue, Dokken, Slaughter, Stryper, Rowdy Roddy Piper, Iron Sheik, L.A Guns and Bon Jovi in "She Don't Wanna Rock"…instant winner!
With a history thus far spanning fifteen years and now nine albums, Zebrahead have certainly been one of the mainstays of pop punk and in 2011 with an uprising of young challengers to the pop punk throne, Zebrahead have hit back in the best way possible with 14 songs and just under 50 minutes of old school pop punk.  As far as specifically Australia is concerned, Zebrahead have been on level of popularity lower than some their counterparts, but with their pending first shows on Australian soil for Soundwave 2012 and this collection of songs in their arsenal, expect that to all change.
With their last studio release being Panty Raid, an 18 song album of covers of female pop songs, you have to go back to the musically diverse Phoenix in 2008 for the last "proper" studio release from Zebrahead.  Where that album well and truly certainly pushed the boundaries of the Zebrahead sound and may have tested some of the old school faithful Zebrahead fans, Get Nice sees Zebrahead returning to a more classic sound with the rap rock rhymes of Ali Tabatabaee still defining their trademark sound.  If you are new to Zebrahead, then this album is a great place to start, but if you haven't jumped onboard previously, then I am not sure this album is going to change that, but that's your problem, not theirs!
Massive anthemic chorus's, addictively fun lyrics and some killer guitar work (check the single Ricky Bobby) dominate all the songs and any band that name checks Aquanet, Motley Crue, Dokken, Slaughter, Stryper, Rowdy Roddy Piper, Iron Sheik, L.A Guns and Bon Jovi in the one song as Zebrahead have done on third single She Don't Wanna Rock is an instant winner in my world…but nobody will ever surpass Bowling For Soup in that domain I have to add!  Over the fourteen tracks, the band offer just enough musical diversity between song to song to keep attention, but as much as I wanted Truck Stops And Tail Lights to be a power ballad…it just ain't, sorry to break that to you!  Song title of the album goes to Nudist Priest!
Pop punks not dead…that's what New Found Glory stated on their new release Radiosurgery and with the likes of NFG, Zebrahead, Blink 182 and Bowling For Soup all releasing new albums this year, 2011 is the year the old school hit back hard!
Check out our interview with Ali Tabatabaee right here….
Essential information
Check it out if you like: Classic pop punk
Release date: Out now
Label: 3Wise Records (Australia) www.3wiserecords.com
Produced by: Jason Freese
Website: www.zebrahead.com
Track listing:
1            Blackout
2            Nothing To Lose
3            She Don't Wanna Rock
4            Ricky Bobby
5            Get Nice!
6            The Joke's On You
7            Nudist Priest
8            Galileo Was Wrong
9            Truck Stops and Tail Lights
10           I'm Definitely Not Gonna Miss You
11           Too Bored To Bleed
12          Kiss Your Ass Goodbye
13          This is Gonna Hurt You Way More Than It's Gonna Hurt Me
14         Demon Days