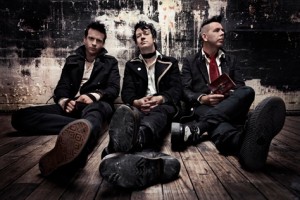 Here's the latest updates from the land of The Living End….
THE LIVING END not only performed at the 2011 ARIA Awards, they also walked away with two shiny new gongs. The band took out the Best Rock Album and Most Popular Australian Live Artist at the awards, the latter a publicly voted award.
Last weekend the band took to the stage with great furore at Phillip Island's Pyramid Rock Festival. The lads were understandably rearing to hit the stage after a short break throughout the festive season. TLE's usual high octane rock show went down a treat with Pyramid punters.
Chris Cheney relocated to Los Angeles last month, which now means that none of The Living End live in Melbourne anymore. Scott headed up the east coast early last year and Andy has long lived outside of Melbourne. With the guys so spread out now, gigs might be a bit fewer and further between. That's just another important reason TLE-heads better get out and catch up with the band on the Big Day Out.
The epic 2012 Big Day Out tour kicks off in just over two weeks now, and the band have secreted themselves away to hone their best and most exciting rock show for the 20th birthday of the annual travelling carnival. Big Day Out tickets are on sale now here.
Third single from The Ending is Just the Beginning Repeating album was released at the end of last year. Stirring tune For Another Day is now available at iTunes, with the fan contributed video ready to be watched at The Living End's official Youtube page, click here.
In other shows; punters in Adelaide can catch up with the band at the Clipsal 500 after race concert on Mon Mar 04. Tassie fans will also get a look in as The Living End join the bumper Breath of Life Festival on Sun Mar 11 in Launceston. All tour dates and ticketing details below or at www.thelivingend.com.
CLICK HERE FOR THE LIVING END TOUR DATES
Tickets and more info:
Website: www.thelivingend.com
Facebook: www.facebook.com/thelivingend
Twitter: www.twitter.com/thelivingendaus