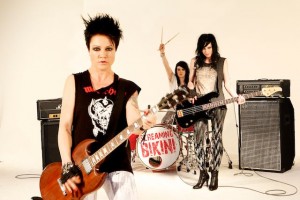 Sarah McLeod's smokin' hot 3-piece girl band Screaming Bikini will bring their slick rock show to the Beresford Hotel every Saturday night throughout February.
Recent shows for the Hard Rock Café opening, City Of Sydney's Art and About festival, and Brisbane's pop-up show for 'Room For Thought', proved these girls bring it up to the highest notch when it comes to live shows. Tight sweaty rock show delivered in ten inch heels, and a kickin' sound, Screaming Bikini will perform tracks off their current self-titled album as well as showcase some brand new tracks off the next release due out in coming months. It's going to be one big party.
McLeod has recently finished a 6month acoustic tour and is ready to sweat it out on the stage with her girls.
Amongst 2011 highlights were:
Playboy Mansion performance in Hollywood
Original Album cover banned due to being 'too racy'
Sarah doing radio interviews as an alias called "Sammi Scream"
Original Album cover being voted in the Top 10 worst covers of the year
Harley Davidson ambassadorship
Amazing media features in: Network 7's Sunrise, Channel [V], Daily Telegraph, Sunday Telegraph, Sun Herald, Courier Mail, MX in Sydney, Brisbane and Melbourne, Adelaide Advertiser, major suburban newspaper cover stories, national street press, national radio and online.
KJ performing in a bikini
Screaming Bikini's next single release "Dirty Beats Disco Bass" is due out on February 10. Look out for the music video on your screens soon – Rolling Stone in the US even gave the band permission to use their masthead in the clip 🙂
"Expect the unexpected on this debut album from Sydney all-girl group Screaming Bikini. The brainchild of industry veteran Sarah McLeod, the album may be an independent release but the production quality is high, the lyrics meaningful and the vocals extraordinary. This is a summer pop/rock album full of uplifting anthems from an exciting new group." 4.5 stars – SUNDAY TELEGRAPH
Screaming Bikini are Sarah, KJ, and Kea.
Follow Screaming Bikini on Facebook
https://www.facebook.com/pages/Screaming-Bikini/222780011071157
http://www.screamingbikini.com.au/

Check out our recent interview with Sarah McLeod from 2011…
Comments
comments