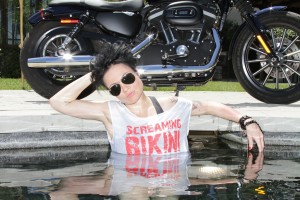 Going from the lead singer of one of Australia's most successful modern rock bands, The Superjesus and some 5 or so years later ending up with successive hits in both Australia and overseas in the club scene, may sound like something that's hard to believe, but for Sarah McLeod, that's the way that she rolls.
In 2011, Sarah has just released a new album under the banner of Screaming Bikini.  The self titled album has been in stores now for a few months and features a diverse range of tunes, no better illustrated than the contrast between the first two singles, the mesmerising melodies of Easy, versus the pulsating up tempo rock of latest single Dancing Alone.  Check out both videos below!
Mixing it up between an acoustic tour, Screaming Bikini shows and club shows, Sarah has never been busier.  We recently chatted to Sarah about Screaming Bikini, the contrast between the three differen't styles of music and what it was like recently performing for Hugh Heffner at the Playboy Mansion!
Hey Sarah, thanks for taking the time to call in and do this interview.  So first things first…this weekend just gone you were in Albury playing a couple of shows, how did they go?
Yes, I had a club show in Albury on Saturday night and then an acoustic show in the beer garden on Sunday.  It was strange, doing a club show in the same place we then did an acoustic show, with two different audiences!
Then late last week you had your first Screaming Bikini live appearance in Australia?
It was a stripped down Screaming Bikini show, we played on the catwalk at David Jones.  It was myself and the bass player KJ and we ran backing tracks and beats, rather than having the full band there.
So let's start with the now, Screaming Bikini…can you explain in a nutshell what Screaming Bikini is all about?
It started off that I had a lot of music that I wasn't using and I wanted to put it out, but because the genres were different, I didn't want to confuse people.  So I thought I would put them under different names.  So there's the Sarah McLeod acoustic thing that we are touring with.  Then to keep it separate from that and separate from the club stuff, I thought I would call the band Screaming Bikini and get my mate KJ in it and then that way people would be able to differentiate between the different styles of music because it's a different act.
You have been working on a solo album for a little while now, has Screaming Bikini superseded this, or is it still going on in the background?
That's still going on in the background, I just want to let each project have it's time to be able to "be" without being confused by the other project.  I'm going to work on Screaming Bikini until like mid next year, and then work on the solo record after that.
And how do you find that contrast between the acoustic shows, Screaming Bikini and then the club shows you do, particularly using the weekend's gig as an example?
It's funny, because I am into a lot of different kinds of music and play different styles that it's kind of hard for me to even keep up with it!  Normally I try and keep it really separate and the people who would come and see one of my club gigs, would never go see an acoustic show.  But this weekend it was some of the same people that came watched us at the club, then were out in the beer garden the next day for the acoustic show.  It was kind of like "Oh, hi", it was almost embarrassing haha!
Now back to the beginning of Screaming Bikini, you started off in a shrowd of mystery, going under an alias of Sammi Scream for a while, before your true identity was revealed?
Well originally it was really because I wanted to keep the projects separate and I thought eventually it will just all blend into one.  So I thought I would give myself a funny name and do interviews in a funny voice, but I didn't get away with it, everybody knew it was me straight away!
I am sure you have/or will be asked this many times, the name Screaming Bikini, does that refer to anything specific?
Well that actually occurred when we were doing the recording.  At one point we were recording at this joint in Malibu and it was really hot with no air-conditioning or air vents and everyone was in there smoking and it was like hideous.  So there was this swimming pool and I kept going out and having a dip and then coming back in and recording my vocals and singing at the top of my lungs, but still in my bikini.  So that's where it came from, because everyone was giving me shit about it.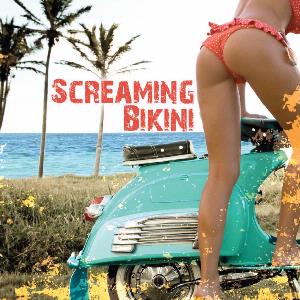 Now the album is out in stores and I see that the album cover has created a bit of controversy with JB Hi Fi and Sanity withdrawing their logo from the Screaming Bikini TV advertisement!
Haha, yeah they withdrew their logo from the TV ad because they thought it was too controversial.  So we have changed the artwork, we are just waiting on the new artwork to come out.
So the original CD cover is a collectors item now then it sounds like!
Totally!  People are buying them at the gigs and we are like "its never going to be printed again, get em while it's hot".  We just want to get rid of them and bring in the new artwork, so it's win, win.
You are pretty active on Facebook/Twitter, how has the response been to the album so far?
You know, people seem to really like it.  When we initially put it out, that's one of the reasons why we used a funny name, I was like "oh yeah, let's put it out and see what happens".  I wasn't really that driven by the project.   As it started to go on, suddenly people really started to like it, then I got KJ in the band and once I realised we could play it live and it became more of a realistic commodity, that's when I started to go, "hang on a minute".  People's reactions to it have kind of been better than I thought, so that's what has inspired me to make it my main project.
You are not long back from a trip to the USA, where of all places you played at the Playboy Mansion, now how was that experience?
Well what I can remember of it, it was amazing!  The place was ridiculous, it was incredible.  It was huge and there were all these cabanas around the stage and Hugh Heffner was right in the cabana next to the stage while I was singing.  I was swinging on the scaffolding looking into his cabana singing to a heap of bunnies, it was very, very surreal.  As the night wore on, it got even more surreal.
Now let's rewind back to your solo album Beauty Was A Tiger which came out in 2005, in the years between then and now, you gradually headed into a totally different musical direction, leading you into the club scene.  For you personally, did this seem like a natural progression as your music kept evolving into that style?
Yeah, none of that was planned.  Nothing I ever really do is planned.  I've been falling into this whole scene ever since I left school.  I've never actually made any decisions and said, I'm going to do that.  It's just like I put one foot in front of the other and then land somewhere and then go shit, where am I, let's do this!  That's pretty much how the club scene happened, a DJ did a remix of one of my tracks and it did really well and suddenly it was Number 1 on the ARIA club charts for 20 weeks or something and I was like oh wow, let's do another one then.  Then we did another one and it did really well in America, then I thought I could probably do some of these live.  One thing always just leads to another, if it had died in the ass I would go, great, cool, next!!
How much of a transition was it to step from a stage with Gibson guitar and a Marshall Amp, to doing the whole DJ thing?
It took a bit of mental adjustment, like who am I?  I was just so used to being the rock dog and hiding behind my guitar, then suddenly I'm on stage with nothing.  I didn't even have a mic stand, it was just me and a radio mic.  At first I was a bit like, hey hang on, what am I doing, this is bad.  Then I thought like, no wait, hang on, then I turned into like this full on poser and I would go out wearing sunglasses and studded gloves and totally just like ham it up.  To me it's funny, I'm not really taking it seriously and I was like "yeah, check this out…" and pulling moves and stuff, tongue planted very firmly in my cheek, then once I worked out how to do that, it was like ok cool, well now let's slip into that dude.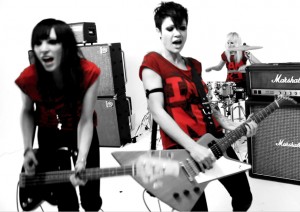 You have also been touring the country doing a solo acoustic tour.   Given what we were discussing earlier, has the prime aim of these shows been to re-introduce Sarah McLeod again?
Yes that was the idea.  It was to basically try and play all the material I've got in different genres and play it acoustically so I can play them all at once and show everyone that I've got all these different things and I can play them all acoustically so you can hear them all at once as one collective and reintroduce people to what I've been doing.  Then I can peel it off into the correct production live.  When it started off it was only meant to be a few gigs, but we've been having so much fun with it, we've end up touring for months!
In your solo acoustic shows, how does it feel to be now playing The Superjesus songs that you would have written and recorded 10 to 15 years ago?
Well they are really fun to play guitar to.  Not as fun to sing as the newer stuff though.  I don't know if I used to write in a key that suited me that well?  I can't really change the key because the guitar parts are so intricate it's like, look at us play guitar, then it's get to the solo stuff, cool, now I've got to start singing.
I see that your old bass player, Stuart Rudd was a special guest for you up in Adelaide.  An obvious question I know, but with it  soon approaching 15 years since Sumo was released, is there any likelihood of any kind of Superjesus one off show or the like?
Well we often talk about doing stuff together, we just haven't made any firm plans.  But it's totally open.
What has been one of the biggest learning experiences or pieces of advice you have received over the years?
Critique yourself enormously before you let anyone hear your work.  I learnt that from Chris Tennent when we were in The Superjesus.  He would critique me to high heaven, he would make me rewrite songs maybe 2,3,4 times.  Now when I write, I sit and think whether each line is the best it can be.  I remember a producer saying to me once that Peter Gabriel used to go through his lyrics and rate them 1 to 10 per line.  Initially I was thinking that's a bit extreme, but when you actually get in there and do that with your heart of hearts and you go, well this line is not really supporting the story, it's a bit of fluff, I can fix it, even though maybe you don't want to, or can't be bothered, but you just have to.  You've got to critique yourself so hard so you know you've got the best possible product you can put out at that point.
With 15 or so years in music, what continues to drive you?  Now I am not talking about your Harley Davidson here, but you can talk about that if you wish haha!
Well it's actually because…now I don't mean to sound conceited, I always feel like whatever I've done today, tomorrow it's going to be better.  I've never stopped thinking that and that's what drives me.  If I thought I'd hit my peak and it was plateauing or getting worse, I would just stop.  Every time I write something, in my brain, whether it's true or not, in my brain, I'm like that's so much better than what I wrote yesterday.  Every single day I feel like I'm learning something and keep getting a little bit better, so that just keeps me going.
Over the years, who have been the biggest influences on you musically, whether it is as a performer, songwriter, and guitar player?
Well I was really into PJ Harvey around 94′ or something like that.  As far as a chick singing and playing guitar, I thought that she was the best.  I used to be into Joan Jett when I was little, but then I kind of forgot about that for a while, but I like her again now.  But again, I fell into it.  I used to play a few chords on guitar and went to Bali with a few friends and they pushed me up on stage with this Balinese band and I had never been on stage in my life.  I was like "fuck, this is awesome!".  I played with them every night whilst away and then I came home and quit Uni and started the band.  So that was an accident really, a happy accident!
You certainly have lots coming up with the solo acoustic shows, supporting Canadian band The Trews, a few club shows, ambassador for She Can DJ, nothing like keeping busy….
Yeah I know, I've never been so busy in my life.  Even when I was in The Superjesus, we did a lot of touring, but I never worked this hard.  Every single day I'm at it, but it's really good, it's educating me.
Well Sarah, that's all I have for you, so many thanks for your time and best of luck with the album and the upcoming shows!
Thanks very much, appreciate it, see ya!
Essential Information
From: Australia
Website: www.screamingbikini.com.au & www.sarahmcleod.com.au
Latest release: Screaming Bikini (2011, MGM Distribution)
Sarah McLeod/Screaming Bikini/Club Show Tour dates:
SEPTEMBER
SAT 17TH – FUSION Melbourne Casino – CLUB GIG (AKA SINGING REMIXES. NOT ACOUSTIC)
SUN 18TH – MELBOURNE CHERRY BAR
TIX $20 from OZTIX 1300 762 545 www.oztix.com.au
SAT 24TH – CHERRY BAR SUPPORTING THE TREWS FROM CANADA
TIX $20 from OZTIX: 1300 762 545 www.oztix.com.au
SUN 25TH – CHERRY BAR SUPPORTING THE TREWS FROM CANADA
TIX $20 from OZTIX: 1300 762 545 www.oztix.com.au
FRI 30TH – Baroque Bar, CARRINGTON HOTEL KATOOMBA
OCTOBER
SAT 1ST – LIZOTTES KINCUMBER
TIX $25 LIZOTTES NEWCASTLE: (02) 4956 2066 / www.lizottes.com.au
THURS 6TH – LIZOTTES LAMBTON (NEWCASTLE)
TIX $25 LIZOTTES NEWCASTLE: (02) 4956 2066 / www.lizottes.com.au
FRI 7TH – OLD MANLY BOATSHED
TIX $20 MOSHTIX: 1300 438 849 / www.moshtix.com.au
SAT 8TH – RYANS' THIRROUL
TIX @25 OZTIX: 1300 762 545 / www.oztix.com.au
SUN 9TH – BRASS MONKEY CRONULLA
TIX $25 BRASS MONKEY: (02) 9544 3844 / www.brassmonkey.com.au
OZTIX: 1300 762 545 / www.oztix.com.au
SAT15TH –  Gaelic Club Sydney with The Trews as Screaming Bikini
SUN 16TH – 34 Degrees South, Bondi Beach (tix at door)
SAT 22ND – Notes, Newtown
TIX $25 OZTIX:
1300 762 545 / www.oztix.com.au
SAT 29th – Sydney Blues & Roots Festival, Windsor