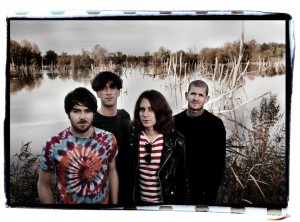 "We wanted to make sure there's still a strong raw aspect to the band.  I guess really we are a live band foremost, that's where we thrive really, and so it's important to keep the recording spontaneous and quick in order to get that sense into the recording process."
Pulled Apart By Horses certainly took all before them in 2011, well and truly establishing themselves as a major live force to be reckoned with, as well as recording second album, Tough Love, which is just days away from release here in Australia, January 27th.  With Gil Norton  (Foo Fighters, The Pixies) handling production, drummer Lee Vincents says it's all about balls, much bigger balls this time around: "Really it was an attempt to capture the energy and chaos of our live show. Tough Love is still raw, but it's a proper album. It's got more balls too. Bigger balls."
We recently chatted with bass player, Rob Lee a few days about the making of the new album, Tough Love, the experience of working with legendary producer Gil Norton, as well as the continued rise and rise of the band…
Hey Rob, thanks for taking the time to chat!  So we are here to chat about your new album, "Tough Love" which is to be released next week…  So what are your feelings right now, during this "waiting" period the album is finished and it's not quite unleashed upon the world.  Is it a feeling of anticipation, nervousness, excitement…or simply a case of the album is done and we can't do anything more about it!
That's the thing, we are all really proud of the album and we made the best album we possibly could have at this point.  We put as much time and energy into it as we possibly could and we love the album, it's great.  It's nerve wracking and yes it's an interesting thing to see how it will be received and in England at the moment people don't seem to be buying many records at all.  So it's kind of like our little baby you know, we've brought it up and now it's time to release it into the world, so all you can do is bite your lip and see what happens really.  We've got the album streaming over here in England on the website and we've also played it live as well, that was a live preview.  People who have heard it so far have had really great comments and fans have been getting online to say how excited they are.  We are looking forward to just seeing what happens really.
When you first sat down to chat about writing and recording for Tough Love, what were the general thoughts on what you wanted to do with this album musically in comparison to your previous album?
This album took a lot longer than the other one, perhaps in ways that people won't really see.  The first album, most of the songs on it were written like really early on, about four years ago when we first started out and the goal was to get some songs out there so we could start getting some gigs.  We never initially had a big ambition or expectation that we would be doing it full time or become a professional band.  Then over the past 3 or 4 years of touring and becoming a "real" band so to speak, that's been the growing period and what has now turned into this new album.  We've improved as songwriters, musicians and gotten to know each other a lot better and a lot of that went into the new album.
When you mentioned earlier about the album taking longer than the first one, was that in the writing phase, recording phase, or a bit of both?
Well we took just over two weeks for the main recording time.  We have to get things down pretty quick, because firstly attention spans run pretty low in this band and secondly, it's always good to have a certain amount of spontaneity and capture as much raw energy as you can.  We wanted to make sure there's still a strong raw aspect to the band.  I guess really we are a live band foremost, that's where we thrive really, and so it's important to keep the recording spontaneous and quick in order to get that sense into the recording process.
Writing the songs for the album, how did that evolve?
With the writing, for the first album, we weren't on tour then, we were just together a few nights a week in a practice room above a pub bashing it out really.  But since that got released and we got signed up, we've been touring almost constantly so writing this time around has been more done in stolen moments, when you get home and have a bit more time to sit down and write and think about things more.
This time, Tom and I wrote kind of like the original ideas for the songs.  Everything we do in the band is a very democratic effort, so all those initial ideas get brought into a practice room and then worked on and changed.  Our drummer, Lee is very involved in the arrangements of songs, and from a drummers point of view that works really well.  On this one, James really concentrated on being the lead guitarist and really developed that.  His guitar work kind of always adds another level to the songs.  The first time around it was more like jamming and bashing stuff out in a room together.  This time the album has been a bit more considered and better written.
You worked with Gil Norton (Foo Fighters, The Pixies) on this album, how did that come about and more importantly, how was the experience?
It was just mind blowing really, he's one of our heroes, who has written some of the albums who have inspired us to do what we do.  For me personally, Doolittle by The Pixies is one of my favourite albums of all time and The Colour And The Shape (Foo Fighters), that's just an epic album.  We were on tour and watching the Foo Fighters documentary they brought out not long ago and there was a scene where Gil Norton came on.  So kind of as a joke, I said, "imagine if we ever got to work with someone like that".  Rather than everyone laughing, it was more a moment where everyone thought about it for a bit and then very arrogantly from our point of view we asked our record label what would be the possibility of working with him?  They got in contact with him and apparently he had heard some of our stuff already and he said, "yeah, I'd love to work with those guys".  I think it's been a while since he has had the opportunity to work with a raw, rock band, which is obviously what he did a lot at one time.  I think he was just as enthusiastic working on this album as we were!
He's such an awesome guy as well, at first we were kind of nervous and scared as he has a bit of a reputation of being a hardass.  He's got a really string work ethic, but we really wanted someone that was going to kick our ass a bit and raise the bar and take us to the next level.  In the lead up to when we were going to start recording, he come to Leeds and we just hung out and got pissed together and did some rehearsal and pre-production, it was just an awesome experience to just hang out with him really.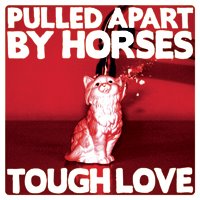 So as far as recording, where did that all take place?
Well a lot of people don't know this, but Gil is actually from England, in Liverpool and I think he has got a place in L.A as well, but he was over in the U.K for that period.  He came over to Leeds and stayed for about two weeks and just came into our practice space and got to know the songs really well before we actually headed in to start recording.  The actual recording of the album was actually at a studio called Mono Valley out in Monmouth in Wales out in the middle of nowhere in the countryside.  So we were based there for those two weeks as it's a residential studio and I think bands like Black Sabbath and Queen have recorded there, so it was kind of a legendary place.
First single from the album is V.E.N.O.M, for which you have recently premiered a video for…walk us through the making of that video, any interesting stories to share?
There's a video director called Bob Harlow who's a brilliant director and we have worked with him a few times and done some previous videos with him.  He just gets us as a band, but at the same time, anyone we work with like that we end up having a good relationship with and end up being mates with and stuff.  I think at the same time, he kind of hates us a bit as in each of the videos he has put us through a fair bit of physical torture (laughs).  One thing he is good at doing is finding these amazing locations.  That video was actually filmed in Oxfordshire in this huge big abandoned mansion that was kind of like falling apart which was apparently haunted.  We were there until the early hours of the morning and there were a few freaky things going on, there was definitely a spooky aura going on there!
2011 was a massive year for the band as far as touring and festivals etc, is it fair to say that from your point of view, the reaction to the band, particularly in the UK, taken you surprise somewhat?
Absolutely, definitely.  When we first started out, all we ever expected to be doing was playing basements and parties and local venues.  There's a pub in Leeds called The Pack Horse, which is kind of our local, and it's a legendary little venue, there's been some really cool bands that have played there.  We wanted to do it for fun really, for our own enjoyment, then we started getting asked to do festivals and the crowds were giving it as much as we were you know.  We are so grateful for the reaction we have had and it just spurs us on more and more in the shows and deliver as much energy as we can.  Our gigs, we really share that experience with our audience, there's always a lot of energy going on.  It just seems to keep growing and progressing and hopefully it will continue doing that.  We feel lucky for every opportunity we get to play to an audience really.
You were out in Australia, what early 2011 wasn't it?  Any plans for a return to Australia at some point in 2012?
We would love too man.  We did Australia last year and had some awesome gigs whilst we were there.  We just had an amazing time and got a great reception from the crowds.  It's unbelievable you know, to think we could go all the way to the other side of the world and there would be people there who like our music is mind blowing really.  I think people seem to get our music over there in Australia.  We've got space booked into the calendar, but there's no definite offers on the table just yet, so hopefully it will happen.  It's up to you man, tell everyone over there to get back to Australia and we will come back, gladly!
Essential Information
From: Leeds, UK
Band members: Thomas Hudsons – Vocals/Guitar, James Browns – Guitar, Lee Vincents – Drums, Rob Lee – Bass
Website: www.pulledapartbyhorses.com
Latest release: Tough Love (27 January, 2012 – Australia)