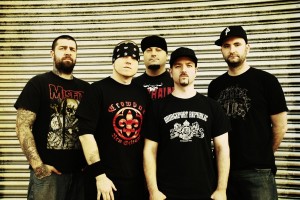 As the Soundwave 2012 machine keeps on rolling, yet another monster Sidewave has just been announced!  Check out this one!
HATEBREED. Respected by peers. Revered by fans. An unstoppable force.
The hardcore legends have been annihilating mosh pits throughout the globe for over 17 brutal years. HATEBREED'S music is like a universal language that so many speak and comprehend. Architects of positive, uplifting anthems that require and demand crowd participation with punktastic.com proclaiming "Tonight's a schooling for any pretenders to the throne in how to do hardcore the right way".
Before CRO-MAGS the idea of combining heavy metal and hardcore was unheard of. They defined the hardcore/ metal genre with the release of their classic debut album ''The Age Of Quarrel' with Punk News describing it as a 'masterpiece and 'one of the most influential hardcore albums of all time'
Adding to the chaos is highly influential and newly reformed New Yorkers BIOHAZARD, whose intense fusion of hardcore, punk and trash metal has out lasted many fads and forged a career spanning over two decades and millions of album sales.
Brace yourself because HELLYEAH featuring metal's baddest group of outlaws, Vinnie Paul (Pantera), Chad Gray (Mudvayne), Greg Tribbet (Mudvayne) and Tom Maxwell (Nothingface) are bringing their 'let's-tear-the-world-a-new-ass' attitude and bonafide fist-pumping metal anthems for two special sidewaves. "Each person who was present felt it, in their soul and in their heart that metal lives." – antiMusic.com
Check out our recent interview with Greg from Hellyeah here…
TICKETS ON SALE THURSDAY 12TH JANUARY 9AM AEST
TUESDAY 28TH FEBRUARY NEWCASTLE, PANTHERS – All Ages
www.moshtix.com.au / www.oztix.com.au
WEDNESDAY 29th FEBRUARY MELBOURNE, THE HI-FI – 18+
www.thehifi.com.au