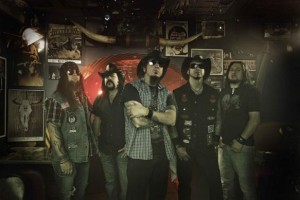 "I think Australians have a little higher level of craziness…I don't know whether it's the alcohol you're feeding people down, you're definitely crazier!"
With a background in bands such as Pantera, Mudvayne and Nothingface, Hellyeah have two slammin' metal albums under their belt and a third on the way in 2012, along with a third visit to Australia on the cards for Soundwave Festival 2012…HELLYEAH can definitely no longer be considered merely a "sideproject".
We chatted with guitarist Greg Tribbett and tried to extract some info about the bands just finished new album and found out his thoughts on the bands third visit to Australia for Soundwave 2012!
Hey Greg, thanks for taking the time to chat!  So first things first, with 2011 nearly over, what has been keeping you guys busy this year…recording the new album it sounds like!
Yes it's all completed, we're happy, it's awesome and I can't wait to hear it mastered and when it's finished.
Going back to the start, when you sat down to chat about writing and recording for the follow up to Stampede, what were the general thoughts on what you wanted this album to be in comparison to Stampede?
I think basically we wanted to get back to our heavier roots.  Basically, if you take the heaviness of Pantera, Mudvayne, Nothingface and Damageplan, put it in a bowl and mix it up, that's what you've got!
With the new songs obviously being fresh in your head…is there one that specifically stands out right now as you're favourite to record, or even the one that gave you the most trouble?
Well I don't really want to release any titles or anything just yet, but basically the whole record, I am really proud of it.  It's heavy, it's just back to our roots man, I love it.
Being your third album now, as far as the song writing and recording process, did anything change significantly this time around, compared to the process for Stampede?
Well we did it the same way, at Vinnie's house, which is where we also did Stampede.  Just the fact of recording our third album, the continuity and everything, flowed a lot better so we got through it really quickly.
Did these songs originate from specific writing sessions, or had you been doing some writing out on the road or maybe even using some ideas from the Stampede sessions?
They are all fresh and brand new.  It's pretty much we would just come in and start jamming on riffs as we go and see how they gel together.  That's kind of how we write all our records.
So early next year you are heading back to OZ for what, your third visit now with Hellyeah and you had also been out here with Mudvayne hadn't you?
Yeah we did Australia a couple of times, the Big Day Outs actually.  I can't wait to get back there, it's going to be great especially with that line up.  It's just ridiculous, there will be a lot of people and a lot of chaos!  You know I just didn't expect a lot of these bands playing together, it's going to be crazy.
And the last couple of tours were your own headline tours, I saw one of your shows on the last tour and that was pretty crazy…are Australian crowds crazier to other parts of the world where you go?
I think Australians have a little higher level of craziness…I don't know whether it's the alcohol you're feeding people down, you're definitely crazier!
Have you heard anything yet about whether you will also be doing some sideshows whilst you are out here in Australia?
I'm really not sure, I just haven't heard anything yet about what Hellyeah's doing.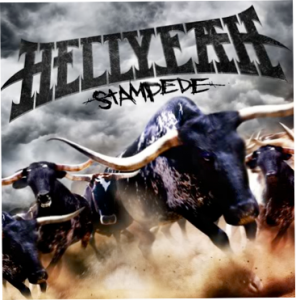 Because quite obviously it's going to be a totally different kind of vibe if you guys are playing an early daytime slot when the beer is hardly flowing, versus your own club show!
Well we're really hoping for a later slot I'm telling you, like you said.
As far as playing and touring with other bands, I guess it's an interesting scenario for Hellyeah given you are pretty adaptable and don't necessarily fit in with one specific genre as such?  How have you found that?
We just take the opportunity as it comes and we will play with anybody.  Buckcherry to Papa Roach, Machine Head or even Metallica, even Slipknot you know, maybe we'll play with those guys in the future.  We're open to anybody man.  We are just trying to get our music out there and have a good time and play for our fans.
So as far as worldwide domination for Hellyeah….where is somewhere that you guys haven't quite been able to crack yet, but it's high on your agenda?
Actually it would be Jakarta, Indonesia.  We've never been there and whilst we've been to Japan a few times and the Philippines last year, but Jakarta is going to be interesting if we can make that date happen and there's no volcanoes going off!
And as far as Mudvayne, is it fair to say that Hellyeah is quite obviously the focus for yourself and Chad for the foreseeable future?
For the next year and a half, two years, for sure.  Mudvayne is kind of on the back burner right now, everyone is taking their time off and enjoying it and we don't really want to discuss doing anything until at least a couple of years from now.
So as we are just about to head into 2012 and see a new album release, do you think that people/media are now actually realising that Hellyeah is not just a "side" project?
I think that's definitely the case now given we went back to back records, rather than heading back and doing another Mudvayne record right away in between.  They're both legitimate bands and I think people get that now.  I think everybody's going to love the new record so I think we are only going to become more accepted and grow bigger than we already are now.
So as a guitar player, how have you found the contrast between playing in Mudvayne versus Hellyeah, for starters, it's obviously a different dynamic having a second guitar player to work off in Hellyeah!
It's a completely different headspace man.  Mudvayne is a lot more technical and Hellyeah is more up the middle, four four beats and groovin.  Tom is a great guitar player and I love playing with Tom, he has a very similar style to what I play.  We hit it off right away when we got into the band.
Well Greg, it's been great chatting.  Sounds like exciting times ahead next year for Hellyeah fans here in Australia, with a new album and of course the Soundwave visit!
Yes absolutely!  I'm looking forward to the Festival and can't wait to get down there to do some headline shows as well!  Cool man, thanks Scott!
Check out our 2010 interview with Vinnie Paul right here…
Check out our 2010 interview with Vinnie Paul and Chad Gray right here…
Essential Information
From: USA
Band members: Vinnie Paul – Drums, Chad Gray – Vocals, Greg Tribbett – Guitar, Tom Maxwell – Guitar,  Bob Zilla – Bass.
Website: www.hellyeahband.com
Latest release: Stampede (2011, Riot! Entertainment).  New album coming 2012.
SOUNDWAVE FESTIVAL VENUES AND DATES
SATURDAY 25 FEBRUARY – BRISBANE, RNA SHOWGROUNDS
SUNDAY 26 – FEBRUARY SYDNEY, SHOWGROUND
FRIDAY 2 – MARCH MELBOURNE, SHOWGROUNDS
SATURDAY 3 – MARCH ADELAIDE, BONYTHON PARK
MONDAY 5 – MARCH PERTH, CLAREMONT SHOWGROUNDS