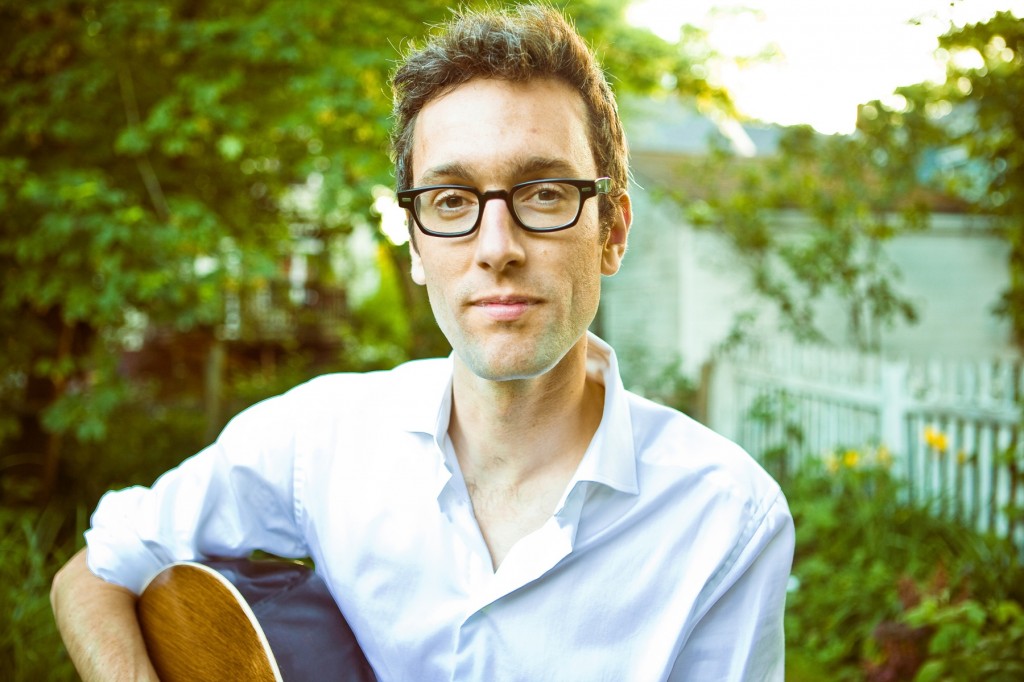 From Bio: With Into the Sun David Myles whisks us away on an exhilarating musical adventure that explores his long-time love of Brazilian and African music. Already known for his versatility and ability to fuse styles, David takes us further afield with this record by introducing rhythms and instrumentation most often reserved for world music audiences. The result is a sound that is uniquely David Myles.
With influences as obvious to pop audiences as Paul Simon and as obscure as Brazilian icon Jorge Ben, David is the ideal tour guide. The surprising and intricate songwriting is framed by carefully constructed arrangements, soaring harmonies and flawless musicianship.  A warm, easy performer, David brings his audiences to their feet wherever he plays. His unabashed joy at being on stage is infectious and his musicianship is superb. Add his tendency to regale his audiences with humorous anecdotes, and it comes as no surprise that David is an instant hit with live audiences around the world.
Into the Sun is David's fifth studio recording and his sixth album. Co-produced with Charles Austin and Graeme Campbell in Halifax, Into the Sun is an exuberant follow-up to the award-winning Turn Time Off, and takes us a little deeper in to the wonderful world of David Myles.
As you know we love all sorts of Rock, so it felt time to share some Folk / Acoustic style rock for you all.  So after his first tour to Australia we had David answer some questions for us and deemed him a hidden secret and one of our Best Things You've Never Heard…
As an introduction and for those that may not be aware of you, can you give us a musical fact or myth about you?
I'm from a family of four boys. My dad directed musicals. I grew up playing trumpet. Got into Willie Nelson through Miles Davis (Red Headed Stranger was apparently one of his favourite records). Decided I wanted to sing and write songs and have been hooked ever since.
You have twenty seconds in an elevator to try and convince someone to listen to your new album, what do you tell them?
Hmm, I'm not much of a salesman, but I'd tell them that I'm pretty sure it'd put a smile on their face. I'd maybe tell them that if they dig Paul Simon, they might dig it. Or if they're into Brazilian music from the 60s or Western African guitar stuff, they'll likely find stuff to get into. It's hard, mostly I like to think that my music makes people feel good.
What or who was it that inspired you to get in to music?
My family is pretty musical. There was always music going on. We had two pianos and tons of instruments around. So an introduction to music was pretty inevitable. However, it wasn't until I discovered trumpet at around the age of 10 that I really started to sink my teeth in. Around junior high I started really getting into jazz and my obsession with records kind of started there. It's been pretty steady since. I thought I'd be a trumpet player but then I bought a guitar for $30 while living in China, started singing and writing songs and it totally took over. I've been hooked ever since. Writing songs allows me to totally engage in my fascination with what makes music so special.
You've just finished up your first ever Australia tour, how were the shows here?
They were amazing really. I was blown away. Woodford Festival was insane. Probably the best festival I've ever been too. So diverse and so many new musical discoveries for me. It was so great to see such a big festival put such an emphasis on stuff that the audience may not have been familiar with beforehand. It was awesome. Afterwards we did a show in Melbourne and a few in and around Sydney. They were all great. Really fun audiences and wonderful venues. I'm already starting to plan when I can come back.
Now for those that haven't yet seen you perform before or missed out on the recent Aussie shows, what can people expect from one of your live shows?
The live shows are quite different from the records in some ways. Firstly they are often a bit more stripped down. For this last tour and most of my shows in Canada these days I perform as a trio. Another guitar player and an upright bass player, both of whom sing. It gives the whole thing a bit more of a country/bluegrass feel which I really dig. I also really try to make the shows a lot more than simply presenting my songs. I like to engage a lot with the audience, telling stories, etc. It makes each show unique and allows me to get a feel for where we're playing and allows me and the audience to get to know each other.
Your new album 'Into The Sun' is your sixth album, song wise, how did this one come together compared to your previous releases?
This one was a bit more spontaneous than previous albums. I tried not to lay everything down in stone before hitting the studio. I wanted the flexibility to take the songs in different directions depending on what sounds or rhythm we were exploring. It was that that allowed me to get into the Brazilian and African stuff I was keen to incorporate. I had to leave things a bit more open. It was fun. It was a bit less based on the traditional verse, chorus, verse, chorus, bridge structure. I also wanted to create an album that was a bit more cohesive than just a collection of songs so I was often writing as I was recording in order to accommodate to whatever tempo or vibe I felt the album as a whole might benefit from.
What was the idea behind the inclusion of Brazilian / African beats on the new album?
My songwriting has always been heavily influenced by whatever current musical fascination I may have. In this case it was Brazilian stuff from the 60s and Western African stuff. I had been totally into it for the last couple years and thought it would be an interesting challenge to try to incorporate some of the stuff I loved so much about that music into my own.
First single 'Simple Pleasures' is a fun upbeat Summery song, what was the inspiration behind this one?
I wrote this song after a trip to Cuba last winter. I was back in Canada, it was pretty dark and cold and I guess I was dreaming of a sunny place. I started to think of those moments when you stop thinking about all the things you lack and start realizing all the great things you do have. Those are good moments. I had a ton of fun writing the song. It came together really quickly and I remember laughing as it was coming together. I had this character in mind, chilling on the beach, without much, but not needing much. Kind of like "the Dude" from the Big Lebowski. He was kind of the guy I had in mind.
In terms of your song writing, what do you consider to be the most important ingredients that make up one of your songs?
It's always a balance between melody, rhythm and the lyrics. I like my lyrics to be clear and easy to understand and I don't tend to shy away from romance or humour. My songs usually start as a melodic idea so the challenge then is to find lyrics that suit that song without ever comprimising the meaning. You want the words not only to be great but they have to sound great as well. With every song I feel like I learn something new.
As a winner of numerous awards in Canada over the years what do you see as the next stop on your career?
I'm still building stuff in Canada for sure, so they'll always be work to do here. However, after this great trip to Australia I'd love to really put an emphasis on making that work. It'll take some serious touring but I'm feeling pretty pumped. I had such a great time and the audiences seemed to respond really well to what I was doing so I feel it's certainly worth pursuing. It would be so wicked to see it work.
In the six years since your first release, how personally do you feel you have grown as an artist?
I think I'm more confident in what I do. It takes a while to get your feet as an artist, or as they say, find your voice. I'm starting to feel like I have, which is cool. I'm willing to take more risks and that's fun. I think when I started my biggest fear was that I would somehow start not liking music as much cause I had made it my career. The good news is that quite the opposite has happened. I'm more into it and more fascinated by it now than ever.
Lastly, here's a chance to gaze into your crystal ball. In the next year, David Myles will:
1. Hopefully write a ton more songs. I always like to prioritize the songwriting cause that's the basis of pretty much everything I do these days.
2. Tour in Australia at least once more. Maybe twice if I'm lucky.
3. Work as hard as possible, touring etc, without getting worn down or cynical. It's always important to remember how lucky I am to do this. So far so good. I love it.
Essential Information
From: Halifax, Nova Scotia
Sounds like: Folk / Acoustic Rock
Latest release: Into The Sun (2011).
Website: www.davidmyles.com ,  www.facebook.com/DavidMylesMusic , www.twitter.com/mylesdavid
Read our review of 'Into The Sun' here…