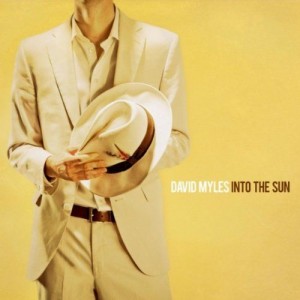 David Myles is an accomplished folk / acoustic rock kinda guy hailing from Canada who's quirkiness and amazing songwriting has earned him many accolades in Nova Scotia with many more to come no doubt. His new album 'Into The Sun' is so easy to listen to its like I wasn't even doing it at one point.

First single 'Simple Pleasures' is such a catchy, happy song that it has you singing along almost immediately and the inclusion of hand claps just makes it that much better. A fun summer style song indeed. David's voice is soothing, in almost a Jason Mraz / crooner style and I almost have the urge to click my fingers along to every song. Musically this album is so clean, the inclusion of horns that blend so well with the guitars are more than welcome. I think I've found my favourite song on the album in 'Leaving' as the clean electric guitar makes an appearance, I'd compare this to an old school Del Amitri style song, I love this one. So laid back, smooth and a great chorus "The only way to survive is by learning how to say goodbye." Great words indeed and truer ones never spoken. Top that song David. I dare ya.

The inclusion of a couple of instrumental tracks on the album are great little fillers and perfect intros for their following songs. At times the album moves into a lounge feel as I mentioned before about the crooner but it's a natural feel and doesn't seem forced, six albums in you'd expect it to be right by now. 'Time To Be A Man' is a great way to round out this classy album, no huge hook just a smooth ride for that one. Loved it. The album includes a 'Classified Mix' of 'Simple Pleasures' which is a great version and the one below.

Overall this is a great album to throw on and just enjoy on a sunny afternoon or a rainy morning (like today) basically it's an every occasion kind of album if there is such a thing. This one will fit perfectly in the collection. I'll be watching out for David Myles from now on.
Essential Information
Check it out if you like: Folk / Acoustic Rock
Release date: Out now
Record label: Little Tiny Records
Producer: Charles Austin, Graeme Campbell, David Myles
Website: www.davidmyles.com
Read our interview with David Myles here…
Track listing:
1. Run
2. Simple Pleasures
3. I'll Never Know
4. The Sea
5. Long Dark Night
6. Don't Look Back
7. Leaving
8. Nina
9. Falling In Love
10. The Bottom
11. Ooh La La
12. Time To Be A Man
Bonus Track. Simple Pleasures (Classified Mix)