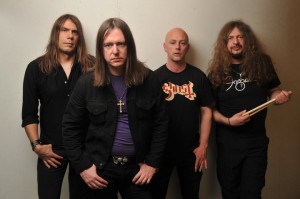 Don't miss your chance to farewell one of metals' greats!
Closing the curtain on a stellar career spanning two decades, doom metal legends CATHEDRAL announce their last ever headline shows as part of two exclusive sidewaves in Sydney and Melbourne, giving Australian fans an opportunity to be a part of metal history.
Twenty years, in which they've proved themselves to be a band who not only transcend metal, but all or any genre classifications one might attempt to restrict them within. Yet far beyond all expectations, their ninth album, 'The Guessing Game' is their boldest outing and is "a collection of timeless tracks that could easily span the decades" – Rock Sound
CATHEDRAL'S legacy will well and truly continue, with the band releasing their final studio album  'The Last Spire' in 2012 an expression of gratitude to their cult following.
PARADISE LOST have pioneered gothic metal. Their desire to evolve and stay ahead of musical trends continues with their latest effort 'Faith Divides Us Death Unites Us'  "a record of epic beauty with so many moments of genius" – Rock Sound.
Get ready for battle! One of the most exciting live bands in the world; Finland's battle metal masters TURISAS, is once again setting course for Australia.
TURISAS'S blistering live shows are etched in metal folklore so don't miss the opportunity to witness one of the "artists of the decade" – Terrorizer
Check out our interview with Brian Dixon of Cathedral right here….
—————————————————————————————————-
TICKETS ON SALE FRIDAY 27th JANUARY 9AM AEDT
WEDNESDAY 29H FEBRUARY SYDNEY, THE FACTORY LIC/AA
www.oztix.com.au / www.factorytheatre.com.au
THURSDAY 1ST MARCH MELBOURNE, THE ESPY18+
www.oztix.com.au
Presented by Soundwave Touring