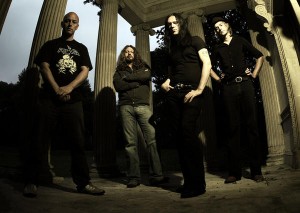 "We haven't played in Australia for I don't know, thirteen years or so, apart from being a huge festival which is a great chance to come and visit your wonderful country and hopefully for our old fans to come and see us one last time.  They'll be the very last shows, so Perth March 5th we finish is the very last Cathedral show EVER, a sad day."
From Bio: "To paraphrase Nick Drake, time has told us that Cathedral are a rare, rare find. Twenty years time, in fact, since 'In Memoriam' first made its crepuscular crawl towards the darker reaches of our consciousness, in which Cathedral have proved themselves to be so much more than the paragons of doom metal they originally resembled. Twenty years, in which they've proved themselves to be a band who not only transcend metal, but all or any genre classifications one might attempt to restrict them within."
Cathedral are wrapping up a career spanning over 20 years, with just having played a farewell show in the UK, when they thought it was over, it wasn't, as they are about to hit Australian shores in February for the Soundwave Festival.  With nine studio albums and one final one on the way in 2012 as well as their newly released live album 'Anniversary' which saw the original line up come on board to play the bands first album in its entirety as well as a set from the 2010 line up.
We spoke to Cathedral drummer Brian Dixon about the bands decision to call it a day, just why their last ever show will be in Australia and who he's most excited to see at Soundwave, the answer may surprise you.
You recently played your last ever show in the UK, how did that go?
That was pretty amazing, it was last Saturday, we had about 2,000 in which is pretty good for us, it was a venue, the London Forum, it's an older venue.  A lot of bigger bands play there, I mean we play there Saturday, like Whitesnake played there on Monday, so that's the kind of venue we're talking about.  So we did pretty well there, and looking at some of the YouTube footage the fans were just absolutely crazy, mental, they were going for it and we had a really great time.  Even though it was officially our last gig, it wasn't that much of an emotional night I think because we were probably slightly under rehearsed as ever with our current bass player living in Los Angeles, he only flew in the day before so we had a day to get the set together including three songs that we hadn't played together for a long time.  Then we had some films and special lighting going on that we had to try and rehearse with in the sound check, so I think it was more nervous energy than emotion than anything else, but we had a great night and we did really well.  A good one to go out on.
Although, you are heading to Australia for the Soundwave festival, will these be your last ever shows?
They are, they are the very last ever shows, I mean London should've been but then of course once we organised that, in the eleventh hour we got this Australian offer for Soundwave so we thought, yeah, we need a vacation, no, we're really looking forward to it, we haven't played in Australia for I don't know, thirteen years or so, apart from being a huge festival which is a great chance to come and visit your wonderful country and hopefully for our old fans to come and see us one last time.  They'll be the very last shows, so Perth March 5th we finish is the very last Cathedral show EVER, a sad day.
What can the Aussie fans expect to hear set wise at the Soundwave shows?
Well I imagine we'll go out on a limb you know, it's our final chance to let rip you know, there will be a cross section of stuff.  I'm not sure of how long a set we have, I'm sure it's quite limited.  There was talk of doing some sideshows along the way but I'm not sure about those, but maybe they'd be a longer set.  We'll be doing stuff from the first album right through to the last one, it's just going to be a rocking show you know.  We'll be going for it.  Old men rocking!
That's the way of the world these days isn't it?
Absolutely ha ha, I always say to my friend, he says 'Are you coming to see such and such a band?' I say, No I only watch bands that are older than me and he says 'you'll be running out of bands soon' ha ha, there's nobody left.
The Stones?
Yeah I'll go and see The Stones.  I'm going to see Molly Hatchet tonight, does that count? Ha ha, I don't know there's probably only one member and he's probably about 80 ha ha.  Maybe that'll be the Cathedral reunion?
When's that, in about 20 years?
20 months, 20 minutes ha ha, no they're adamant, there will not be a reunion, allegedly, so they say…
So why the decision to finish up?  Why now?
Well it wasn't the first time we discussed it.  I think after 'The VIIth Coming' album we talked about it and then nothing happened there and we did 'The Garden…' album which I'm glad we did, because I don't think any of us were particularly fond of 'The VIIth Coming' album, so we're glad we didn't end on that one.  So I guess everybody wants to end on a high and we were really pleased with 'The Garden' so at that point we were like, maybe this is the time, and it never happened but we took a very long break, around five years and did nothing, so then we did this new record and I think Lee and Gaz had been discussing it and they kind of announced it at the end of last year, they wanted to make it the last world tour, do as many shows as we could and then do this one final album to go out on.  Which I thought was a bit strange, most people would do an album, do a tour to promote it and then finish you know, but this seems to be the other way around, I don't know why exactly.  At least maybe now we can do an album where we don't have to think about playing it live because it never will be played live.
That was my next question, why finish up touring and then release an album?  What was the decision behind doing it this way, but you don't know?
I don't really know it was done in that way, I guess, I think it's the touring that's the problem.  As a recording band maybe they'd carry on and do an album, but I'm not a writer so I don't really know.  I can understand how stressful it must be, you know you do ten albums and they're long songs, they're quite intricate in writing so I mean Lee's head must be fit to burst sometimes trying to reinvent himself lyrically and Gaz of course, how many riffs can that man come up with?  It seems like an endless amount but you know…  The travelling maybe, I know Gaz does not enjoy so that's probably his reason for not wanting to do it.  Lee, is a new Dad, he's got a little daughter who is like nearly 1 and he wants to be there for her and I can understand why he doesn't really want to carry on.  Myself, I'm just an old road dog and I would carry on, I'll find something else to amuse myself I'm sure.  But you know, it's not over yet, we still have Australia.
And what can we expect from the last album?
It's called The Last Spire and I think it's going to be a lot heavier, slower, than the stuff we've done over the last few years and I think production wise we're not going to bring in an outside producer, we're actually going to do it ourselves with the guys in the studio, so that may well be co-production as we don't really know what we're doing ha ha.  But instead of doing it as a block booking, like a month, we're just going to record as an when we feel like it or have tome to or whatever, so it's going to be that sort of process.  So we're going to start in April recording, it will come out next year, I think the artworks already done.  It's all coming along, we've got about seven songs that we sort of roughly demoed in rehearsal, we're going to work on like a longer more epic tune I guess in the vein of The Garden or something like that.  I think it'll be varied, but I think it'll be raw.  That's what I think.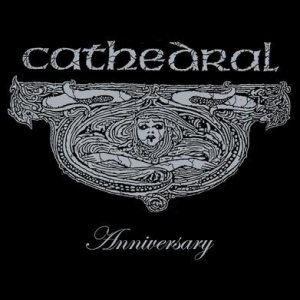 You recently released 'Anniversary', the bands first 1st ever live album?  What was the idea behind the timing of this release when you were going to finish up as a band the year after?
Hmm… good question. Well I guess there was never really any great time to record a live album or even if the band is a fan of live albums or if anybody is I'm not quite sure.  I mean for me, back in the 70's I would love live albums, I would go out and buy albums like 'KISS Alive', or 'If You Want Blood', I was always a big fan of live albums but they didn't seem to be that popular over the years so I don't know if it was maybe an option that we'd thought about and I don't think our label had really talked about it.  Then we had this anniversary show which was obviously pretty special to the band, it was actually set to be filmed as well, it was, but I think there was some mix up and we only had three cameras instead of five which wasn't enough and so that certainly won't be seeing light of day, but the last show that we did last week in London last week, that was actually filmed for DVD so I think that will see the light of day.  In regards to the recording of Anniversary, as I say it was a special show, the whole of 'The Forest' and our set afterwards, so I think it was just the timing was right you know, I don't think there was ever an urge to make a live album before that.  The DVD, I've heard nothing about it, I don't know how it turned out you know, hopefully it's good, I've seen clips on YouTube and the lights look great and we had some kind of videos playing and stuff, I actually couldn't see them.  From where I was on stage we had these screens on either side of the stage, I couldn't see them but I think they were showing some kind of old horror movies but I couldn't see them so I don't know but the bits I've seen on YouTube if it all comes together, it should be entertaining.
Looking back over your career, do you have one defining moment that you can share with us?
Interesting…  I think the beginning was pretty amazing, being thrown in at the deep end I was like straight in and straight on tour and then for a year it was non stop around the world including Japan and Australia, crazy things like I think that was a bit of a strange one.  For me it's like a 70's rock guy it was pretty mad when we got to open up for Van Halen in Denmark, so that for me was an amazing memory shall we say, hanging out with Alex Van Halen, life doesn't get much better ha ha ha.
After 16 years in the band, what will you specifically take away from the experience?
It's been like the most important thing in my life, so I'll go away with memories of travelling the world, ever since a kid I guess my ambition to tour the world in a band, and I may not be retiring a millionaire, but I guess I've been successful in doing that.  I guess there aren't that many people in life that set out to do what they want to do and actually get to do it. Things change as you go along, once you've recorded a record and you've toured the world and you've done it a few times it's not exactly what you thought it was going to be but at the end of the day I always look back and think when I was at school sitting in the classroom noodling on the back of a book drawing drum kits and things you know, knowing then what I wanted to do and after all these years, hey I did it.  Hopefully I can keep playing, even after Cathedral finishes, I'll keep playing and I've spoken to a few other bands, nothing is concrete yet, but you know hopefully I'll keep playing, it's been an amazing 16 years for me and I've loved every minute of it.
On the other side of that, is there something you would've like to do or somewhere you would've liked to go as a band that you were never able to?
Well I've never been to Canada.  Cathedral has played there before I was in them but Canada is the one place I've never been to.  I don't know why particularly I want to go there, the thought of watching grizzly bears and those sorts of things, that sounds exciting, hanging out in mountains but I don't know if touring would've involved that, but that's one of the countries I've never been to.  We were hoping to go to New Zealand when we were heading out to OZ but it ain't happening, so I guess we've missed out on that one.  I didn't think we'd actually get back to Australia, that show in London was billed as our last ever show and literally all the information had gone out and in the eleventh hour we got this offer to do Soundwave which was like well, we can't pass up on that one.  I guess it's a little vacation for us and a chance for our fans over there to see us one more time because it really is going to be the last.
Have you heard of any die hard fans from over there that may come over to see the shows?
What from England TO Australia, um, no ha ha, maybe some people from Japan may come, we've always been very popular in Japan and given that Japan is half way to Australia isn't it?  I think so, but I've not heard of anyone coming from the UK to Australia.  I certainly hope nobody from Australia came over to England thinking that was going to be the last show.  They won't be happy.  No, it was a different thing entirely, I mean this last show last week it was special, it was a big headliner and Soundwave is going to be a different ball game entirely, I mean I don't know how long we have, I don't know anything about that really.  I'm going to check out a few bands though.
Are you excited to see anyone?
Yeah, I'll go and check out the Black Label Society, we played with the in High Voltage festival last year, they're good guys and Steel Panther should be there for a laugh, I've seen them before, very funny.  They actually played here last night with Def Leppard and Motley Crue, I didn't go but my friend went and he said it was very funny, they are funny guys but let's hope people don't get us mistaken hey?  Us and Steel Panther ha ha ha.  It's the hair.
What's next for you after Cathedral wraps up?
No concrete plans as I said before, I've spoken to a couple of bands about doing stuff but nothing concrete or nothing I can mention yet, but I am looking for something, I mean out of the three of us, I mean obviously Scott Carlson our bass player, he's in the States and doing his own thing that he does. Gaz, he's not a big traveller, he's always writing, maybe he'll do a solo album put out on Lee's label, I don't know.  Lee, don't know whether he's going to concentrate on his label or being a Dad you know he writes for a few magazines and stuff so maybe he'll concentrate on that.  I don't know whether he has any plans musically.  But as I say I'll just try and find another band, a lot of people I know over the years, I just have to wait for another drummer to die so I can step in to his shoes ha ha ha well you know what bands are like, they're changing their line ups all the time, so hopefully something will come up that will keep me occupied until I can't function anymore.
Essential Information
From: Coventry, England
Band members: Lee Dorrian – Vocals, Garry Jennings – Guitar, Scott Carlson – Bass, Brian Dixon – Drums
Latest release: Anniversary (2011, Metal Blade Records / Rise Above Records)
Website: http://www.cathedralcoven.com
You can catch Cathedral at the Soundwave Festival in 2012
SATURDAY 25 FEBRUARY – BRISBANE, RNA SHOWGROUNDS
SUNDAY 26 – FEBRUARY SYDNEY, SHOWGROUND
FRIDAY 2 – MARCH MELBOURNE, SHOWGROUNDS
SATURDAY 3 – MARCH ADELAIDE, BONYTHON PARK
MONDAY 5 – MARCH PERTH, CLAREMONT SHOWGROUNDS