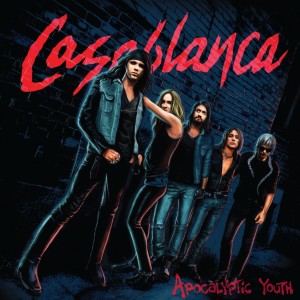 The Swedish rock band Casablanca release their debut album entitled Apocalyptic Youth on March 16, 2012. Casablanca is a Swedish/American five-piece band featuring well known members guitarist Ryan Roxie (of Alice Cooper and Electric Angels), drummer Josephine Forsman (of Sahara Hotnights), bass player Mats Rubarth (Swedish national team football player), guitarist Erik Stenemo (of Melody Club) and front man Anders Ljung (of Space Age Baby Jane) on vocals.
The album was recorded in the legendary Swedish Polar Studios, produced by Chris Laney (H.E.A.T., Europe, Crazy Lixx), and mixed by Michael Ilbert (Roxette, Per Gessle, Sator). The recording has taken little over a year, but with members as busy as these – and the ambition to make the greatest record possible – that length of recording time comes as no surprise.  The release is the third album release from the label Rocket Songs, whose first two releases 'Houston' and 'Sencelled' have gotten great reviews and quite a lot of attention around the classic/melodic rock world.
The band opened for Kiss in 2010, on their last tour in Sweden. The band has also performed on Swedish National TV; on the Swedish Eurovision Festival Finals and on the TV award ceremony for the Swedish P3 Guld Awards.
Apocalyptic Youth consists of ten tracks, including the first single and radio hit Downtown (check out the video below!).  The second single Love and Desperation is released on January 20, and the album is released in the Nordic countries on March 16. Coinciding with the release, the band will be touring around Sweden.
LINE-UP: Anders Ljung – Vocals, Ryan Roxie – Guitars, Erik Stenemo – Guitars, Mats Rubarth – Bass, Josephine Forsman – Drums
DISCOGRAPHY: Apocalyptic Youth – 2012 (Rocket Songs)