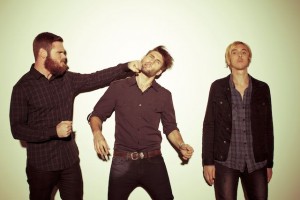 "It's all fun and games until someone gets knocked out!" Growing up on the NSW south Coast CALLING ALL CARS' front man Haydn Ing, and man-machine drumming brother James, had heard the same line from their parents on an almost daily basis.
And so it was that the first voice that Haydn heard when he came to after a Spinal Tap type incident at yesterday's Sydney Big Day Out was his brother James. But by then it was too late. The damage had been done.
Proving more prophetic for Calling All Cars than any claim by Nostradamus, the Calling All Cars lead vocalist had been knocked unconscious early in the bands set by a stray elbow delivered with UFC type precision by an over enthusiastic punter.
After opening with a blistering version of 'Disconnect', the track that kick started their debut album "Hold, Hold' Fire", Calling All Cars trademark choruses and monster rock riffs were blaring through the massive Big Day Out PA. The band and crowd we're locked and loaded for something special, and Calling All Cars were delivering!
Song number two, a muscular cover of Mclusky's "To Hell with Good Intentions" and rip roaring Calling All Cars crowd favourite had their fans in fine sing-a-long form.
The crowd was on its feet; the music was loud; and the swelling circle pit below was beckoning Haydn. No stranger to the dizzying heights of PA stacks and stage scaffolds
Haydn saw his opportunity and pounced into the pit. Thirty seconds later it was all over…a fan's elbow had snuck through Haydn's usually secure defence and landed squarely on his chiselled (glass) jaw and he was down and out for the count.
The music stopped, the crowd parted and Haydn was lifted to safety and the care of the Big Day Out medical staff. Ten minutes later he came to, but for Haydn the Big Day Out Sydney 2012 was barely a memory!
With one Big Day Out appearance for Calling All Cars this Sunday 29 January in Melbourne to come, lot's to make up for and a home team crowd advantage you know you shouldn't miss this show.
….look out for the guy with the mouthguard though.
Check out our interview from 2011 with Haydn Ing…
See Calling All Cars make up for lost time:
Sunday 29 January
THE BIG DAY OUT – Melbourne
w/ Soundgarden, Kasabian, My Chemical Romance, Mariachi El Bronx and more!
Flemington Racecourse
Melbourne, VIC