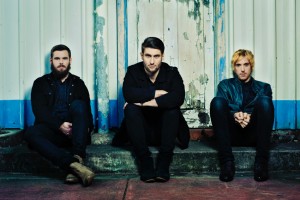 "This time we knew what to expect and were way more prepared, things like experimenting with tones and sounds and we just had way more fun with it…."
For Melbourne's Calling All Cars, the second half of 2011 is destined to be an action packed number of months.  New album Dancing With A Dead Man was just released last Friday (August 5th) and the three piece are about to embark on what they do best, one month of touring all over Australia.  We chatted with lead vocalist and guitarist Haydn Ing.
Thanks for chatting Haydn so Friday marks the official release of Dancing With A Dead Man, what has the response been like so far to the first single Reptile and the album stream over at Faster Louder?
Yes we've seen some reviews and stuff come in now and they seem to be positive at this stage, which is a good sign I guess!
And specifically first single 'Reptile' given that was a little heavier than maybe what some people may have been expecting you to come out with as a first single?
It's definitely the heaviest song on the album, we kind of thought screw it, we will release it and see what happens.  I think it was a good way to come back with a punch.
When did you start writing the songs that appear on the new album, was this a specific writing process, or have you had a few ideas lying around since the debut album?
It was pretty much after we released Hold, Hold, Fire.  As the first album was released, we toured with AC/DC and then straight onto Grinspoon.  Then we had like a month off before we headed out onto that album tour and we thought let's not get bogged down in the 2nd album syndrome, so we booked a rehearsal space, locked ourselves in there and wrote as many songs as we can.  By the time we headed into pre-production, we had like 40 songs which I think the best ones pretty much picked themselves, then we went from there.
You have released Dancing With A Dead Man around a year after your last album, was that a conscious decision to do so and capitalise on the inroads you made with the first album?
Even before we released the first album, we always had a game plan which was to release the first album and then get another one out as soon as possible.  These days, attention spans are just getting shorter and shorter and with all the music over the internet these days we just wanted to get it out there as soon as we could.
Having had the benefit of recording your first album, what were some of the biggest changes in the process this time around?
On the first album we recorded over about a year, just recording bits and pieces here and there because we were touring so much.  I think back then we had never recorded an album before so it was a massive learning process.  This time we knew what to expect and were way more prepared, things like experimenting with tones and sounds and we just had way more fun with it.
Being a band that tours relentlessly, how did you find the recording process this time around, were you itching to just get back out and play some shows?
No not really, I think it actually helps.  Because we had been touring so much we have grown as musicians, as everyone does I guess.  We felt like more of a band than ever before and touring the same songs now for so long, we were keen to record some new stuff and stop getting bored with the older material.
Working with Tom Larkin again on this album, how would you describe this working relationship now, he must certainly know how to get the best out of you guys?
Yes definitely it was great.  The last time it was more about learning how things are done.  This time we were way more prepared and it was better for everyone.  We got along a lot better and we were all still friends at the end of the process haha!
Were there any key influences in a lyrical or musical sense that shaped the songs on this album?
No, not anything really specifically.  We basically just went in there and said let's see what comes out really.  We didn't go in there saying let's make it sound like this or that.  When we were recording we said lets make it as big and bad as we can!  I think someone brought up at one point, there's 3 guitar parts happening here, are we sure we want to do that? We just said if it sounds good, then let's leave it and when it comes to playing live, we will just deal with it.
Speaking of songwriting, what is the process in the band, is that something that all three of you are heavily involved?
Usually I will come up with the initial riff ideas and then take it to the band and then it will either stay the same or morph into something completely different.  So we each have a huge input into writing and we are good at hearing each other out and trying new ideas and seeing if it works or doesn't.  Lyrically it's definitely left with me and I guess I just write about what ever issues I am dealing with at the time.  Even some of the stories like Dancing With A Dead Man I took a different angle and made a story and thought I would try something different.
Did you spend a significant amount of time in the studio recording?
We recorded most of the album at Tom's studio so we had the luxury of coming and going as we please and being able to hang out at the studio drinking coffee and talking shit.  We didn't spend a ridiculous amount of time in there, but it wasn't exactly a quick process either.
Video clip for the first single Reptile is certainly pretty cool, did you guys come up with the concept for the video and where was it actually filmed?
We came up with the idea of a reptile kind of thing, capturing something and all that kind of stuff.  We had this idea and took it to the director and said this is what we are thinking and he goes "that idea is going to cost way too much".  So he scaled it back and came to us with the idea that ended up being the video.  We recorded it near Ballarat I am pretty sure.  We drove out in that direction and into nothingness haha.  It was a pretty gruelling day, but it turned out really well.
You have a run of nearly 20 shows coming up soon and obviously you must be super keen to get out and play a bunch of the new songs.  How have you found these songs to play in rehearsal and fitting in amongst the older songs?
It seems to be really good.  We actually booked out a few weeks of rehearsal time a little while back to make sure we gave ourselves enough time to sort everything, but it was like the second rehearsal and we had everything down so we thought we don't really need to rehearse that much.  So we ended up cancelling a whole bunch of rehearsal and it all fell into place.
Capital cities, regional centres and pretty much every where in between, do you have a town/city that sticks out so far as far as one of your most memorable places to play?
There's been quite a few shows when you look at the tour dates and think I don't know how that's going to work, but often they turn out to be some of the best shows we've ever played.  Quite often when you get to towns that don't have a lot of bands, but when they do, they go absolutely mental and everyone in the town comes to the show.
You have Boy In A Box and Redcoats supporting, did you pick your support acts yourself?
Yes definitely, we've heard a heap of their stuff on Triple J recently and they've both been getting heaps of airplay so we thought we would throw out the idea of supporting us and both bands said yes which was cool.
You have supported some of stadium rocks biggest bands such as AC/DC, Green Day, Queens Of The Stone Age, how have you found those experiences, playing stadium type shows and the crowds?
Those experiences have been amazing and we've learnt heaps from them.  We had always heard that the AC/DC crowd can be like the toughest, but we were actually really well received and everyone seemed to be really nice.  We didn't seem to get any real full on haters, so we were lucky!
Do you have a favourite type of venue to play….stadiums, larger clubs, or small intimate club shows?
At the end of the day you get the best of both worlds really. Not many bands get to play on stadium tours, which was amazing for us.  Then we also get to come back and play those really small intimate shows were you get to have more of a personal connection with the crowd.
I know this question might be a little premature, but have you got conquering overseas in your sights as yet?
At this stage it's been concentrate on Australia and do as well as we can here.  There's definitely talk of heading overseas at some point, but we will just take it baby steps to begin with.
So after you finish this run of dates in mid September, what lies ahead for the rest of 2011?
I am sure there will be lots more touring haha! We have stuff we are talking about, so I guess just keep an eye out.
Essential Information
From: Australia
Band Members: Haydn Ing – Vocals, Guitar, James Ing – Drums, Adam Montgomery – Bass
Websites: www.callingallcars.net
Latest Release: Dancing With A Deadman – (2011, Shock)
Dancing With A Dead Man National Tour with Boy In A Box & Redcoats
Thursday 11 August – KAY STREET – Traralgon
Friday 12 August – REPUBLIC BAR – Hobart
Saturday 13 August – FOWLER'S LIVE – Adelaide
Thursday 18 August – BEACH HOTEL – Byron Bay
Friday 19 August – TEMPO HOTEL – Brisbane
Saturday 20 August – COOLANGATTA HOTEL – Gold Coast
Wednesday 24 August – THE LOFT – Warrnambool
Thursday 25 August – KAROVA LOUNGE – Ballarat
Friday 26 August – CORNER HOTEL – Melbourne
Saturday 27 August – FERNTREE GULLY HOTEL – Ferntree Gully
Thursday 1 September – TRANSIT BAR – Canberra
Friday 2 September – OXFORD ART FACTORY – Sydney
Saturday 3 September – WAVES – Wollongong
Thursday 8 September – PRINCE OF WALES – Bunbury
Friday 9 September – STUDIO 146 – Albany
Saturday 10 September – AMPLIFIER – Perth
Sunday 11 September – INDI BAR – Scarborough