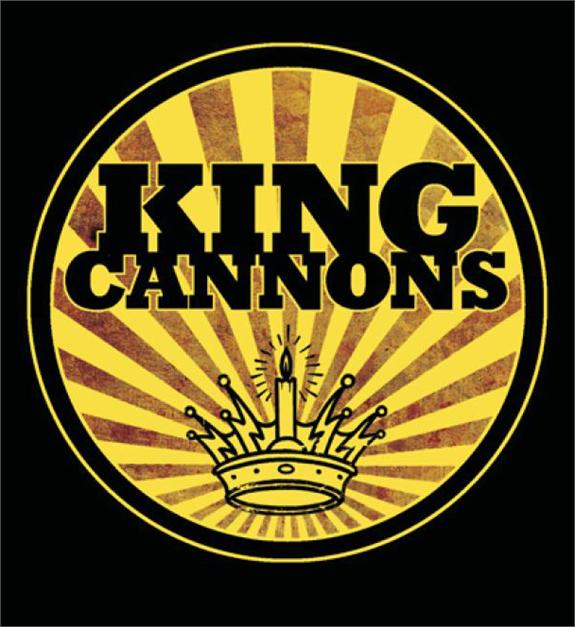 KING CANNONS spent 2011 fighting their way to the front of the line.  With their debut album almost complete, 2012 sees them ready to fulfil the promise that they have always been destined to deliver.
The most significant move for KING CANNONS is the inclusion of their new drummer, none other than Dan McKay from THE NATION BLUE.  Dan is one of Australia's most respected musicians and feedback from his performances at Festival Of The Sun, Pyramid Rock and Peats Ridge is the new live show is truly something to behold.
January 2012 also sees the release of an explosive new video for 'Shot To Kill'.
Front man, Luke Yeoward is pumped for the year ahead for King Cannons, "The last five years have been a hell of a ride. I have lost and found time, places, friends, and lovers.  In the first few weeks of 2011 I was a newly wed man. I had a lot to look forward too, and weight of the world's responsibilities on my shoulders. I was working as a labourer as well as writing songs for the first King Cannons record. Yet, in the back of my mind, I was still thinking about my past, harbouring regret of the hurt I caused the ones who once loved me."
With the recent release of the 'Shot To Kill' video, Luke continues, "I drew heavily from these past experiences, and wrote Shot To Kill as a metaphoric expression. Shot To Kill is me admitting defeat to the shadows of my past, and telling my younger self that cheating will get you nowhere. I fell down from the cloud I was riding. Shot To Kill was the feeling in the pit of my stomach that needed to get out."
Check out our 2011 interview with King Cannons right here…
Check out the Shot To Kill video here:
KING CANNONS
 are also joining the 
BIG DAY OUT 
festival with shows confirmed on the 
Gold Coast, Sydney
 and 
Melbourne
.
This is just the beginning of what is sure to be an incredible year for KING CANNONS.
SUNDAY, 22 JANUARY, 2012 – GOLD COAST PARKLANDS
Smith Street, Southport. Gates open 11am
Available from our website www.bigdayout.com , Ticketmaster (website only)www.ticketmaster.com.au , plus Rockinghorse (Brisbane), Sunflower Pacific Fair (Broadbeach) and Kill The Music (Brisbane)
THURSDAY, 26 JANUARY, 2012 – SYDNEY SHOWGROUND
Showground Road, Sydney Olympic Park. Gates open 11am.
Available from our website www.bigdayout.com and Ticketmaster (website only)www.ticketmaster.com.au
SUNDAY, 29 JANUARY, 2012 – MELBOURNE FLEMINGTON RACECOURSE
Epsom Rd, Flemington, Melbourne. Gates Open 11am
Available from our website www.bigdayout.com and Ticketmaster (website only)www.ticketmaster.com.au
KING CANNONS | 'SHOT TO KILL' | SINGLE AVAILABLE DIGITALLY AND ON VINYL NOW