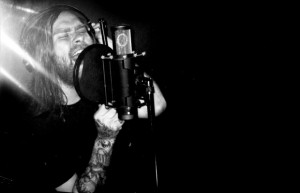 THE USED FORMS NEW RECORD LABEL, ANGER MUSIC GROUP PARTNERS WITH HOPELESS RECORDS TO RELEASE NEW ALBUM VULNERABLE – OUT MARCH 2012
December 16, 2011 – Hopeless Records is excited to announce their partnership with The Used and their label, Anger Music Group to release the highly anticipated 5th studio album, Vulnerable.
"The Used are proud to announce the birth of Anger Music Group. Anger Music Group is an all inclusive art production company. We have teamed up with Hopeless Records for the release of our new record Vulnerable. We can't wait for you to hear it! Love, The Used"
The album will be released in Australia and New Zealand via UNFD, as part of their ongoing relationship with Hopeless Records – one that has lasted for over four years and seen success with releases by All Time Low, Avenged Sevenfold, The Wonder Years and most recently, Yellowcard.
Already chosen as one of Alternative Press Magazine's Most Anticipated of 2012, front man Bert McCracken explains, "Vulnerable is about taking one step back and two steps forward. The sound of the record is as evolved as it possibly could be, it maintains the same emotional integrity as the first record [2002's The Used], yet it sounds like the future (and the future sounds bright). Vulnerable is about taking a chance to let the real you shine. This record is for the outcasts, the misfits, the misunderstood, and the ones who have always dared to be themselves. I can't wait for you to hear it."
A brand new song from Vulnerable will be released in January, with the album to be released in March 2012!
For more details and to read an exclusive interview with Bert head over to the Alternative Press website: http://www.altpress.com/features/entry/used_bert_mccracken_interview_hopeless
You can check out our interview with Jepha Howard a few months back right here….
Forming in 2001 and hailing from Orem, Utah, The Used have released four studio albums, bursting into the Australian Alt-Rock scene in 2005 by selling out their show at the 5,000 seater Hordern Pavilion (NSW) in less than 10 minutes. After mass media attention surrounded their underground success, the band broke through with their self titled album in 2002, and it's follow up In Love and Death which both landed in the ARIA Top 10 at the same time. Their love affair with Australia has continued over the years, including their headlining Taste of Chaos' Australian leg, twice.
The Used will be returning to Australian shores in February – March to play as part of Soundwave Festival 2012! See full dates below.
SAT 25 FEB – BRISBANE, RNA SHOWGROUNDS – SOLD OUT
SUN 26 FEB – SYDNEY, SHOWGROUND
FRI 2 MAR – MELBOURNE, SHOWGROUNDS – SOLD OUT
SAT 3 MAR – ADELAIDE, BONYTHON PARK
SUN 5 MAR – PERTH, CLAREMONT SHOWGROUNDS