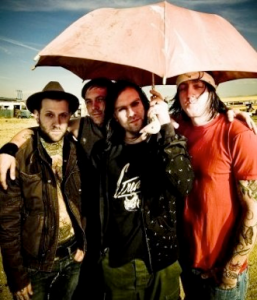 "I can't wait to hear once everyone is done with their parts completely and the whole thing is mixed, because mixing makes or breaks things for me, so I am really hopeful.  But as of now, it's the best thing we've ever done by far, without a doubt.."
It's been a few years now since The Used released arguably their best album to date in Artwork.  For fans of the The Used, you will be pleased to hear that the band is well advanced in recording the follow up album, with the bands bass player, Jepha Howard stating during our interview appearing below, that "as of now, it's the best thing we've ever done by far, without a doubt".  Heading to Australia in September for Soundwave Revolution, there is probably also a damn good chance that Australia will get to hear some of these new songs.
We caught up with Jepha to chat about the bands upcoming Australian visit and importantly, how the recording has been going so far for the bands new album.
Hey Jepha, thanks for taking the time to chat.  So first things first, you guys have been busy working on a new album, how is recording going so far?
We've been swamped man, it's been a very great time though.
How far advanced are you guys so far, how many songs have you recorded?
Well vocals are nearly almost done, we are very close to being almost finished completely.  I would say before next month it will be completely finished.
Do you have a likely release date in mind yet?
I would hate to say, but January, we are going to wait until the beginning of next year.
So leading into this album you got out of our label and also have new management…has this been a liberating experience of sorts to have such change, especially during the recording process where you are your own bosses so to speak?
You know what, we are actually a pretty lucky band.  We have always had our freedom.  The only problem we had with our label was people putting their two cents in that didn't really know too much.  You know what I'm saying, I said that as nice as possible!  So it's nice not to have those people that are making it harder for us to get our record out and harder for us to do things.  It's nice now that we have full control of everything, all the stuff we never thought of having control of.  It's very interesting!
Has a decision been made yet if you are going to release this album independently, or are you still considering the label path?
So far we are doing it on our own, but we might be getting some help from a company, but we would still be doing it on our own.  It's going to be more of us, than a record company.
Well I guess the question everyone asks these days is what is a record label exactly in 2011?
Yes exactly, nobody knows!
How would you describe the songwriting on this album, compared to your past releases, has there been any significant change in the way you go about this?
It started out very normal, where we wrote a bunch of songs, about 60.  We wrote and wrote and wrote and then we scrapped it all, which is kind of cool as it just wasn't right.  The songs were good, but it just wasn't the right way we wanted to go.  So we scrapped it all and went back into the studio and Bert really took charge on this record.  We rewrote those songs using Bert as the conductor, which is a whole new way for us.  So it kind of lines up for the vocals to work better if that makes sense?
Musically, what can we expect to hear on the new album?
This is by far the best record we have ever done.  I know it's one of those things, every time a band comes with a new record you almost have to say the record is great.  No doubt in my mind, this record as of now, as of not being finished is my favourite thing we have ever done.  Vocally, musically, its more interesting.  The last record I love, Artwork I really loved, for me it was equally as good as our first record, that's how I felt.  So for this record to be better than those and I am only saying it based on the unfinished basis.  I can't wait to hear once everyone is done with their parts completely and the whole thing is mixed, because mixing makes or breaks things for me, so I am really hopeful.  But as of now, it's the best thing we've ever done by far, without a doubt..
I think I read that you were using John Feldman as producer, who produced your first 3 albums, how is it to be back working with John?
Here's the thing, we've recorded with John for the first 3 records.  He and I, our personalities don't really clash, but we have never gotten along super well.  We've always respected each other and liked each other, but we've never really gotten each others personality.  But this record around I have actually understood more than I ever have, by far.
Where have you been recording the album?
We've actually been back in his old studio which is kind of nice to be back in the same area.  It's nice to be there and it's back in the same area and to be relaxed.  Usually there's been some kind of tension from something, but this time it's an all the way round relaxed environment.  Johns relaxed, we're relaxed, the records just smoothly going through, which is why I think that it's turning out so well.
I know Bert has had some surgery over the last few years for some throat and voice problems, how is he going with that, has the break from regular touring this year been good for that?
You know, Bert is a very lucky person.  He breaks things and hurts himself a lot, but he is ok with it, he gets back up and is not afraid.
Whilst you may have been pretty busy recording, you have racked up some frequent flyer miles with trips to Belgium, South Africa and soon to be Australia…that must be good to break up the recording process?
Were every excited about it, especially as we've never been to South Africa before. Its great, we've taken a lot of breaks on this record.  We've travelled and played different shows like once a month or once every two months.  It's been a nice refresher you know.  You leave, you play the shows and you feel good, because touring feels good.  It feels good to play shows for people, it feels good to have a crowd of your own fans who want to see you play.  It also helps the recording I have to say, going to see all the people and how they react, getting that vibe and then going back to the studio with that energy and with that vibe in mind as opposed to just sitting and waiting and trying to come up with ideas.  It's a great way to come up with the record I must say.
You are headed out to Australia in September for Soundwave Revolution.  With Top 20 albums, sold out tours, highly committed fans, Australia sure seems to be a great country for you guys…
We love Australia man, it's always the best shows and the crowds great!
Without wanting to compare your fan bases around the world necessarily, but do your Australian fans seem to be the most committed and excitable?
Oh, definitely, by far!
You are going to be out here for over a week, what are you looking forward to most about being back in Australia? 
People are really nice everywhere you and that's a refreshing thing.  Living in Los Angeles, I love it, but there's not the nicest people everywhere.
Have you had a chance to check out the rest of the Soundwave Revolution lineup, any bands you are personally looking forward to checking out or playing with?
Really excited about Every Time I Die and the side project, The Damned Things which will be cool man.  Also very excited about Hole!
How do you find the whole festival experience, taking your music to the bigger stages combined with the festival type environment, compared to playing the smaller venues?
You know it's different.  Headline shows are always good because people are coming to see you and you know it's going to be a good show.  You know what's going to happen.  Festival shows are kind of insane as you don't know what's going to happen.  You are using rental gear most of the time so the gear isn't yours.  Which normally would be a bad thing, but given it's one of these kind of shows, it makes it exciting.  You don't know how the crowd is going to react as they aren't there just for you, they are there for everybody.  You have to actual fight your way through it, so it makes it that little bit more exciting!
What can your fans expect from your set at Soundwave Revolution, do you think you will be playing any newer songs? 
There's talk of it and I really hope so.  I think the record will be done by then, so we will be far enough rehearsing the record that it will be ok to play them.  I think it will be a good thing.  If we are going to play a new song that nobody has ever heard, we might as well do it in Australia.  We have enough fans there and such great people there that it would be nice to just go for it and give them something brand new.
Essential Information
From: USA
Band Members: Quinn Allman – Guitars, vocals, Jepha Howard – Bass, Bert McCracken – Lead vocals, Dan Whitesides – Drums
Websites: www.theused.net
Latest Release: New album – 2012 TBA