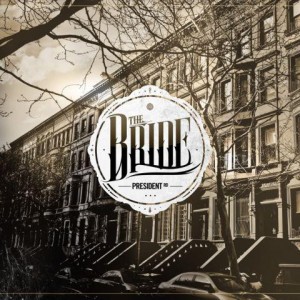 In 25 words or less:  President Rd certainly makes for one musically chaotic, but brutally enjoyable listening experience.
Now this shouldn't be taken the wrong way, but it's probably a good thing that this album from Sydney band The Bride only clocks in at around 26 minutes, as President Rd certainly makes for one musically chaotic, but brutally enjoyable listening experience.  There's so many different musical styles going on here and that's even within one song, but mostly never straying far from a brutal combination of punk meets hardcore meets pop punk.  Having been kicking around since 2006, The Bride are not exactly new kids on the block.  There's been EP's, a change of singers and stating the obvious, a journey to find their true musical calling.  With President Rd having leaked over the internet well before it's intended release and the response from the bands label We Are Unified to make it available for free, in effect the official album release date was probably a bit of a non-event.
In amongst a year that has seen a huge amount of releases under the hardcore/metalcore banner, it could be easy enough for President Rd to be dismissed as another run of the mill hardcore/metalcore release without even a listen and maybe that offers up some context for the atmospheric instrumental track that opens the album Athazagoraphobia which is a phobia relating to the fear of forgetting, or being forgotten about? Condolences sees The Bride at their heaviest, when not delivering pure brutality on tracks such as You Hung Yourself or The Further that collectively clock in at 2 minutes 45!
For me personally, it's songs like the title track, Like Weezy and Costigan with their heavy doses of pop punk stylings, guitar riffs and gang vocal chorus's where the band excel. The heady mix of hardcore and pop punk within songs that clock in under 3 minutes might be a bit of a mind trip, but it certainly works for my mind.  Jenna McDougall from fellow Sydney siders Tonight Alive provides guest vocals on War Widow and when her vocals do kick in, it's a great contrast to those of Kevin Schultz which virtually never leave a scream on the scale of 11 outta 10 throughout the whole album.  With a twin guitar attack, there's lot's in the album for the guitar nuts out there…pop punk riffs Blink 182 or New Found Glory style all the way through to some truly menacing riffage and everything in between.
The Bride and their musical chaos certainly stands out from the crowd and offer's up something that little bit different that demands your attention.  Go catch them live if you get the chance, am sure it would be nothing but "mayhemic destruction".
Check out our interview with The Bride right here…
Essential Information
Release date: Out now
Check it out if you like: Hardcore, punk and a different take on your typical hardcore
Record label: UNFD/Warner Music Australia
Track listing:
1. Athazagoraphobia
2. Condolences
3. You Hung Yourself
4. President Rd
5. Padme
6. Like Weezy
7. Corleone
8. Costigan
9. The Further
10. War Widow
11. Sea